A-Desiflava Magazine – Now at your Doorstep with a Privilege Card
By admin, February 15, 2018, Categories: Buzz-In-Town, Top Story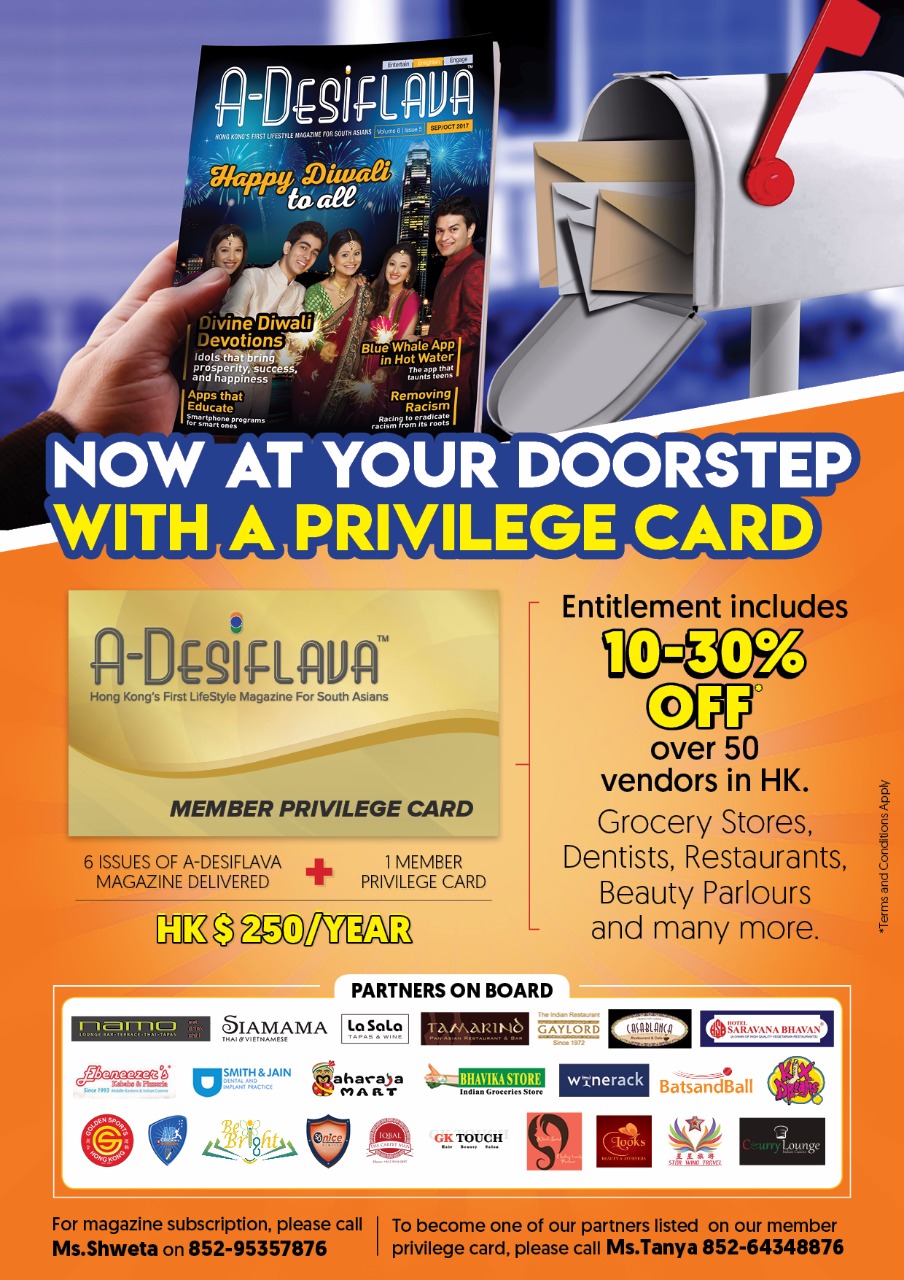 Hits: 393
6 Print Issues of Magazine delivered to your doorstep + 1 Privilege Card which lets you enjoy great discounts and offers at over 50 outlets in Hong Kong.
A-Desiflava Magazine, HK's first lifestyle magazine for South Asians is now a FREE-ON-SUBSCRIPTION magazine. The magazine was distributed for free in all the leading grocery stores, public places, events, restaurants, residential towers, shops and many other places in Hong Kong. With the increasing readership and demand for the magazine in Hong Kong, we have now changed from a FREE-ON-DISTRIBUTION model to a FREE-ON-SUBSCRIPTION model; this means that all our avid readers of the magazine will now need to subscribe to our magazine on a yearly basis. A yearly subscription will entitle all our readers to receive 6 hard copies of A-Desiflava Magazine delivered to their doorstep and to make the offer more interesting the yearly subscribers will also receive a Member Privilege Card which can be used at over 50 outlets in Hong Kong to receive exclusive offers and discounts with their spending.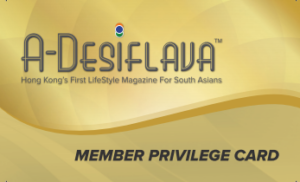 Member Privilege Card Partners on board :
(you can simply show your A-Desiflava Member Privilege Card at these outlets to enjoy the special entitlements) :
RESTAURANTS :

1.Ebeneezers
(10% discount on the cardholders)
Not Valid for delivery. Valid for Dine in or take away. Not valid with Lunch sets, dinner sets,
buffet or any other promotion. Offer is valid ONLY at the following outlets:
1.TST1, TST2,
2.Wanchai1, Wanchai 2,
3.Lan Kwai Fong, Hollywood Road 1, Hollywood Road
4.Ngong Ping 360, Goldcoast.
2.Mayfare Group- For dine-in only
• 10% service charge will be applied
• Valid until 30 December 2018
• Offer must be mentioned and show Adesiflava Readers and Privilege
Card when ordering
• Only valid with bill settlement by credit cards
• Cannot be used in conjunction with other offers and discounts or exchanged
for cash
• Only one offer per table per visit
• Mayfare Group reserves the right of final decision in case of any dispute.
15% discount at all Mayfare restaurants +10% on festive days, valid with payment by
credit card only. Not valid in conjunction with other promotions or discounts.
-Gaylord Indian Restaurant
1/F, Ashley Centre, 23-25 Ashley Road, Tsim Sha Tsui
尖沙咀亞士厘道23-25號 雅士利中心1樓 (電話 :2376 1001)
-Namo Avant Thai
G18, Empire Centre, 68 Mody Road, TST East, Kowloon
九龍尖沙咀麼地道68號帝國中心G18 (電話:2739 1133)
-Tamarind Pan Asian Restaurant & Bar
2/F, Sun Hung Kai Centre, 30 Harbour Road, Wanchai
灣仔港灣道30號新鴻基中心2樓 (tel: 2827 7777)
-Siamama Thai & Vietnamese
Shop F16, Level 1, PopCorn, 9 Tong Yin Street, Tseung Kwan O
新界將軍澳唐賢街9號 PopCorn 1樓F16號舖 (電話: 2187 3818)
-La Sala Tapas & Wine
Shop B, 2/F, Sun Hung Kai Centre, 30 Harbour Road, Wanchai
3.Saravana Bhawan
10% discount on the total bill.(TST)
4.Casablanca Moroccan Restaurant
15% Discount on total bill.(TST)
5.Currylounge
10 % off on total billing.(TUNG CHUNG)
PARLOUR:

1. G.K Touch
10%-20% OFF on services .please present the card before making the
payment for further deals.(TST)
2.Khoobsurat Parlour
10% off on every Hk$500 billing.(TST)
3. Looks Parlour
10% Discount on all services(TST).
INDIAN PROVISION STORES:

1.Bhavika Store
A Discount of 10 % for and above Hk$500, excluding dairy
products.(TUNG CHUNG)
2.Maharaja Mart
Spend $100 or less – Will get a Maharaja Mart shopping bag FREE
(Valued at $30), Spend $150 – Free Delivery (except outlying islands), Spend $300 –
Free GRB Ghee 500ml – Retail Price $42.00, Spend $500 – Free 5Kg Atta.
Spend $1000 – 50% discount on movie ticket purchase (limited to 1 ticket per customer).
(TST)
SPORTS:

1.Golden Sports
10% Discount on sports equipment.(TST)
2. Bats and Ball
20% off on regular prices for cricket bats, shoes, and bags, on all
other items 10% discount.(HUNGHOM)
3.Kix Dreamz
10% off on every Hk$1000 purchase of sports shoes.(MONGKOK)
4.Ap Cricket Academy
10 % off on sports equipment.(TST)
GARMENTS:
1.Khushboo collection
10% of Indian Dresses / Designer Dresses, Jewellery,
Discount not applicable on Danglers, Dupatta ,Leggings and Stole. Credit Card
applicable only on purchase of $500 and above.(HUNGHOM)
2.L&K Tailors
1 Men's Suit +2 Shirts for Hk$ 2999 Original price: Hk$4500(TST).
3.Mitzy B
10% discount on exhibition days. CALL:91526355.
TUITIONS:

1.Kashunutz
1 extra class with any package of art classes that you sign up for, valid for
one full year. CALL:59337802
2. Be Bright
10% Discount per hour (The rates for the primary and secondary classes
are different, so the amount will vary according to the classes). CALL:90328383.

EVENTS:

1.Rezonance events
20% discount on DJ services. CALL:68978230.
TRAVEL AGENCY:
2.Starwing Travels
1.Upto 100 HKD discount on all air tickets. (TST).
WINES AND SPIRITS:

WineRack
1.Get a discount of Hk$50 on total purchase of Hk$ 500.(TST)
SERVICES:
1.Carpet washing
10% off on the total billing.(SAI KUNG)
2.Dr. Sandeep Jain
10% on Dental services.(CENTRAL/TUNGCHUNG)
3.So Nice Technologies
10% discount on IT related service.(HUNGHOM).
For Magazine Subscription, please contact Ms. Shweta-+852 95357876 &
To Become one of our partners listed on our member privilege card,
Please contact: Ms. Tanya+852 64348876.
The following two tabs change content below.