Embracing Racial Equality
By admin, September 28, 2017, Categories: Buzz-In-Town
Hits: 102
On March 21 each year, the world celebrates the International Day for the Elimination of Racial Discrimination. This commemoration, which was adopted in 1966, serves as a reminder to all of the victims of apartheid in South Africa and the need for the international community to redouble its efforts in combating racial discrimination.
Fifty-one years have passed since the United Nations proclaimed 21 March as the International Day for the Elimination of Racial Discrimination. However, racial discrimination still very much exists in our lives.
Over the past year, we have heard so much about racial exclusion – whether in the form of travel policy or a wall. Here in Hong Kong, we may take pride in our open, diverse and relatively safe city. Yet, racial discrimination is by no means distant or rare. In a study conducted by the Equal Opportunities Commission last year, it was found that the ethnic minority residents in Hong Kong often come across discriminatory practices in daily life. Some of the respondents reported having been rejected when trying to apply for a credit card, while others encountered landlords who refused to lease their properties to non-Chinese persons.
The language barrier, which can lead to miscommunication, is often quoted as a cause for the unequal treatment of ethnic minorities. Still, the crux of the problem lies in a lack of understanding, which leads to biases and stereotyping. To effectively eliminate racial discrimination, we must work together to promote better understanding among all races.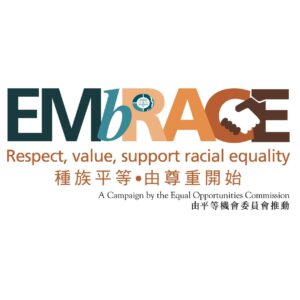 In light of the above, the Equal Opportunities Commission (EOC) would like to invite you to join the EMbRACE campaign, our brand-new initiative to promote racial equality. The "EMbRACE" Campaign – a play on the words EM (ethnic minority) and RACE aims to encourage people to respect, value and support racial equality. As this is the launch year, the campaign will be promoted through the year with the aim of making it an annual event every March to mark IDERD going forward.
To promote the campaign, we have launched a Facebook page to reach a wider audience and have started a series of talks on the issue.
If you would like to get involved, there are various ways you can do so:
▲ Like and share our Facebook page
▲ Use the EMbRACE logo as your profile picture
▲ If your organization/association/club would like to participate in the campaign, send an email to Niru Vishwanath at the EOC and you will be sent the EMbRACE pledge as well as various options on how to get involved, such as:
► Organizing or supporting one of the following activities within the EMbRACE
theme:
■ screen a movie/video on racial equality (A list will be provided for your selection)
■ organize talks on racial equality or cultural sensitivity
■ organize events within your organisation promoting diversity and integration
■ support an activity that brings together ethnic minorities and mainstream society through your CSR Programme
► Making a pledge that your organization respects racial equality and has zero
tolerance for racism.
We invite all of you to support and be a part of our EMbRACE campaign as only through
collective action can our society achieve true racial equality.
For more details, please contact Niru Vishwanath at nirupama@eoc.org.hk.
The following two tabs change content below.