Pride Run
Categorized as:
Charities & Fundraisers
Event tags: #10 km run #5 km #family #friendly hike #medals #t-shirts #bbq party #charity #LGBTQ
---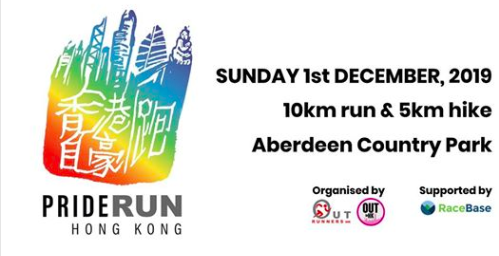 Description:
Join us in a celebration of fitness, friendship, family and diversity at Hong Kong's inaugural Pride Run. This will be Asia's first formal Pride Run and will include a 10 km run and a 5 km family friendly hike with finisher medals, t-shirts and a post run bbq party in the park.
Hong Kong's first annual Pride Run is sponsored by Out in Hong Kong and Front Runners Hong Kong with logistical support provided RaceBase.
Proceeds from the pride run will be donated to local LGBTQ+ charities. Beneficiaries and sponsors will be announced shortly. Stay tuned!
Venue: Aberdeen Country Park
The following two tabs change content below.


Latest posts by Editor's Desk (see all)
Visit Event Website for More Info
---
---