Hung Hom JD Jaguars celebrate first-ever Hong Kong T20 Blitz title
By admin, February 12, 2018, Categories: Featured, Top Story
Hits: 149
Hung Hom JD Jaguars were crowned champions of the 2018 Hong Kong T20 Blitz presented by KPMG after beating Galaxy Gladiators Lantau by six runs in the final at Mission Road (Tin Kwong Road Recreation Ground)today.
The result was the reverse of Gladiators' six-run win in the pool match between the two sides earlier in the week but the tension was just as high as the Lantau team, led valiantly by Sri Lankan great Kumar Sangakkara, fell just short of their target.
Man of the match Nizakat Khan, of Hong Kong, made 93 off 52 balls as Jaguars scored 200 for seven in their 20 overs. He was supported by Johan Botha's 36 and Darren Sammy's cameo 21.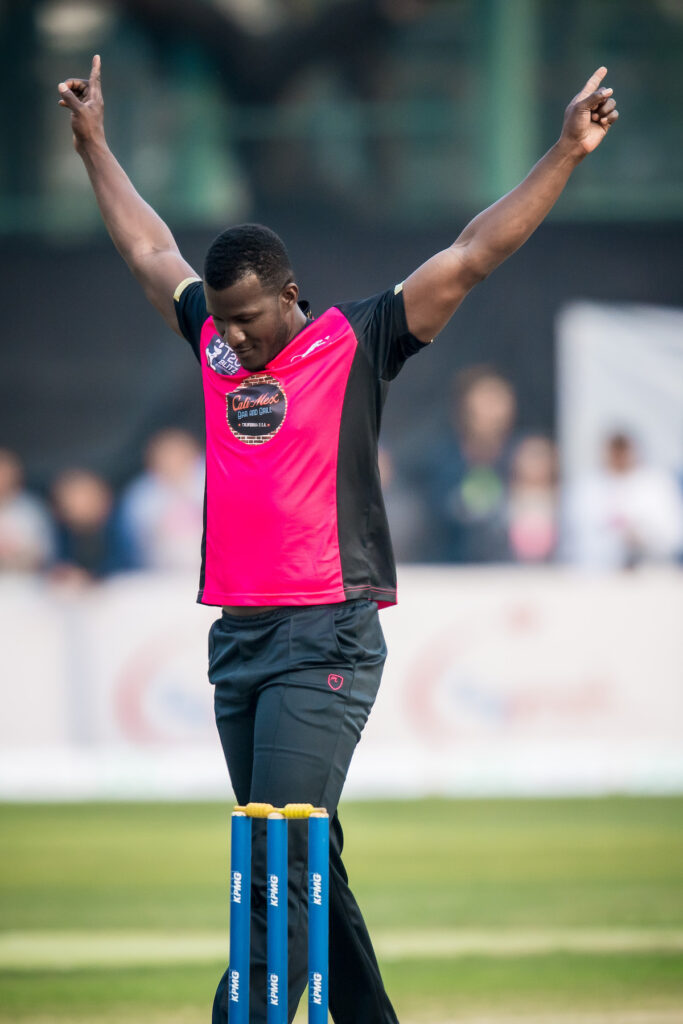 In reply, Gladiators managed 194 for four, despite man of the tournament Sangakkara's 76. Jaguars captain Kinchit Shah brought himself on to bowl knowing they needed to get Sangakkara out and within a few balls, the Sri Lankan was walking back to the pavilion.
That was the breakthrough Jaguars needed because Sangakkara was leading the Gladiators towards victory.
"There were two left-handed batters and I noticed Sangakkara was staying back to my deliveries so I pitched it up and he over-hit it, so I was able to get that wicket," said Shah.
"We knew we had to get Sangakkara out for us to win. It is an amazing feeling to win, this is the best tournament in Hong Kong and to win it, it's something that is still sinking in."
Sangakkara, who scored half-centuries in his last three matches at the Blitz, was happy with his performance at the tournament.
"Overall it was a great tournament and final," said Sangakkara, a former T20 World Cup winner.
"We knew it would be a tough final and I think we did well to restrict them to 200 after their good start.But there was not enough impetus from us towards the end, at around the 14th or 15th over, and we didn't get enough runs."
Nizakat Khan, who was also the man of the tournament at October's Hong Kong World Sixes, said he wanted to prove himself in the final after struggling in his team's earlier matches.
"I've had a pretty quiet tournament and 48 runs were my best effort so I really wanted to do well in the final and I'm happy that I was able to do that," said Nizakat.
"It was such a great experience playing with and against legends such as Sangakkara, Darren Sammy, and others. I have learned a lot and hopefully, this kind of success will help me in my career."
Also scoring for Gladiators were opener Balal Muhammad with 33, Anton Devcich with 27 and James Franklin with 31.
Earlier, in the final pool match, last year's winners Kowloon Cantons beat Hong Kong Island United by eight wickets to finish in third place with two wins from four matches.
United, who lost all their matches, scored a tournament-low 115 for nine and Cantons chased it down in 10.1 overs with Dwayne Smith hitting 46.
City Kaitak finished fourth, also with two wins, but with an inferior net run rate to Cantons.
For further information about Cricket Hong Kong / Hong Kong T20 Blitz, contact:
max.abbott@hkcricket.org. For accreditation and other media inquiries please contact sean.moore@elitestep.com or on +852 9095 8889.
The following two tabs change content below.