Is India independent, or is it in dependence?
By admin, September 6, 2017, Categories: In the Mood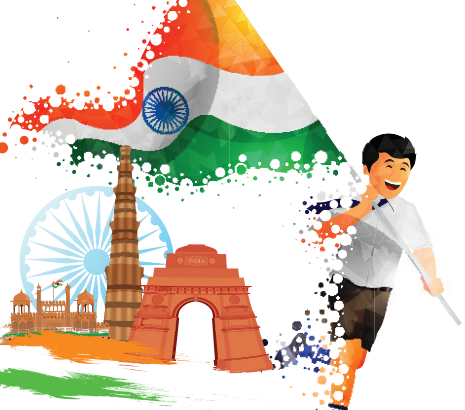 Hits: 125
We celebrate India's independence every year, but what will it take for a country to be safe?
As we get ready to celebrate India's Independence Day, it is an apt time to look at the country and consider whether India can really be called a free country. Under the stewardship of a prime minister of Narendra Modi, the country has taken smooth strides towards success. Nonetheless, the challenges are still there – some of them are apparent while others are still lurking in the shadows.
Join us as we go through the hits and misses of the Modi government and find out whether India can really be called an independent nation.
The Review
Even though a youngster graduates into adulthood at the age of 21, there are other markers that are more reflective of his true independence. His influence on others, moral principles, as well as self-sustenance must be evaluated. Similarly, to review the independence of India, we have chosen to review the present government by its impact on the common man, security, international policies, and minority and women issues.
Elevation of Common Man
Instead of offering poor and Below Poverty Line (BPL) families monetary support and free food, the Government is providing them with opportunities to gain the skills required for earning a steady income. More importantly, they have also been given support to help manage their funds. The government has gone a mile further by also offering them a cheap pension scheme to live a dignified old age
Jan Dhan Scheme:This scheme allows BPL families to open a bank account with zero balance and enjoy other financial benefits like credit card, debit card ATM etc.

Good to Know
Average deposit per account (March 2015): Rs.1064
Average Deposit per Account (as per March 2017): Rs. 2,235
Remarks:The major objective of the scheme was to offer bank support to the poor people. The above figures show that the scheme has not only succeeded in its objectives but has allowed the poor people to effectively manage their funds and start saving for the future.
Benefits:
Effective Fund Management and Principal Security
Increased Deposits resulting in enhanced liquidation
More accurate monitoring of poverty data
Enhanced life quality, literacy rate and elimination of child labour

Atal Pension Yojana (APY): This scheme helps poor people build a pension scheme with negligible premium. Half of the premium amount or Rs.1000 per person annually – whichever is lower – will be recognised as the government's support.
Good to know:
The total number of population that have enrolled themselves under APY is estimated to be 48.54 lakh, while the reported total pension wealth is R.1756.48 core.
Remarks: Not only is the number of beneficiaries encouraging, but the total pension wealth also gives a reason to feel positive. The scheme is especially beneficial for poor people who are generally involved in the jobs that don't offer any pension. It will promote healthy aging among poor, and also increase their longevity and at the same time reduce their extra medical expenses.
Other important ambitious schemes started by Modi Sarkar include
Pradhan Mantri Suraksha Bima Yojana (PMSBY) to offer life insurance for poor people
Pradhan Mantri Kausal Vikas Yojana (PMKVY) aimed at training poor youth in various skills to enhance their employability
Pradhan Mantri Kaushal Vika Yojana (PMKVY) aimed at developing the skills of poor youth for enhancing their employability
The Pradhan Mantri Mudra Yojana (PMMY) for offering easy loans to aspiring entrepreneurs with limited resources and exposure
Security
India has recently started a slow yet steady journey towards redefining its policies. The soft stance of Indian Government had prevented the military to prove their mettle in many cases. Modi Government has now allowed, and even encouraged, the military to play a pro-active role in combating the terrorism coming from within and outside the county.
a) Kashmir Issue
From being merely condemning the attacks, the government has now started attacking at the sources. This determined unhesitant approach on Kashmir has already started bearing fruits.
During the 3 years of Modi Government more than 350 militants were neutralized in Jammu and Kashmir.
Organizations nurturing militants are now openly labelled illegal and attract mass arrests and other necessary actions. Recently 5 Islamic State Operatives were arrested along with 90 of their sympasisers.
The surgical strikes across the line of control (LOC) is arguably of of the boldest steps in the recent military history of India. It has also shown the bold determination of Modi Government to weaken the terrorism using core military methods.
b) In-House terrorism
One of the most pertinent terrorism issues inside the country is Left Wing Extremism (LWE). The expectation is that it may still take some time to repair the comparison of present condition with the condition during past government gives some assurance.
The proportion of extremists who have surrendered has gone up by 100% as compared to 2011. The number of naxal attacks has also reduced by 25%.
Apart from the military endeavours, the government is also proactively engaged in the development of these states to invite investment, reduce unemployment and prevent youth from joining naxalites due to monetary needs or dissatisfaction.
Here is the collective infrastructure development in these states:
5412 km of roads
2187 mobile towers with proposed 2882 more towers
752 ATMs
1789 post offices
c) Reduced Infiltration
The confident stance of Indian army has helped prevent the infiltration from Pakistan, which has gone down considerately by 45% when compared to the same period last year.
International Policy
The country's international policy is aimed at fortifying the fundamental rather than aiming at the immediate and limited benefits. The focus is on aligning India with the changing global economical conditions and making India a beneficiary in the global economical prosperity. The authoritative prime minister and single majority party strengthens international relations by infusing confidence in the alleys. India has also started shunning hesitation when it comes to speaking against unfair practices by China.
The recent decision to boycott Belt and Road Forum (BRF) in Beijing is a welcome change to India's hesitant and tentative approach towards confronting China publicly.
India openly objected to the Civil Procedure Code (CPC) and One Belt One Road (OBOR) initiative due to the lack of transparency, exploitative nature and resultant damage to the environment.
In 2011 China ranked 35thwhen it came to FDI but the rank improved to 28th in 2014 and further enhanced in 2016 to 17th So, economically the relations with China don't disappoint.

a) International relations
The Overseas Friends of India is an ambitious step with an objective to encourage the Indian diaspora to communicate with investors. It is also to help India be perceived as a business-friendly country and promote their recent developments to facilitate investments.
However, the unstable political condition in the US and less-friendly approach of Trump toward different nations along with America First mentality has put a question mark on the future progress of the relations.
India has supported its international relations on the solid foundation of powerful economic imperatives, investment in infrastructure, welcoming policies and a vital role played by India in the treats sponsored by group like ISIS that along with the obvious benefits will also make other nations go farther from Pakistan.
The focused attacks on minorities and increasing attacks on Africans can cost India some of its major international allies like UAE and more importantly, a number of African nations.
Minority Groups
This group is time and again targeted by the saffron and other Hindu-oriented groups and the incidents have only increased during the recent times. The youth of minority groups are still facing a soft, unapparent isolation in the job market among local businesses. The attacks on social media and society have made the group fear for their safety in sensitive situations or locations.
The incidents of attacks on minorities, lynching and anti-minority rhetoric has caused the minorities to fear for their safety in India. The anti-minority terrorism present in different ways has only weakened the trust of minorities in inclination of India towards making them a respectable part of the society.
a) Neighbours first
The India-Nepal relations have shown an improvement under the prime minister Pushpa Kamal Dahal. The credit goes to the constructive measures taken by Modi Government.
Once keen on developing strategic relations with China, Bangladesh has now largely normalized its relations with India, courtesy Modi. Besides recent developments in free trade agreement, sharing river waters, building a railway line and developing energy have helped build peaceful relations. India will also utilize 4.5 billion USD on LOC projects.
The India is all determined to exclude Pakistan from Saarc that will also allow it to have a smooth relation with its other neighbours.
A new trade pact with Sri Lanka Economic and Technological Cooperation Agreement (ETCA), was also developed aiming at enhancing bilateral trade between Sri Lanka and 5 major South Indian states (Karnataka, Tamil Nadu, Kerala, Andhra Pradesh, and Telangana)
WomenSafety (312)
Due to the increasing number of women crimes and lack of security, women are reportedly forced to live a strangled life in the country. When the capital of a country is regarded as unsafe for women, the country cannot be called an "independent country," at least by the fair gender. The gender based difference has increased during the Modi governments and the same is expressed in the increased number of crimes against women, foeticides and discrimination against the girls.
The gender discrimination is a bitter reality of India that does not seem to show any signs of improvement. The situation is worse for the rural population and women belonging to economically backward classes. However, the latest budget did not offer any special allocation for the women in women oriented industries like diary.
Women workers constitute around 57% of the manpower employed by Mahatma Gandhi National Rural Employment Guarantee Scheme. In spite of this, the budget for the scheme has only increased by 1% to 48,000 crores in 2017-2018. Apart from the dismal budget increase, the irregularities or utter denial of wages decimates the very objective of the schemes.
Likewise the Integrated Child Development Scheme is aimed only at women and also looks after the nutritional requirements of the infants. According to may 2015 data there were 24.58 lakh women employed under the scheme. That might sound positive but the truth is that these women are not considered to be workers and are offered an honorarium that, in plain language is an unjust meagre amount with irregular disbursements.
Even in Urban areas the working women numbers have decreased to over at a dismal 14%. The country ranks 136th in the gender parity at work n which a total f 145 countries are ranked.
Conclusion
Unlike many previous attempts by different politicians, Modi hasn't only given mangoes to the poor to savour but he has even told them how to plant and nurture their proverbial mango tree. Independence of any nation is identified by the condition of the marginalized sections and poor people. On this front, we can say that India has become a more independent country for poor people. Bolder steps toward security are another factor making India a better place to live. However, for minorities and women, the rise of attacks sponsored or promoted by RSS and similar organizations and step treatment of women in economic schemes have turned their own country into a cage for them.
Article By
Jitendra Singh
Jitendra is a freelance creative writer, a peaceful soul who spends most of his time reading and writing. He considers and respects writing as a meditative technique to get rid of negative thoughts and stress. His favorite niches include history, travel, lifestyle and technology. An introvert and keen history buff, he likes visiting in abandoned forts and small, sleepy cities. He also loves traversing the labyrinths of old literature, listening to soul stirring classical instrumental music and making friends with animals.
The following two tabs change content below.