Summer Sensations for Youngsters
By Suraj Samtani, September 7, 2017, Categories: Featured, GlobeTrotter, Kids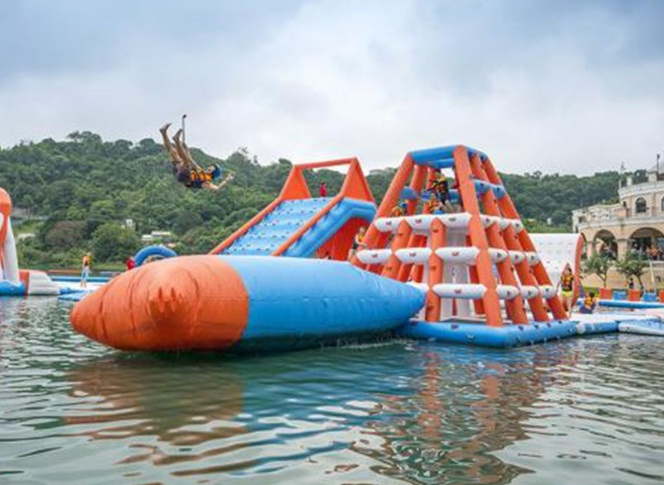 Adesiflava Magazines selects its picks to convert idle time into an ideal time for kids.
Summer is a time when many youngsters yearn to stay away from their academics. In fact, some are so tired of following structured programs, that they even detest summer camps and sports courses, let alone academic catchup programs. This comes much at the chagrin of the busy Hong Kong parents, who are poised with the unique challenge of entertaining their kids throughout the summer. Since there are only so many times that a person can visit theme parks like Ocean Park and Disneyland, we have scoured the city and created a list of engaging activities and top places for kids.
1. Core Aqua Park in Lake Egret
Hong Kong largest inflatable water park floats in one of the most picturesque locales of Hong Kong. A trip to Lake Egret Nature Park could make for the perfect outing for kids and adults alike. Water sport enthusiasts can feast on a 6-meter-long water slide, as well as 43 other inflatable obstacles to dodge around. Skilled swimmers would also be treated to an opportunity to try out wakeboarding, while the rest of the family can enjoy boat peddling, feeding sheep, as well as dining at a top notch restaurant. Most of all, the ambience of the place makes it a perfect getaway destination for the entire family, from tots to aged.
Address: Lake Egret Nature Park No. 2 Hung Lam Drive, Tai Po Kau, New Territories, Hong Kong
Tel: 26576657
2 .MX Club
MX Club is a haven for fans of speed and thrills. Upon reaching the club, riders are greeted with an array of bikes to choose from: from pro bike, dirt bike, quad bike, mountain bike, and even e-bike. They can then cruise through the terrains of Yuen Long and enjoy an adventurous adrenalin rush like never before. Rest assured, with all the safety gear provided, youngsters are well secured from accidents. Despite the high costs, visitors are recommended to book their ride in advance to secure their placement.
Address: MX Club, Fam Kam Road, Tong Kung Leung Village, Sheung Shui
Tel: 2668 0948
3. Ryze
If ever there is a fun way to losing weight and fat, as well as improving postures and blood circulation, it is to go to Hong Kong's first trampoline park, Ryze. Within an indoor space of around 7,000 square feet, it has attractions for children and adults alike. Some of the activities include dodgeball, basketball, open jump, SlackLine, and Ninja Obstacle Course.
Address: 3/F, Kodak House 1, 321 Java Road, Quarry Bay, Hong Kong
Tel: 2337 8191
4. Freeing Hong Kong
With the concept being a huge success across the globe in places like Europe, America, China, India, Japan, and Taiwan, Freeing Hong Kong is the city's first room escape game. It puts participants in a themed room, with unique challenges and riddles to solve. Depending on the chosen challenge, participants must meander their way through clues and hints to free themselves within a given time period. This is the ideal activity for those seeking to be intellectually stimulated.
Address: Pakpolee Commercial Centre, 1A Sai Yeung Choi Street, Mong Kok
Tel: 2711 1785
5. Bubble Football
Bubble Soccer presents a unique way of playing soccer, as each participant wears a big plastic bubble over their bodies while playing. It is perhaps the only time where people can smash into each other and emerge scot-free and pain-free. More importantly, the game helps players improve their hand, eye, and feet coordination. To top it off, a game of bubble football can often get just as entertaining for the players as for the spectators, who marvel at the sight of their young ones bouncing around and smashing into each other. Don't be surprised to see their social media filled with interesting captures, captions, and comments on the match.
Address: SFALO Soccer Stadium, 6/F, Grande Building, 398 – 402 Kwun Tong Road, Kowloon, Hong Kong
Tel: 9666 0869

6. Hong Kong BMX Park
This BMX bike park is suitable for experts and amateurs alike. As it was the original venue for the BMX event of the East Asian Games 2009, the park is geared with professional facilities, tracks, and courses. The 39,200 square metres BMX Park is the first and only qualified venue for BMX racing in Hong Kong, and it is ideal for cycling enthusiasts to take their hobby to the next level.
Address: 91 Kwai Hei Street, Kwai Fong, Hong Kong
Tel: 2419 9613
Article by:
Suraj (Sam) Samtani is an international Writer & Editor, with articles published across medias. He is also an Academic Coach, Native English Teacher & Tutor (NET), Management & Marketing Consultant, and Award-Winning Poet.
Reference:
http://www.lakeegret.com
http://www.mxclub.com.hk
http://www.ryzehongkong.com
http://www.freeinghk.com
http://www.bubblefootball.com.hk
http://www.facebook.com/hkbmxpark
The following two tabs change content below.
Suraj (Sam) Samtani is an international Writer & Editor, with articles published across medias. He is also an Academic Coach, Native English Teacher & Tutor (NET), Management & Marketing Consultant, and Award-Winning Poet.
Latest posts by Suraj Samtani (see all)