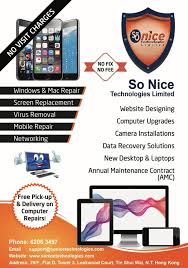 So Nice Technologies Limited (We Provide Total IT Solutions)
No Reviews Yet
29/F , Flat-D , Tower-3
Locwood Court, Kingswood Villas
Tin Shui Wai,
HongKong
---
Business Categories:Electronics
0 reviews
So Nice Technologies was founded by Onkar Singh in 2007 provides a range of Information Technology services designed for business & Home IT solutions. Today, from our base in Hong Kong, we deliver the most comprehensive suite of managed IT services to small and medium-sized businesses and to home users across Hong Kong. Our proven service portfolio meets the varying needs of customers with implementation services or complete outsourced and Hosted IT solutions. Our known Quality Service allows us to provide all our customers with efficient, seamless and worry-free services. We owe a huge thanks to our customers for joining us on this awesome journey, and we hope that you'll continue to be a part of our story.
The following two tabs change content below.
Latest posts by Editor's Desk (see all)
---
View all reviews