The best love stories are the ones that overcome conflicts for togetherness to triumph. A lot of Bollywood masala movies are based on the idea of a cross-culture relationship. Brinda Khandwala and Sonal Advani meet real-life couples who share their personal stories filled with the highs, lows and lots of love in their cross-culture relationship.

Esther & Sandeep
Meeting Sandeep Sharma takes us back to our soil. His characteristic Punjabi munda, big-hearted greeting made us feel the instant comfort of familiarity. We spent an unforgettable leisurely Sunday afternoon in his Park Island home with his lovely wife Esther, daughter Anavi and two dogs over chai and cake!
Even before we could begin the interview with Esther and Sandeep, we were chatting away about food and family. We were greeted by the two lovely, large and rather obedient dogs as we entered and then by sweet, eight-year-old Anavi with a 'namaste'.
"We've taught her when someone does 'namaste', you do 'namaste'; when they say 'salaam alaykum' you say 'wa-alaykum-salaam' and of they say 'god bless you', you say 'god bless you too'," says Sandeep.
Their lovely home, filled with lot (and lots) of happy photographs, tells that family is the most important thing to them. "In that sense Indian and Chinese cultures are very similar – they're both family-oriented, caring and warm. Families love getting together for birthdays and festivals," he says.
While we are chatting, Esther brings us chai. The fragrance of freshly ground cardamom fills the room. "Hope you like cardamom tea. It how he likes it," she smiles. "Later I will show you my kitchen – its an Indian kitchen on one side and Chinese on the other."
The food, she says, is very different. "In Chinese, we eat the main ingredient. For example, if you're making chicken, you can taste the flavour of the chicken. The sauces are on the side, just for bringing out main taste. But in Indian food, you're tasting the spices. The maslas cover the taste of the main ingredient," she points out.
Esther and Sandeep met in ten years ago at a club where he was working. "I had gone with my friend. I saw him there and we started talking. My friend pointed out that he seems interested in you," she recalls. "After that I kept going back with different friends just to see him."
There was instant chemistry, as Sandeep remembers it. "But I was married then. It was in 2010 that I got divorced and then we started dating and soon moved in together. So, you see, next year its going to be ten years of us suffering together!" he laughs.
The initial struggle was more with the language. "Though from Hong Kong, my parents are traditional Chinese. They don't speak any English. So, for them to communicate with Sandeep was an issue in the beginning," says Esther.
"I started working out a way to get along with her family," he explains. "First thing was to practice my Cantonese because I wanted to get to know them better." Today Sandeep speaks fluent Cantonese which has helped him in more ways than he imagined.
Similarly, Esther adapted to the Indian culture very well. She celebrates Diwali, has a wardrobe of traditional Indian wear and even wears a mangalsutra every single day since their marriage. "And I wear the wedding ring," points out Sandeep.
Their wedding photos have them dressed in Indian wedding wear – which was Esther's idea. She wanted to do the traditional bridal look for it with the lehenga, jewelry, bindi and mehendi. "Even for the Chinese, the bride wears red. And when there's a death, we wear white too," she explains.
Sandeep's traditional Punjabi mother didn't protest to this union, but back then she did express that she would've liked to choose a Punjabi bride for him. "I asked her what she will do with her Punjabi bahu because I sure wasn't going to bring her to Hong Kong with me. She said she will keep her in Punjab with her. So, I said – fine, for your happiness I will marry a Punjabi woman and you can keep her with you. And I will come back to Hong Kong and live with the woman I love!" Of course, that didn't happen. And with time both the mothers are very accepting and happy with this relationship. They both enjoy the same respect in Sandeep and Esther's home.
"I make chai for his mother and he makes Chinese tea for my parents when they visit," she says.
"Whether it's a mixed culture marriage or even of the same community, respect is very important. Before we start living together, we are individuals who come from different homes, so the understanding and respect for each other is what makes the marriage work. It's as simple as that," says Esther.
The couple does make it look simple. But in a home where two different food habits, different beliefs and different styles of upbringing co-exist, conflict is inevitable. Esther leads me to her kitchen to explain that – and we have never seen a more organized space! Neatly labeled and stacked, the complete range of masalas were on the 'Indian side' of the kitchen. She also had a mortar and pestle for freshly grinding green cardamom for their tea. The 'Chinese' side had their sauces and rice.
"I love when she makes roti for me," says Sandeep.
"But I still can't make them perfectly round," she admits.
Their little disagreements keep the marriage spiced up. And when it comes to Anavi, there is a clear thought, that they want her to learn and respect every culture of the world.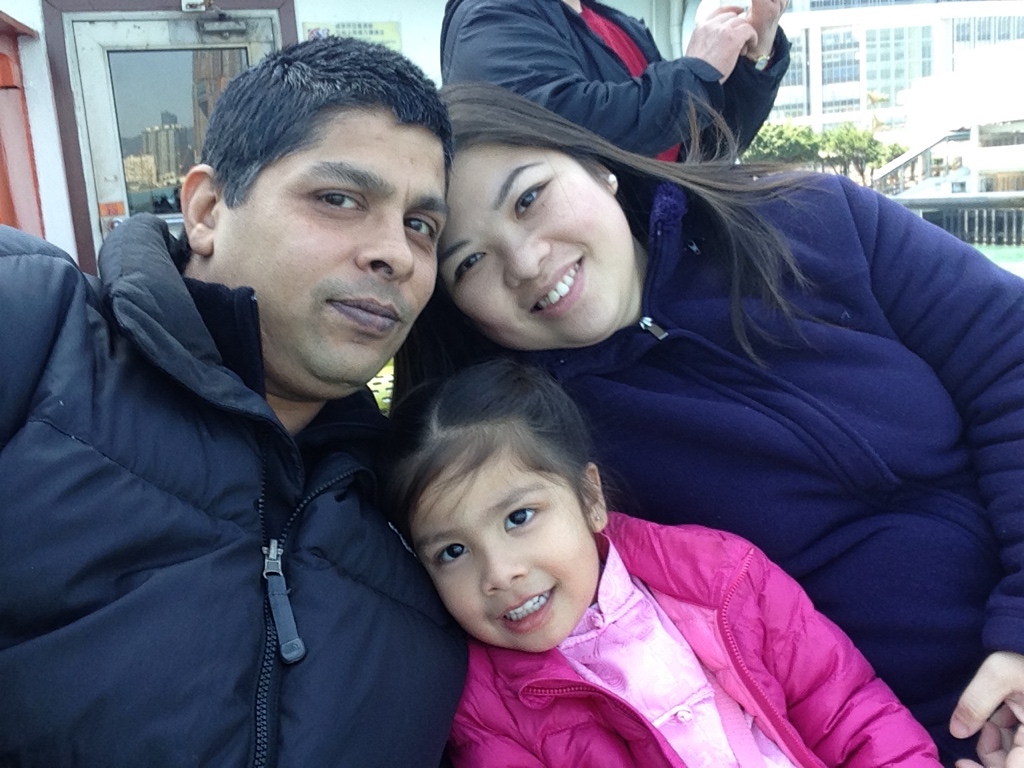 "She can wear Indian clothes, or Chinese clothes or whatever she wants. For me, she can be international," says Esther.
Sandeep passionately talks about his parenting style and involvement in his daughter's upbringing. "Anavi is like me – she picks up languages very fast. She already speaks a little of Hindi and Spanish. And of course, she is learning Cantonese, Mandarin and English. I am training her to learn more. When you're living in global city, it's good to at least know how to meet and greet in different languages. We are raising her to survive in the future – not just in the family but in the world. The world is her family. And she can fit in every circle."
The couple embodies the term 'opposites attract'. While she is a calm, composed woman of few words, he is a large-hearted, loud and talkative Punjabi! He believes it's their differences that makes their marriage exciting and adventurous. "In our home, we believe in respecting everything but following our own path."
Fanny & Sri Kishore
A Bollywood connection, shall we say! Sri Kishore Bandanakanti and Fanny Ng had a chance meeting only because she stumbled upon his Bollywood dance class at the same venue where she went for Yoga. The catchy beats got her interested in the dance, but little did she know that she will be finding the love of her life in her dance teacher! After three years of hanging out as 'just good friends', the duo realized their connection only when Sri went to Hyderabad for eight months to work on his first film.
A dance teacher by profession and Telegu filmmaker by passion and, Hyderabad-based Sri came to Hong Kong almost 12 years ago. Fanny has been brought up in Hong Kong. Needless to say, their sensibilities came from very different backgrounds. But Bollywood music played cupid in this relationship.
"From 2008 to 2013, there was absolute craze about Bollywood music here. People would line up outside the studio even before it opened to register for class. Today, every other person with a YouTube video is a Bollywood dance teacher!" points out Sri.
"His class looked fun!" said Fanny. "But I had no concept of dance. I was like a robot. I'd join at the back of the class and hope that he won't look at me. Over time I began to enjoy it more and more. There were even times when I had even skipped work to attend the class!"
Fanny would often go to Chungking Mansion to buy Bollywood DVDs and watch with her girlfriends. "The hero is to handsome and the heroine is so pretty in the Indian dresses… I didn't care about the story, we were just happy to watch them."
Often after dance class, Fanny and Sri together with other friends would hang out, have dinner and socialize. "But there was no intention of getting married or even dating," he clarifies. "When I went to Hyderabad in 2011 we started chatting over the phone and then started dating."
Though neither of the two had any inhibitions about getting involved with someone from a completely different culture, their respective mothers had some concerns. "Actually, my mom knew Fanny and really liked her. But that was when she met her during her visit to Hong Kong and hung out with her before we were dating," he recalls. "Of course, when I told her that I was going to marry her, she had some concerns. She is a traditional countryside woman. It would be a concern even if a south Indian boy is marrying a north Indian girl. So, a Hong Kong girl was a bit much for her to accept."
Fanny faced a similar issue in her home. Though her father was kind of supportive, her mother protested their relationship. "You know we have lived in Hong Kong all our lives. Sometimes there are stories in the news about how ethnic men which are worrisome. And for my mother, Indian, Pakistani, Sri Lankan, Nepalese… its all the same."
Sri adds, "Like for us Chinese, Japanese and Korean seem the same."
"Yes, so she was concerned about my future. But now she likes him so much! When we visit her for dinner, she will always ensure he is eating what he likes and is comfortable."
In that sense, Sri says, both the mothers are similar. Owing to their traditional upbringing, their warmth and care towards the family and children is the same. "But they don't speak a single language in common. They both say they can communicate but I don't know how," he laughs.
"When my mother in law visited us after our son was born, she brought my mother a sari. They spent the afternoon learning how to drape it and laughing. My mother would serve her food and ask her to nap. It was like friends hanging out," explains Fanny.
The mothers seem to share a very 'ek duje ke kiye' vibe where language isn't a barrier! "I wonder how!" says Sri. "Maybe because they don't have the typical 'in laws' relationship where ego comes into play."
Their bonny boy – Vishwa Virat B, all of four years, is a perfect blend of both cultures – in looks and personality. He speaks fluent English and Cantonese and does puja in the morning with his father! "I also speak a few words of Telegu with him," says Sri.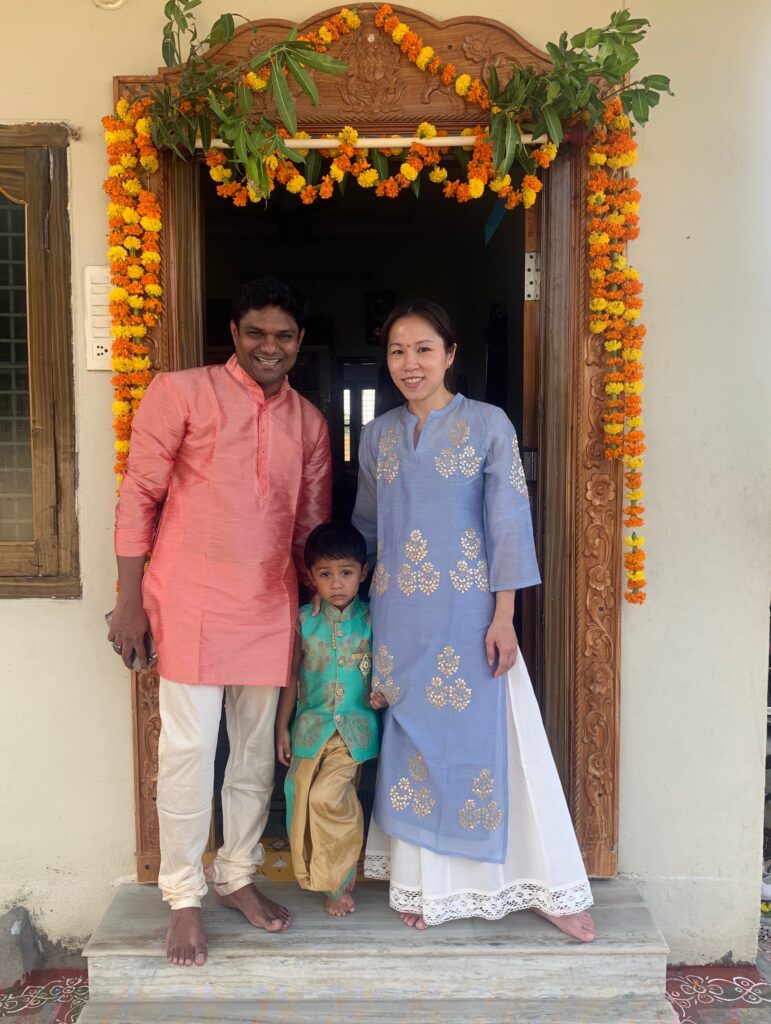 Fanny looks more into his studies because she knows how the Hong Kong educational system functions. Most of their conflicts arise because of different approaches to parenting. Fanny admits that in Hong Kong there is a lot of pressure on children and parents when it comes to education, which may not be the case in Indian schools.
Sri, on the other hand, wants his son to enjoy his childhood with the simple pleasure like getting his hands dirty in the sands or playing with insects.
And when it comes for food, there is no room for conflict. "I've spent many years as a student living away from home, that now if I get simple rice and dal – I'm happy. I can eat it even if the salt is missing."
Fanny admits she doesn't know Indian cooking well. "All I do is add some red chili powder to make it spicy!" But she has some favourites when she goes to Hyderabad. "Dahi wada and dosa." She also got her mum in law to eat pizza!
The only thing she cannot understand about the Hyderabad home is how many 'strangers' keep coming over. Sri laughs, "You know how it is in Indian homes. People just drop by for a cup of tea or something. Once when we were visiting, in the morning my father called the milkman in to introduce him to Fanny saying – meet her, she is my daughter in law."
"And I ask Sri who is this, even he didn't know!" she added.
In absolute contrast, the Hong Kong culture is very alien for Sri. "Its very odd. Even a couple living together won't have their breakfast together or know what the other is doing through the day. People are very disconnected. No one greets eachother in the elevators or drops by at each other's homes."
The city's pace doesn't match with Sri's. "In Hong Kong, life is very fast. People will wake up, get dressed and go out," says Fanny.
"If I have a meeting at 11 am, I need to wake up at 7 and take my time to get ready for it," Sri explains. The couple's long-term plan is to save money and retire in Hyderabad.
Susanna & Ameen
The most jovial couple we met through this journey, Susanna Ting and Ameen Thana, have been together for 27 years. The parents of two teen boys truly enjoyed reminiscing their dating period and wedding days as they gave us this interview. "This is fun," said Ameen. "We haven't thought of those days in a long time."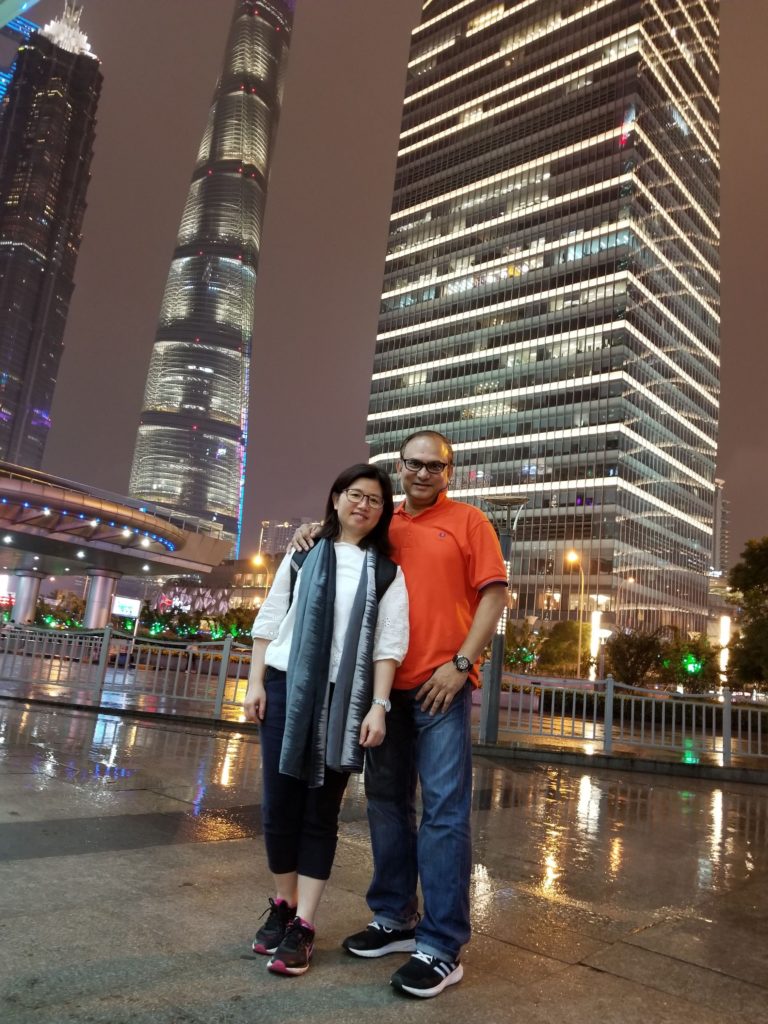 To start with, Ameen tells us, "In our case, it's not just an Indian marrying Chinese. Its Indian Muslim marrying Chinese – it's hard! My father was a real south Indian father – though he had come to Hong Kong for business in 1968, he wanted me to finish my studies in India. I lived to two years in his Brahmin friend's house. Pure vegetarians!"
Ameen would visit Hong Kong in the holidays before he finally moved here at the age of 21. Since he was speaking four languages already – English, Hindi, Tamil and Chinese, he easily got a job in a global company. That's where he met Susanna. She was the Chartered Secretary.
"In fact, this is the exact time of the year first went out together – 17th October 1992!" said Ameen. Truly impressive when men remember their first date, and almost three decades later!
Susanna added, "That time it was just as friends. We went to Star Ferry."
Love happened naturally. But telling the parents had its share of drama, as expected. "Yes, my family is very traditional. They asked me why I chose an Indian man and not Chinese. They said that the language, culture and upbringing is very different. Of course, they were right to feel like this. They advised me to reconsider."
Ameen adds to this, "At the time, they were right to feel afraid of Indian people. Many Indians married for visa and would leave. So, it was natural for them to be concerned about their daughter."
Susanne remembers, "After we met, Ameen used to bring a tape to Kowloon park and listen to it everyday to learn Cantonese."
The couple dated, and waited for almost ten years before they got married because they wanted both their families to approve of their union.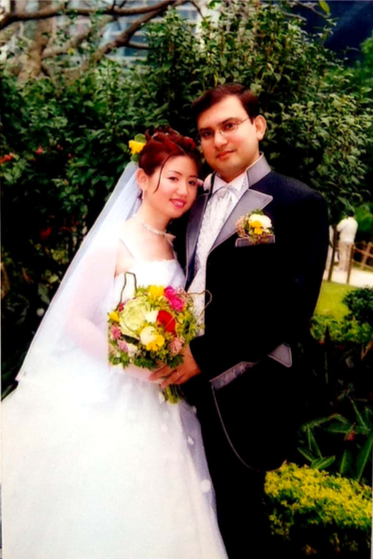 "My father had passed away. I couldn't upset my mother, I love her very much. Being her oldest son, I knew she hopes and dreams of arranging my marriage," Ameen explains. "But what was amazing how she organized our wedding once she accepted. In those days, she was thoughtful enough to arrange for a translator during our wedding so that the bride's side can be more comfortable."
Ameen and Sussanne had a big wedding back in Tiruchirappalli, India. With about 1200 guests and a lot of formalities, the wedding was very well organized by his mother. "Susanne and her family stayed at a relative's home. Back then we didn't have mobile phones. We used to send messages to eachother via the translator!"
Since it was a Muslim wedding, Susanne had to convert to Islam. "Growing up, I didn't have a specific religion that I followed. I studied in a Christian school but I wasn't strictly following any particular faith. So in that sense it was easy for me to convers," she explains. She appreciates that neither Ameen or the family ever forced her to practice the religion.
"My mom likes her. They are both happy. They respect and care for each other – what more can I ask for?" he says. "Life is like that – you want something then you have to give up something. Like for the whole life I have to accept food without salt! You can't expect to eat biryani everyday." (everyone laughs).
She likes tandoori chicken and naan when they eat out.
"But that's North Indian food," he says.
"But now I like sambhar," she argues. "I know how to prepare it. I also learned how to make chapati and masala chai. Now I make it and we have it together at the start of the day."
"Initially I used to eat whatever she cooked, so it was mostly Chinese. But I do miss Indian food. So whoever we hire as help in the house, I ask them to prepare desi khana once a week." Ameen even likes his mother in law's Fujianese dish that she specially prepares for him every time they visit.
Jokes apart, Ameen believes no matter where in the world you are, you must accept your true self. "Indians are everywhere. But wherever you are, whatever nationality you have acquired or what your passport says, you are Indian at heart. Holding chopsticks won't make you Chinese. When I see my people, I speak with them in Tamil. I find it strange when Indian here come and speak in Chinese with me!"
Their children mostly follow the mother's culture, as most children do. "He travels a lot," Susanne explains. "The children are mostly with me. They speak Chinese and English."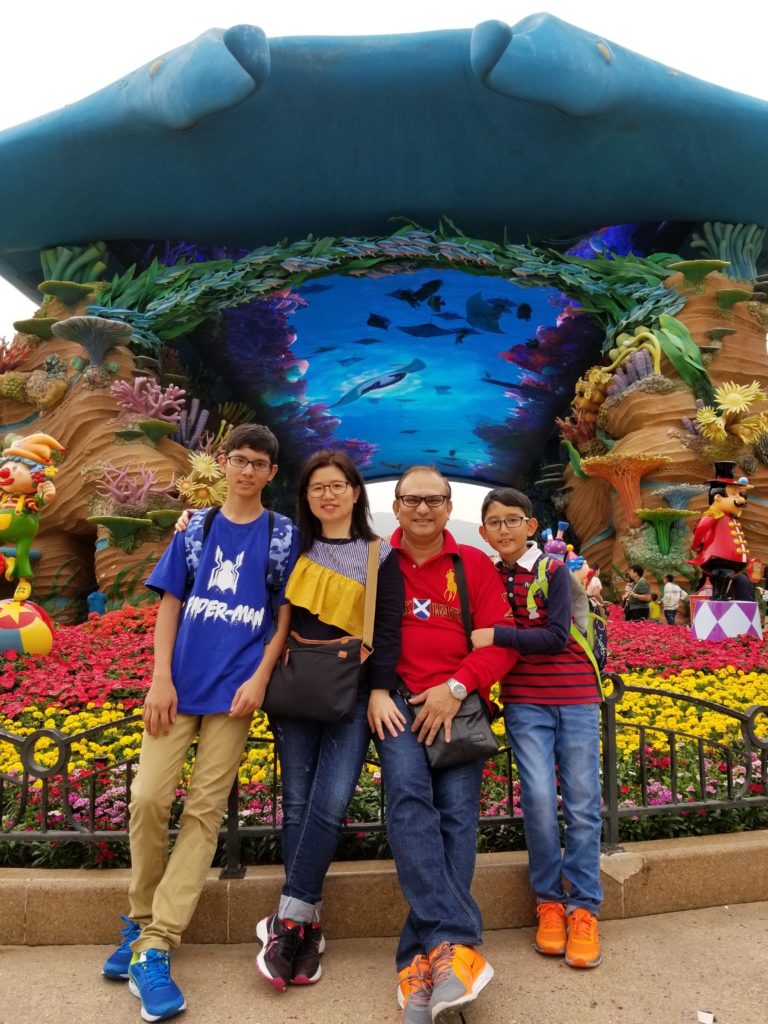 Ameen admits, "It's my mistake that I didn't speak enough Tamil with them when they were growing up. We don't want a lot of Indian cinema either. With Sussane I have become addicted to watching the Chinese shows. I feel this more when I take them back to visit India and my mother talks to them. If they knew Tamil, they would be able to talk more."
The duo works hard to continue to expose the children to both the cultures. They often take holidays in India. And share festivals and celebrations with Susanne's family here.
"They don't like it that India doesn't have good internet is many places," he laughs. "Then I remind them that the CEO of Google is a South Indian, and he did it without internet. So, they, with all their facilities, have to do even smarter!"
Their sons have taken after the parents very fairly – one is on the mother while the other is more like the father. "My older son likes butter dosa but can't handle much spice. The younger one can eat the spice," she says.
As a family, they have a whole big group of friends with mixed marriages. They get together often and take holidays too – all the couples and mixed children. "Its so lovely to see Indian kids fluently speaking Malay (Singaporean), Cantonese, Mandrin, Fujianese…" he says.
"I feel parent's advise children to marry someone that has more commonality with you, simply to avoid conflict," Susanne says. "But the truth is, all couples have conflict."
A stark opposite of her, Ameen believes, "Its how you adapt to each other. Yes, she is patient, quiet and honest. More composed – so it works for us. You can't have two tigers in one jungle! I think Indian men in general are short tempered. Maybe its because of all the spicy curry we eat!"
"On the other hand, I think our kids are too cushioned in this western world, as compared to children in India," observes Susanne. "Its just recently when they witness the protests going on in Hong Kong, that they are beginning to think for themselves how they feel about it."
Xenophobia often emerges as one of the root issues around the world. Somewhere, cross culture marriages, and mixed race children are helping with more tolerant and accepting attitude. "Of course, there are problems everywhere," she says. "You have to go through problems to get answers."
"The key is respect. I joined a friend to church one day, that didn't make me Catholic. It simply made her happy. And the next day when I wanted to pray, she drove for an hour to find a mosque for me," says Ameen as he recalls visiting a friend abroad. "You have to respect all religions and beliefs."
Stella & Karunakaran
After a series of interviews, it was rather refreshing to know that Karunakaran didn't have to face any disagreement from the family when he decided to marry Stella Yip. Born and brought up in China, Stella's family moved to Hong Kong in 1991. She met Karuna in the year 2000.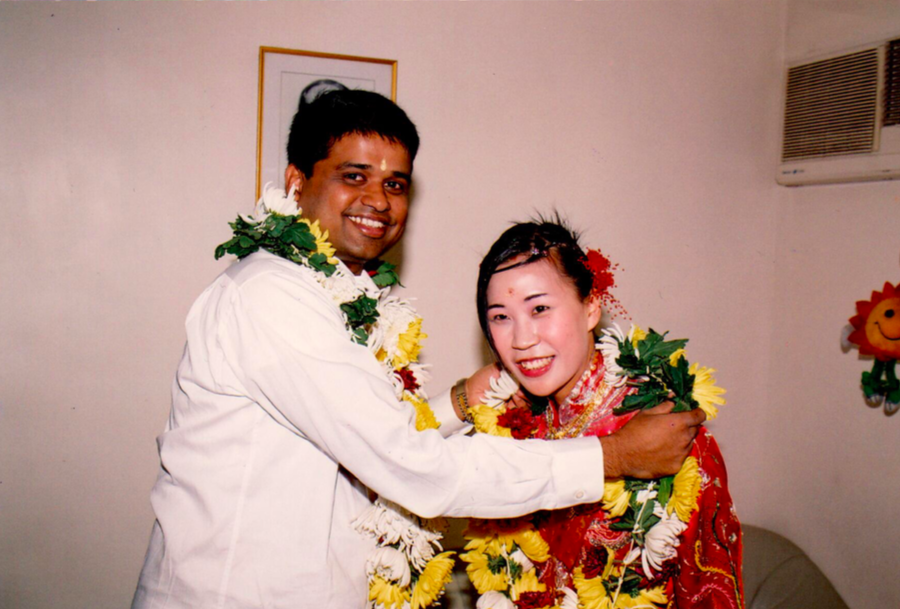 "For me, there were no inhibitions about our differences when we started dating. But it was later when the family got to know that I experienced some pressure from their end," remembers Stella.
One common thing we discovered after meeting all the couples, that language is a much bigger criteria that one imagines when it comes to two families coming together. "I understand that they weren't okay with this relationship before because they can't communicate with him at all and our backgrounds were different," she explains. "Because they can't communicate, they don't know whether he is a good person or not; whether I can depend on him or not. These were their concerns."
Brought up in Chennai, living in Sydney and then in Hong Kong – Karuna had the support of the family right from the beginning. After three years of knowing each other when they decided to get married in 2003, it was Stella's grandmother who convinced her parents to accept this relationship.
Stella points out the similarities between the Indian and Chinese cultures, where family is of key importance. "For both, family is priority. There is respect for elders. In many ways we share the same values. Religions may be different, but worship is important. My father is Buddhist. There are a lot of Buddhist philosophies that overlap with Hindu ones."
And then there are the differences – food, language and upbringing. "Of course, the food is very different. Language was an issue for us initially as I was still learning English and wasn't very fluent with it. But that is not an issue anymore," she says.
Like we commonly do in India, her family had even consulted a traditional astrologer in the village to check of the couple is a good match as per their birthdates to discover that they indeed were! But it wasn't enough to convince them as their concerns about her future took over. "At that time only my grandmother was fully supportive and convinced them. She told my parents – you cannot find good man for your daughter. And if you do, how can you assure anyone is truly good? So, if she has found someone that she feels comfortable with – you must accept him."
"Her family is very supportive," he said. "After the grandmother convinced them, they all were supportive. They helped me buy the long list of Chinese food items and traditional gift articles that as per their village community tradition the groom had to deliver to the bride's family during our wedding."
With no common language, one wonders how Karuna communicates with his inlaws. "We love each other," he puts is simply. "They will say something in Cantonese and I can try picking it up."
The wedding happened in both – Kerala style as well as Chinese style. "So, the Chinese tradition is that we go to her house and serve tea. For Kerala style, she came to my house. There was a lamp around which we had to walk. Then we give her a sari – that's it. It's a short ten-minute ceremony." Later they had a big banquet wedding reception where they invited all the friends.
Now with two teen boys – Yogesh and Vasudev, their home functions in a very mixed style with influences of both the cultures and more. Being Hong Kong children, they are very 'international' in their lifestyle. They speak Cantonese and English.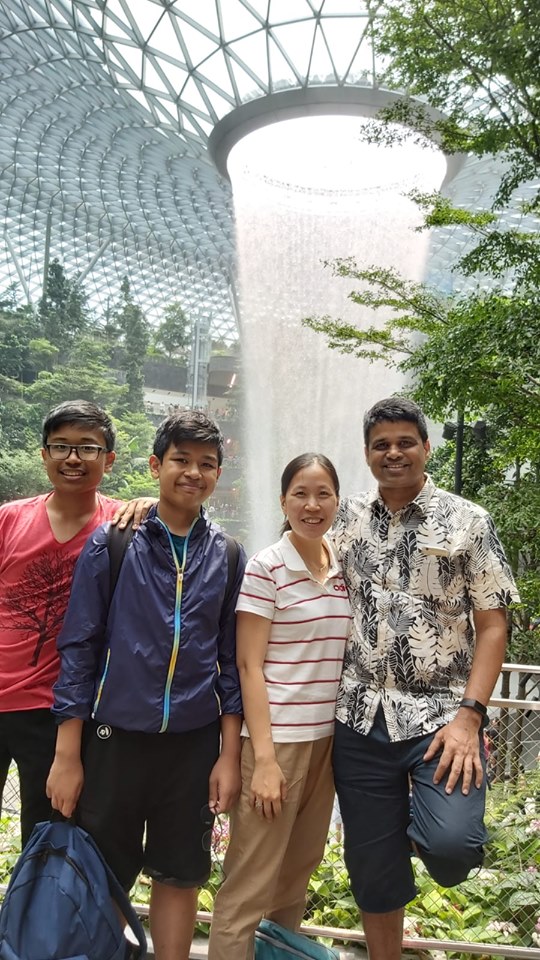 "I haven't taught them Malayali or Tamil yet," says Karuna.
The family has been to India several times. Stella's favourite food there is the garlic naan and dosa. "Now we go regularly to India – Chennai, Kerala, Bangalore. But before it was a little difficult for me because the food is very spicy and I cannot tell which food is from which province."
But there are some things that Stella would find strange. "Like here men and women are equal. But when I first went to Kerala, I saw something different – since there weren't enough seats at the dinner table – the men eat first. And the women eat together afterwards."
Just as well, Karuna also experienced some new rituals after the kids were born. "Likes she boils soup for ten hours!" he joked. "I also had to get rid of my dog when our first baby was born. It's a Chinese thing, they don't like to have a dog in the home when there is a new baby."
"My mother believes that. She has these traditional thoughts. I can't push them away, so I end up pushing him," laughs Stella.
Karuna agrees a cross culture marriage is difficult. "Initially, but then we grew over the last 18 years. I feel the second the half of our marriage is better, stronger and deeper. But then again, it would be with any man and woman put together – they take time to find their balance."
The following two tabs change content below.

Brinda Khandwala
My move to Hong Kong, though sudden, was a smooth one. Essentially a SoBo girl, my desi ties are wrapped quite tightly. But the warm vibe of Hong Kong, it's buzzing nights, the multi-cultural influences and of course, so many Indian friends made it easy to call this home. I've been writing all my life – on fashion, lifestyle, entertainment, art and just about everything that infuses colour into my life. Joining the A-Desiflava team is yet another excuse to put together all these passions for sharing with my fellow Hong Kongers!

Latest posts by Brinda Khandwala (see all)