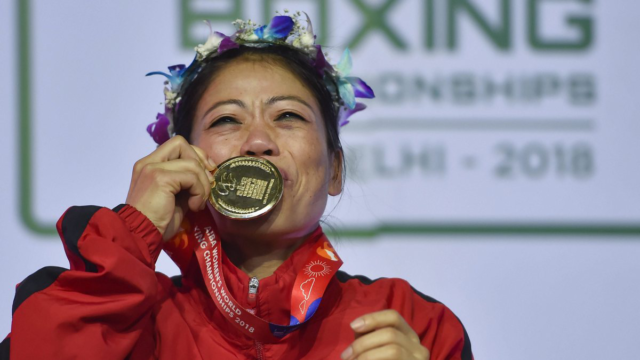 The Indian sportswomen are shining brighter than ever! The names Mary Kom, Saikhom Mirabai Chanu, Manika Batra, Dipa Karmakar, PV Sindhu and Manu Bhaker should probably ring a bell in the minds of all Indians because these are the women who are (literally) digging for gold. This week's article is dedicated to these women, who have invested their blood, sweat and tears into India.
Magnificent Mary
Already eyeing the Gold at the 2020 Olympics, Mary Kom is far from tired. The boxer made history on 24th November 2018 and became the most successful boxer in the history of Women's World Championships by winning her sixth gold medal. Her track record is a long one, which includes, silver in the inaugural edition in 2001 and a gold for each in the next five consecutive editions — 2002, 2005, 2006, 2008 and 2010.
Image courtesy: https://theprint.in/sport/mary-kom-creates-history-by-winning-sixth-gold-medal-at-womens-world-championship/154221/
The Manipuri boxer, nicknamed "Magnificent Mary", is a mother of 3 and is happily married to footballer Karung Onkholer. Growing up in a poor family with both parents working as farmers, Mary Kom was like any other child who went to school, did her chores and helped her parents. She had a keen interest in athletics since she was young but only developed a strong inclination towards boxing when Dingko Singh returned from the 1990 Asian Games with a Gold medal. Drawing inspiration from his success, Mary Kom started to train to become a boxer while keeping it a secret from her father as he was a wrestler in his youth and therefore was concerned about the impact boxing could have on Mary Kom's face and also her marriage prospects. However, eventually, after seeing her dedication and love for boxing, he began to support her career.
The boxer went on a short hiatus after getting married but started training again after having children and came back to rule the boxing ring. She literally kicked some ass while simultaneously raising a family and showed the world how there really are no limits to what women can achieve. Her perseverance and hard work should inspire us all and show us that with a strong mind (and strong muscles, in this case) women can break all the barriers set by the patriarchy.
Continuing on the theme of women climbing up the ladder, in this week's article, we look at some of the other Indian sportswomen making India proud on the global stage in a field that was predominantly occupied by men.
Super Saikhom
Born to a poor family in Imphal Manipur, Saikhom Mirabai Chanu is an Indian weightlifter. Inspired by, Kunjarani Devi, another pioneer in the weightlifting sport, Chanu made a deal with her parents that she would quit weightlifting if she didn't qualify for the Olympics, as they could not afford the expenses that came with training for the sport. She cycled 60 km from her village to her training centre and was only allowed to lift bamboo canes for the first 6 months of her training
Image courtesy: https://www.mykhel.com/more-sports/weightlifter-mirabai-chanu-wants-cctv-cameras-prevent-doping-scandal-090178.html
At 11, she won gold at the sub-junior level and repeated the same in junior nationals in 2011. A regular presence in international events since 2014 in the 48 kg category, Chanu has won the World Championships and multiple medals at the Commonwealth Games.
Chanu's first major breakthrough game at the Commonwealth Games 2014; she won the silver medal in the 48kg weight category. Chanu had won the silver medal in the women's 48 kg weight class at the 2014 Commonwealth Games. Chanu lifted a total of 196 kg, 86 kg in Snatch and 110 kg in Clean and Jerk to win the first gold medal for India in the Commonwealth Games 2018. En-route to the medal, she broke the games record for the weight category; the effort also marked her personal best performance. Her biggest achievement came in 2017, where she created a world record and won the gold medal at the 2017 World Weightlifting Championship held in the United States.
In 2018, Chanu received India's highest civilian sports honour Rajiv Gandhi Khel Ratna and was also awarded the Padma Shri by the Government of India in the same year.
Majestic Manika
Manika Batra is a Table Tennis player from Delhi who has catapulted herself and her sport into the limelight. She won the most medals as an individual from India at the Commonwealth games at Gold coast in 2018. After being influenced by her siblings, Batra started playing table tennis at the age of 4 and after winning a match in a state-level under-8 tournament, she decided to train under a professional coach.
Image courtesy: http://www.tabletennisbug.com/2018/06/manika-batra-profile.html
She won her first medal at the age of 16 and a silver medal in the 'Under-21 Category' at the 2011 Chile Open. Manika won three medals at the 2015 Commonwealth Table Tennis Championship in Surat, Gujarat. In the 2016 South Asian Games, Manika won three Gold medals but lost out at the 2016 Rio Olympics. She is the first Indian Woman to win Gold Medal in Table Tennis Singles' in Commonwealth Games 2018.
At just 23 years old, as of April 2018, she is the top-ranked female table tennis player in India and ranked 58th in the world.
Doughty Dipa
Starting at just the age of 6, Dipa Karmakar was not serious about pursuing gymnastics till her father, who is a weightlifting coach himself, persuaded her to do so. Competing since the age of 15 and collecting over 77 medals, 67 of which are gold, Dipa is not new to making history.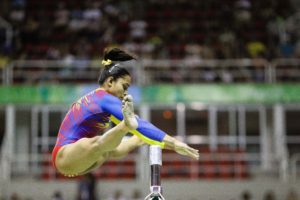 Image courtesy: https://www.sbs.com.au/topics/zela/article/2016/04/19/dipa-karmakar-first-indian-female-gymnast-qualify-olympics
She made history, qualifying to represent India in gymnastics for the 2016 Rio Olympic Games. She became one of only five women who has attempted and succeeded to perform the Produnova, which is a difficulty level 7 and a very risky vault to perform. She did not only become one of the handfuls of women who performed the vault but she also made a record score of 15.100, the highest amongst the 14 competitors.
At the 2014 Commonwealth Games in Glasgow, she became the first female Indian gymnast to win a medal, taking out the bronze at a vault event. The professional athlete was also the first female Indian gymnast to make it to the finals of the World Championships in November 2015 and was awarded the Arjuna Award in the same year. Recently, she also won the Artistic World Cup Bronze in November 2018.
Karmaker also became the first Indian female gymnast to score a place in the Olympics. With a growing successful career, she continues to shed light on artistic gymnastics in India as the society started to compare the sport to circus tricks. She is proving that women the world over can break barriers, create history-defining moments and excel alongside male athletes.
Smashing Sindhu
With national volleyball players for both parents, PV Sindhu went in another direction and started playing badminton at the age of 8. Currently, at the 6th position in the world, Sindhu was the first Indian woman to win an Olympic silver medal. She won silver in women's singles at Commonwealth Games 2018 and also remains a silver medallist at the BWF World Championships after coming in second in 2017 and 2018 consecutively.
Image courtesy: https://www.dnaindia.com/sports/report-pv-sindhu-has-an-epic-reaction-to-make-forbes-list-of-top-10-highest-paid-female-athletes-2653949
At 23, she scored a historic win by securing the silver in the Women's Singles Badminton event at the Asian Games 2018. She also became the first Indian to finish second on the podium in the Asian Games.
She is named amongst the top 5 shuttlers in the women's singles category and has also come in at the 7th position in the Forbes' list of "Highest-Paid Female Athletes in 2018". Sindhu won the Arjuna award when she was just 18, and she was awarded Padma Shri at the age of 19. She was also honoured with Rajiv Gandhi Khel Ratna award in 2016
Masterly Manu
After trying her hand at boxing, skating (a state level champion at that), martial arts and even tennis, shooting is where Manu Bhaker found her true calling. At 16, Bhaker is India's youngest shooter to win a World Cup gold.
She not only managed to beat her much-experienced compatriot Heena Sidhu to the Gold, but she also finished on top of the podium with a Commonwealth Games record score of 240.9.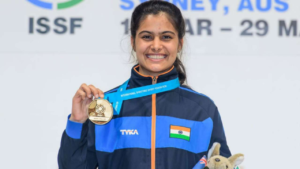 Image courtesy: https://www.dnaindia.com/sports/report-shooting-unperturbed-manu-bhaker-seeks-to-continue-golden-run-in-asian-games-world-championships-2642993
The Haryana native was a regular performer in the junior level, but she really burst onto the scene when she bagged a massive total of 15 medals, including nine Golds, at the 61st National Shooting Championship in December 2017. One of those Gold medals was won beating Heena Sidhu in a final, where the young Manu set a new national record. She also won two gold medals at the International Shooting Sports Federation World Cup 2018 in Mexico.
Each woman, a pioneer in her own sport, continues to make India proud and inspire Indians through their commitment to not only their professions but also their nation. Due to their undeterred perseverance, India has managed to shine brightly with its head held high at the global sports platform. Here's hoping that they inspire and motivate many other girls to follow their dreams and remain fearless.
The following two tabs change content below.

Archita Bisht
Archita Bisht is the Managing Editor at A-Desiflava Magazine and can be reached at ab@aplomhk.com. Born in New Delhi and brought up in Greece, Iran, Germany, Ivory Coast, Spain and Hong Kong, I knew since very early that I wanted to write. I consider myself a storyteller and believe that storytelling is an important and constantly developing form of art. Words have the power to influence minds and perceptions and so I choose to focus my writings on topics related to culture, society, global affairs, and politics. When I am not focusing on jotting down my thoughts, I like to enjoy the sights that Hong Kong offers, travel, practice yoga, and binge on crime documentaries. I detest the humidity, stupidity and people who don't know how to stand in a queue.

Latest posts by Archita Bisht (see all)