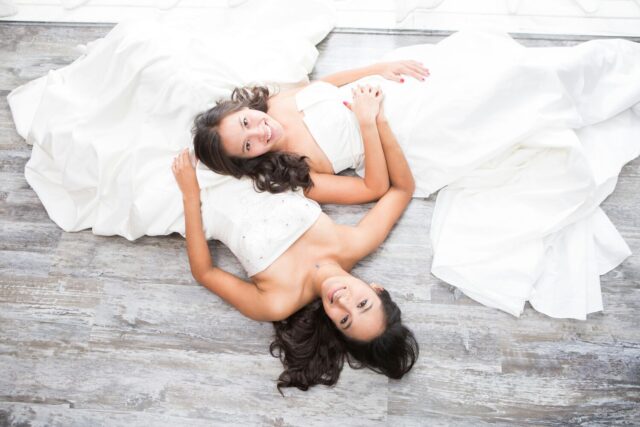 All you need is love, said the Beatles. As true as it is, we also want commitment. Because Liza Minnelli told us, 'If you like it then you shoulda put a ring on it'! Of course, it doesn't hurt to have that dream wedding in the presence of all our loved ones. Brinda Khandwala, takes a cue from Taiwan's landmark ruling of legalizing same-sex marriages, to find out the importance of marriage for same-sex couples here
Hong Kong continues to seem indecisive when it comes to law and equal rights for the LGBTQ community. In May, while Taiwan was making global headlines with their new law, our MTR was pulling down Cathay Pacific's 'Move Beyond Labels' ad featuring a gay couple. But also in the recent news, the court unanimously ruled in favour of Angus Leung and his husband Scott Adams, granting them spousal benefits and joint tax assessment – equal rights as heterosexual couples. The headlines 'love wins' gave hope to many.
Most of us who have fallen in love, have at some point or another, desired to experience life together with their loved one as one unit – a family. But if we were to talk about the institution of marriage even without romanticizing it, its importance remains undiluted.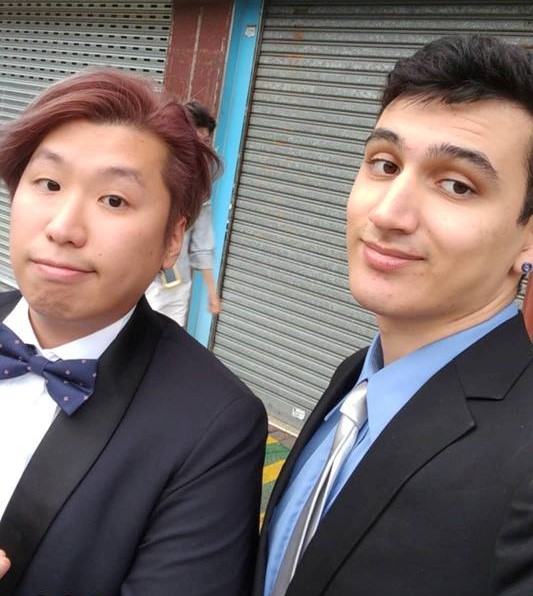 Dating for two years, Antonio Ho, General Counsel and his boyfriend David Moreno, a web developer say it's inevitable that Hong Kong will legalize same-sex marriage
A laidback brunch on a warm Sunday morning with Antonio and David turned into a rather long, insightful conversation.
They met at an Australian expat event in Hong Kong. Antonio joined because a friend had organized the event and David attended with a friend. "It was just before gay pride in Hong Kong so we spoke about it. I smoothly asked him for his contact and he gave me his email!"
"I wasn't on any social media then," said David in his defence. "Somehow I thought of giving the email."
"And I felt shot down. Gay or not, I just thought he was cute." But all that's in the past. A couple can't look more in love than these two.
Though we met to talk about Taiwan legalizing same-sex marriage, before that a whole lot of other discussions organically happened – about coming out, social acceptance, religion, media representation of homosexuals and more.
For both the guys, coming out and acceptance from the family wasn't much of a struggle. One thing I have almost always heard from every gay person that I've ever met – "When I told my mom, she said she kinda knew." Yes, mothers know. But how easy is it for them to accept it?
"I came out to my mother at 21," said Antonio. "There were ongoing jokes about it in the family but we never spoke about it seriously. As Asians, we are not comfortable with confrontation, we don't like to 'rock the boat'."
For David, there wasn't much struggle while coming out, which was a couple of years ago, but it was more a concern about 'will things change'. "More like will their treatment towards me change? I have a brother, will he feel differently about me. But it wasn't like that."
Coming out was important. A closeted life wasn't an option. "That would be very uncomfortable. It would be a 'half-life'," said David.
Antonio's mum is Buddhist and David's is Christian. What does their faith say about gay relationships? "My mom is Buddhist. So they believe in detachment from all relationships – there is no particular prejudice for LGBTQ. It's considered just as wrong to have a girlfriend or have children. I don't think Asian religions have anything against homosexuality in their scriptures. The idea of being 'gay' is just 'ew' for them because they're not familiar with it."
David is agnostic so religion doesn't come into play here. "Christianity also doesn't have much ground to stand on. There are few points that could be interpreted that way but it's not much. It is a whole thing on female wife's duties and slavery; not particularly on homosexuality. It's more like they're holding on the last straw of religion to stand against it. Their arguments hardly stand."
Both believe acceptance will come with more awareness and openness towards the discussion. But again, incidents like the Cathay ad being taken down by the MTR set it a few steps behind.
"I think it was more of a reflex – oh it's gay, so take it down. They didn't think hard about it. Some argue that it's a policy as they have a moral code about ads in the MTR. But they have ads about – sex toys, breast enhancements, condoms as well… How do men holding hands breach your morals? There is no explicit hate towards gays, it's just lack of thinking."
Antonio keenly points out another aspect of Asian society. "Family is a big deal – you don't just turn 18 and move out. 'Settling' is important. Buying a house, car, having children… When the family expectations are like that, your gay relationship becomes a guilty pleasure at best; as if you're taking drugs. It is that way. Relationships are as hard as it is."
Legalizing gay marriage in Hong Kong, they say, is inevitable. "Its natural progress. Like the end of slavery or women's rights to vote or to drive. In Asia may be slower but it's happening. If it wasn't Taiwan, it would be Japan or some other country. Someone needs to start and the rest will follow. It's like the neighbours got a new Mercedes so you will want to get a new car as well," Antonio explains.  
Marriage may not be something the guys have discussed for themselves yet, given they're dating since just a few years, but they were happy to share their view on it. "I like to have a polite chat with the older generation about this," says Antonio. "It's not just a piece of paper. I ask them – do you file your taxes together, are you worried if one was to pass away without a will if your partner is in the ICU will you be able to see him/her? We can't. I can't because I am just a 'friend'. Marriage is complicated than just the romance of it."'
Being a lawyer, Antonio understands the importance of spousal benefits and estate planning. In the absence of a legal certification to the union, there are alternatives to fill the gaps with a will and insurance policies. "But why should we have to do that extra bit? It's a kind of discrimination. And not everyone has access to that knowledge and resources."
In Hong Kong, homosexuality has been decriminalized since 1991. But 28 years later, gay marriage is still not legalized. "Decriminalizing is tolerance. Legalizing gay marriage is acceptance. It's a matter of time that it will be accepted," says a hopeful Antonio.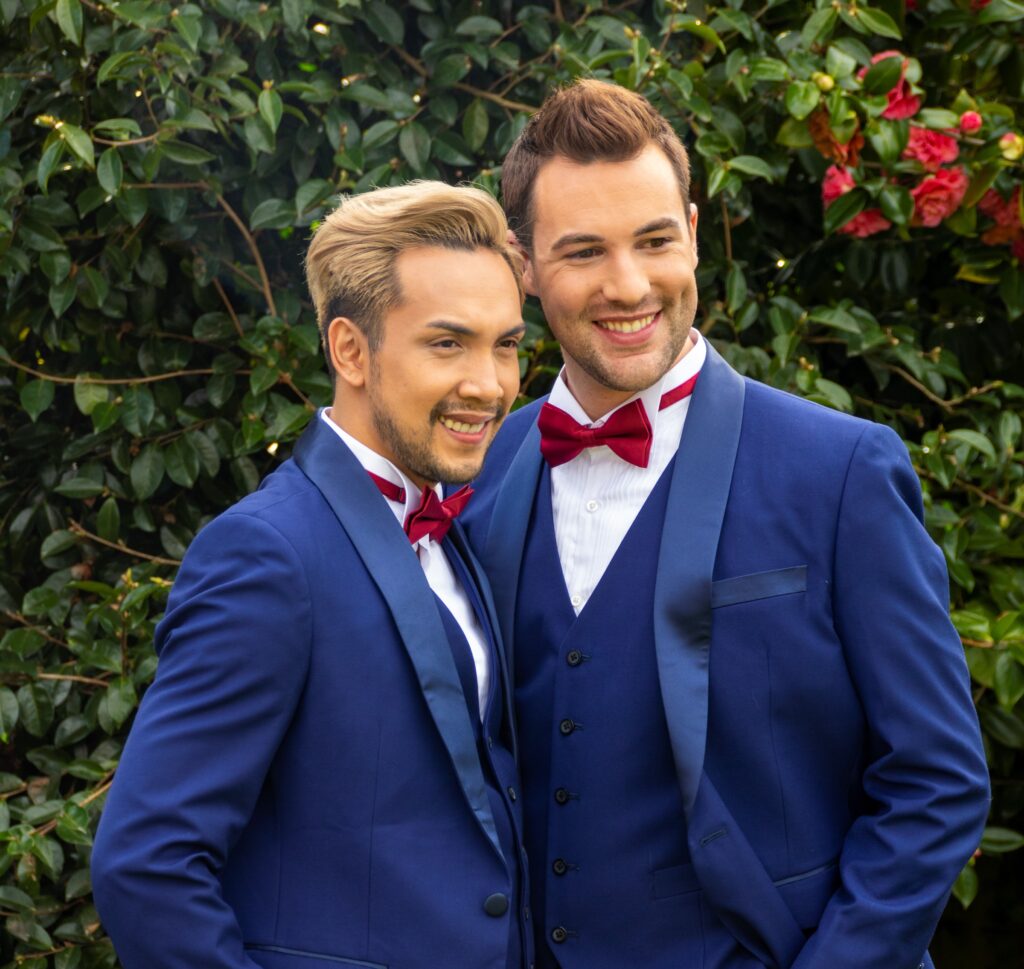 Together for 5 years and married since a year, actor Nicholas David Beckwith and his husband Christian Getigan Marco, a dance teacher and drag queen say they're blessed to have parents who are supportive
Summering in Thailand, Nicholas (Nick) and Christian were very happy to take an hour out of their holiday morning to be a part of our cover story. It was really sweet that this sinfully good-looking couple was finishing each other's sentences as we spoke.
"It's great that Taiwan took this step for Asian countries," starts Christian, on the country being Asia's first to legalise same-sex marriage.
Nick is quick to add, "I was actually surprised to know how little Asia has done towards this. I am from New Zealand and same-sex marriage has been legal since 2013. It was the 13th country in the world to do that."   
He believes Asia is slower in this manner because of its uniqueness. "It's more complicated here than most western countries. There are traditions from long ago that people have still held on to. A part of it is religion but the culture also plays a part. In western countries its only religion."
The duo feels with Taiwan's ruling there is new hope for Asia. "Recently, that couple who won…"
"Scott and Angus," Christian fills in, referring to Angus Leung and Scott Adams who won the case the legally entitles them to spousal benefits and joint tax assessment.
"Yes, them. It's great that they won. The night that they celebrated, they had a huge party at the club where Christian works – we are seeing these changes and little victories around us already. It's very cool that we get to be a part of this."
This case brought forward the importance of marriage – spousal benefits which married couples otherwise don't have to even think about. "Often people don't realise these things come with marriage. They simply have an issue with gay people wanting to get married. Period. They don't look closer that the other reasons, stronger reasons, that come into play."
"I'm Filipino," says Christian. "In the Philippines, because it is a very Catholic country, gay marriage is an issue because its against God. They say marriage is only between a man and a woman. But they disregard the fact that the gay community is simply looking for legal equality."
Marriage wasn't on the cards for Nick and Christian but it happened last year, after four years of being together. They met in 2014, it was Nick's first week in Hong Kong and Christian's fifth year. In just three months the duo was officially 'boyfriend-boyfriend'.
"I've been in other relationships but Nick was the first whose photo I shared with my mum and dad and told them he is my boyfriend," reveals Christian.
"We got married last year in New Zealand," Nick adds. "I am now on same-sex marriage dependent visa here. We had a lawyer help us with that. We are both in the creative line of work where people are usually self-employed so we needed additional help. The lawyer took our case because he wanted to see for himself how Hong Kong was going to deal with this visa. And he found it quite frustrating. Our case took 3 months when it typically takes 4-6 weeks for others. The lawyer says he uses our case as a benchmark for most difficult cases! He jokes that if an actor and drag queen can get this visa, anyone can."
That's the thing about Hong Kong – it's not clear where it stands about same-sex relationships. "A good example to show the city's acceptance is the upcoming Gay Games. It's the big corporates like HSBC coming forward in support," says Nick. "Its progressive, even to see Cathay, with their recent ad on inclusivity. These corporates are doing the extra bit to showcase it – not just hiring and sponsoring. But the govt itself isn't doing much in this direction. By being neither for nor against, it can by default be seen as against."
Speaking about the Cathay Pacific ad, the couple had been approached for being in the ad. They even went for the casting but the agency was looking for two Asians. "From what we understand of this controversy, the agency wasn't against showing a gay couple but they may have felt someone may be so its best not to go with it. Then again taking it down caused drama so they said they're okay with it. But we were at the airport express recently, there are five huge hoardings of this campaign and this visual is still not back up." 
Nick has an overall belief that individually the average Hongkie isn't against the LGBTQ community but a brand or company may be scared of upsetting someone.
Thankfully, their families have been fully accepting and supportive. "I didn't have a formal coming out," said Christian. "I grew up in a poor family. My mum and dad worked very hard to give us everything. I started working at an early age. I was happy to support them when I had the chance because I want them to take it easy, they have worked very hard all their life. There was no drama about coming out. They respect me for what I am. I am very lucky to have them."
The same for Nick, there wasn't any drama around coming out. "yeah, there wasn't a big ta-da moment. When I sat my parents down to tell them, they said they knew. And I've had a 100 per cent support," said Nick. "Recently my mom told me her favourite thing to do is show off her son in law's picture in which he's dressed in drag. People have come forward and expressed their support. I'm grateful for our society that has been exposed to same-sex relationships. I think in the end it comes down to that – the acceptance comes with exposure."
They know of friends who have had to come out to their parents 'multiple times' simply because they are in denial. "It's ridiculous! I understand that parents' reactions come from love. They are mostly concerned about their child, maybe because their religion tells them it's wrong. Or they're worried their child won't find happiness or will be hurt."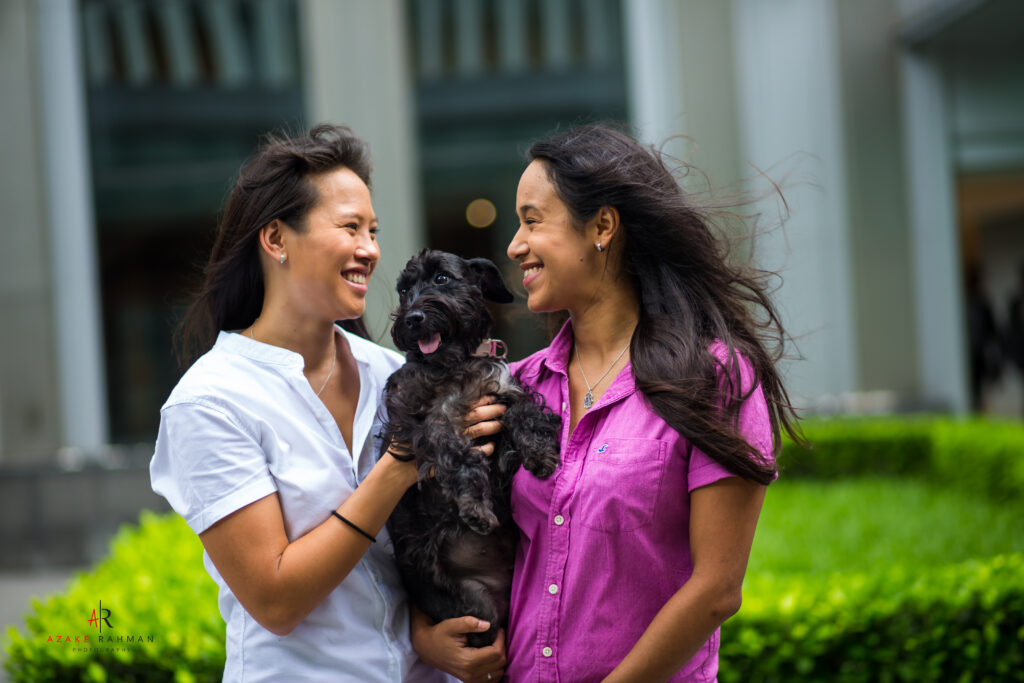 Aileen & Tiara
Together for 9 years and married for 2, personal trainer Aileen Jeannette Wong and wife Tiara Elizabeth Hoquee, an assistant headteacher, have gone through a fair share of struggle to be with each other
Little Shisan was fully attentive to Aileen's movement. Unleashed to move around at the open café in Causeway Bay, Aileen and Tiara's dog Shisan was the first to greet me! This interview was scheduled quite late in the last month because I waited to meet an expat couple in a long-term relationship. And these girls were every bit worth the wait. My story would be incomplete without their inputs.
"We've been together nine and half years to be exact," says Aileen. "Before meeting you I had to prep Tiara because she can never remember!"
While Aileen was born are raised in Panama, Tiara was born in the States and her family moved to Panama when she was very young. "We went to the same university and lived just five minutes apart but somehow never met," says Aileen.
"Aileen was studying architecture and I, psychology," says Tiara. "We only met in the last year of my uni. I had broken up with my boyfriend and was kind of in an exploring mode. A friend of mine threw me a party to meet people. Lesbians. So in a way, it was a 'coming out' party."
Aileen was there because the host was her best friend. "I saw Aileen and she was gorgeous. We started talking and hit it off immediately," Tiara said, looking lovingly at Aileen.
Each time that either of the girls was reminiscing their bygone time, they look into each other's eyes while talking. Sitting with them was truly being in the presence of love. 
"We exchanged numbers and started texting and the same night!" said Aileen.
The story of how they started dating is sweet and kind of expected – met at a party, hit it off, started dating. But taking a closer look, there has been a heart-breaking and testing struggle that this couple underwent just to be together.
"I'll start with mine. It's shorter," says Tiara. "When I told my mum I was hoping she will supportive but she told me 'it's going to be a hard life'. My dad went on a verbal rant, saying how wrong and unnatural it is.  It was disheartening. There was a point when they banned Aileen from my house, and later I wasn't welcome in hers. It was a difficult life in Panama – we spent a lot of time in our cars!"
In Panama, they explained the LGBTQ community was very small and discreet. Being a traditionally Catholic country, same-sex relationships were considered taboo.
Aileen had it harder. "My mum is from Guatemala and dad from Panama but they are traditional Chinese. My grandparents were born in Mainland China so they have very Chinese mentality, they're also Catholic so both ways it was 'no-no'. I faced rejection from my parents and younger brother."
"That's why Aileen was never in a serious relationship. She always kept it casual," adds Tiara.
There were times when Aileen has also forced herself to date guys. "I think it was because in our Asian culture parents' approval means a lot."
"Yes, for her it was like that. When I came out, I would have loved their support but I also knew that if they felt differently, it didn't matter to me," said Tiara.
A part of the reason why the girls moved out of Panama, to China and later Hong Kong was because they had to live closeted lives in their own hometown.
"When I moved to China, I had my own apartment, I was more independent so I felt things would be better. So I talked to my parents again, and got their rejection again."
But that was then. Today, slowly, the couple is enjoying the love and acceptance of their families. "I am proud of my parents that they were able to evolve. I know it was hard for my dad. But he sees how lovely Aileen is and has accepted her whole-heartedly."
It too years but Aileen's parents are also coming around. "When we met last I told my dad, this is not my partner, she is my wife. It is a serious relationship. We share the same values," said Aileen.
The couple married in Canada two years ago, after seven years of dating. Seven trying years. "I had the ring to propose since the first year of us dating," shares Tiara. "I hadn't exactly proposed because Aileen was going through her internal struggle but I had spoken about marriage to her twice and both times she wasn't ready. I told her to propose to me when she is."
Aileen's mum is a wedding planner. She grew up seeing conventional big weddings. She even imagined hers would be the same with 'prince charming' by her side. But her grown-up self struggled with this idea of a wedding. She felt like she was taking her mum's dream away. Even the religion she knew said it was wrong to be with a woman.
"It was in Hong Kong that we met a church group which is so open-minded and accepting. They taught us that God is love. And He accepts us as we are."
Fast-forwarding to 2017, Aileen surprised Tiara with a proposal and the two got married in Canada. "We went to the government office to get a marriage license. We were a little scared but they were so wonderful. They immediately congratulated us. It was the best feeling ever. We've never received such a reaction. And we knew that's how it should always feel," said Aileen. "Just going to the government office there was an amazing experience."
"Later we met with the minister and chatted with her before the ceremony. And she said to us that she wishes her daughter finds a love like ours," said Tiara.
"Not that she finds a man, just finds love," Aileen adds.
The couple hopes for an ideal world where love is accepted without conditions. Tiara spoke about her grandmother's reaction to her wedding. "She asked me for a picture of us to put up on her wall." They know of gay couple friends who don't find this kind of acceptance.
"So often we hear of their partner's being introduced by their families like – this is our daughter and her 'friend'." She laughs.
"Its not a generation thing. Acceptance comes from a place of love. My grandma is from a small town in China, speaking only Cantonese. But when I told her about Tiara, she said she was very happy for me."
The reason the girls agreed to this interview is that they feel the media can have a huge impact on spreading more awareness. "We always come forward at every opportunity to share about our struggles and story," Aileen. 
"There is a show called The Fosters – it's a policewoman and her wife, a school principal and they have five children. That's it, that's the show. Their everyday life is shown in the most normal way. I think more such depictions of normal families will bring about more exposure," explained Tiara. She joked how most TV shows she has seen, the lesbian character always gets killed off.
They plan to live in a city where jobs are good, laws are in their favour and they can have a family of their own. So far they feel Canada is ideal. However, there is hope that the world becomes more accepting of same-sex marriages and every place has laws for them.
Hong Kong, they feel is also good for them. "Here people are working and minding their own business. They may seem indifferent but I guess its nicer that way. They are respectful. There is no abuse or attack towards us," says Aileen. "I also felt people don't participate much until recently when I saw how the people of Hong Kong came together for the protest. It's nice to see that. Hopefully, there will be enough spoken and done for the LGBTQ community as well."
With these interviews, our intention was to iterate that 'equal rights' – to work, to vote, to drive, to love, to marry… are truly equal when they are for everyone.
As published in A-DesiFlava magazine Jul-Aug 2019 issue
The following two tabs change content below.

Brinda Khandwala
My move to Hong Kong, though sudden, was a smooth one. Essentially a SoBo girl, my desi ties are wrapped quite tightly. But the warm vibe of Hong Kong, it's buzzing nights, the multi-cultural influences and of course, so many Indian friends made it easy to call this home. I've been writing all my life – on fashion, lifestyle, entertainment, art and just about everything that infuses colour into my life. Joining the A-Desiflava team is yet another excuse to put together all these passions for sharing with my fellow Hong Kongers!

Latest posts by Brinda Khandwala (see all)