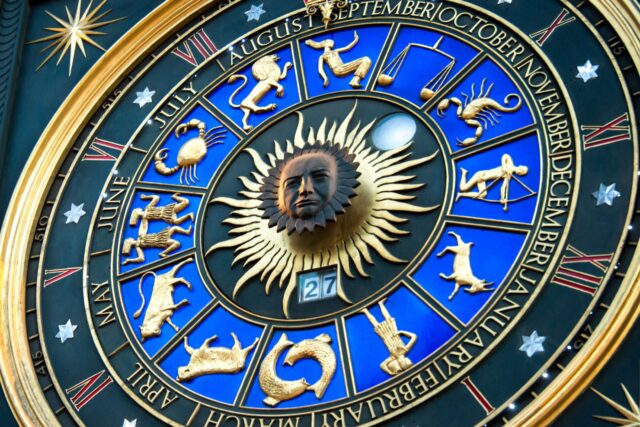 Aries: Look on the bright side of your love life: at least your still in a relationship. The phase might not be so bright at the moment but things will pick up, says your cards, and you need to be patient. For those single, it is a good time to think of getting involved with someone who has been giving you extra attention. Pay attention to your health, as fitness and nutrition will be important to look into. Dont be too pushy this will back fire against you.
Taurus: Relationships can be draining at times, especially if you feel the effort is totally one sided. Your cards suggest that your partner will learn to appreciate your input and support but not immediately. For those planning marriage, this is definitely a good phase. Your finances get better this month as you work towards a new project. Some of you might be in a romantic mood so try and pamper your partner this week.
Gemini: Work is worship but your love life needs attention this week. For those who are married, this is a good month to sort out issues with your partner. For those looking for work opportunities, you need to wait a bit more. For singles, an ex flame might try to re-enter your life. You might purchase the one thing your partner has been eyeing for a while.
Cancer: Looks can be deceptive and this is what you will learn this month on the love front. There could be some heartbreaks but whatever happens is truly for your good. For those who are looking to travel abroad, just be a bit patient, as it will happen according to divine timing says your cards. Try and forgive your partner if s/he is truly sorry for what they have done suggests your cards.
Leo: Love is in the air and how! Romantic evenings and lots of flowery words are in store for the month as your Venus moves into a strong position. For those single, you will definitely jump into a relationship this month, even if it is with someone you just met. A marriage commitment is also on the cards for some. Finances will be improving, slowly but surely, so have some patience. Make sure you impress your partners friends and family also.
Virgo: Your love life ma not be as great as you'd hope, but your work will give you a lot of pleasure. According to your Jupiter, some of you might be in a hurry to take up opportunities coming your way. You need to wait to find the right partner and some of you might consider arranged marriages this month. Although there is no harm in looking, you should not have too many expectations this month and have faith in the divine plan. Try supporting your partner in his or her career, as this will really help to impress him/her, suggests your cards.
Libra: Your love life gets better, says your Mercury, and misunderstandings could reduce between you and your partner. For those who have just got a new job, this will be a rosy month for you. For married couples, your cards suggest that you might want to take a break and plan a holiday with your partner. Make sure you are ready for a commitment before giving one as you might be a bit confused regarding some decisions.
Scorpio: For those engaged, this month will be good and you will be busy planning your wedding and spending time with your partner. For those who are involved in some legal matters, your Moon planet is a bit weak so you will be short tempered with your family members and you might feel as if your family is not supporting you as much as they should. Health conditions will improve for those who were having some health scares.
Sagittarius: Compromise is a part of any relationship, and you might feel that this month you are making certain compromises. Well, the cards advise that if you want your career decisions to work then you need to be more adjusting this month. For some, friendship might turn into love. A special person will be giving you a lot of attention this month. Don't be too suspicious of your partner and learn to trust, says your planet moon
Capricorn: You are tempted to cheat on your partner but in your heart, you know that you need to do the right thing. You need to control your mind and temper at work this month as you could feel provoked and upset. For those single, you will flirt a lot with the opposite gender, says your cards. Your Jupiter planet is good at the moment, which will help you grow spiritually
Aquarius: Maybe things are not so great at the moment, as you seem to have frequent fights with people at work. You might even compare your current work situation to the old one, says your cards. You need to learn to adjust with what is in front of you. Your Mars planet is weak so some relationships could break. Be open to new people trying to enter your life, they might put a smile on your face says your Venus planet.
Pisces: You need to believe in your relationship more rather than going with the flow. This month you need to decide where your relationship is heading as your partner might demand a certain answer from you and you should have it. You know in your heart what your answer is going to be, so do what feels right. Financially, expect some abundance this month. Don't try to be too demanding in your love life, as this could work against you, suggests your cards
photo credit : http://www.therealentertainment.com/category/astrology-horoscopes/
The following two tabs change content below.

Munisha Khatwani
Munisha Khatwani has been a famous and popular professional tarot card reader for the last 18 years. Throughout her career, she has appeared on several TV shows. She hosted an astrology show called Teen Deviyaan, which was aired on Star News for 7 years. Her journey continued as she appeared on a few episdoes of Simi Garewal's India's Most Desirable TV show, wherein she conducted televised readings for Bollywood celebrities such as Ranbir Kapoor, Deepika Padukone and Priyanka Chopra. Subsequently, she featured on a show called India Poochega: Sabse Shaana Kaun? with Shah Rukh khan on &TV. Besides, she has written many columns for various magazines, newspapers, and websites including Telly Chakkar, The Gulf Indian, Showtime, Star Week, and Filmfare. She will soon be seen on her own tarot show called Karmic Shots with Munisha, which will be aired on all the DTH set top boxes on a new channel called Astrovaani. The impressive list of her accurate and prolific predictions include the Prime Minister of India, Narendra Modi, Cricket World Cup victors, winners of reality TV shows - like Nach Baliye, Big Boss and Jhalak Dikhlajaa – as well as many celebrities' marriages and break ups. Over the past 18 years of giving tarot and astrology readings, she has guided innumerable Indian TV and film celebrities. Her contact details are as follows - Number: +91 9820047209.

Latest posts by Munisha Khatwani (see all)