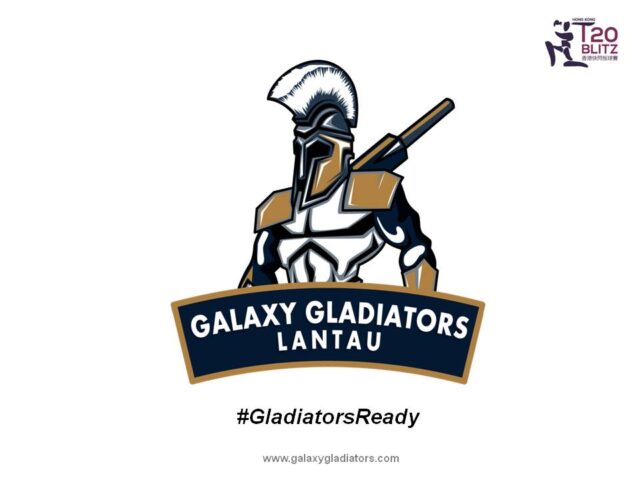 Gets Glamorous and Generous for HKT20 Blitz 2018
On the cusp of the next HKT20 Blitz season, Galaxy Gladiators Lantau have declared their determination to glide towards glory with glamour, grit, and generosity. One of the two team co-owners, Vinod Dhariwal, shares his views on the team's journey so far, and announces their gameplan to not only lift the trophy, but also raise the lives, lifestyles, and livelihoods of several others. The highlight of his plans was the Galaxy Gladiators Cricket Kids Scholarship Program.
Following a rainy inaugural season in 2016, Dhariwal joined with Delhian Suresh Khandewal to take joint ownership, interest and control of Galaxy Gladiators Lantau in the subsequent year. Naturally, the owners dreamed of seeing the Gladiators being recognised as victors, and winning many fans and followers. To manifest the former, Dhariwal worked towards gearing his team with prolific and popular players, which helped maintained a largely buildup prior to the tournament. From players, to coaches, and even mentors, the team boasted of countless reputable names who had proven themselves repeatedly at the world class level. Their mentor, Brian Lara, still holds the record for having the highest individual score in Test cricket, while their icon player, Kumar Sangakarra, is currently the second-highest run-scorer in ODI cricket and the fifth-highest run scorer in Tests.
Despite their gargantuan efforts though, the Gladiators were unable to get the results they aimed for in 2017. Tournament glory eluded them, yet Dhariwal remained nonchalant. It was the first complete HKT20 Blitz tournament staged in Hong Kong, and from Dhariwal's perspective, his team was the tournament's biggest victors as they gained the greatest learning curve. Going into the third season of the HKT20 Blitz, Gladiators have taken expert advice and will take the field with a revised game plan.
Above and beyond the team's performance in the tournament though, the co-owners are equally intent on having a galactic impact on their fans, followers, friends and family. From the very beginning, Dhariwal ensured that for every effort spent on the sport, equal attention was also given to ensure that the fans and followers are well taken care of.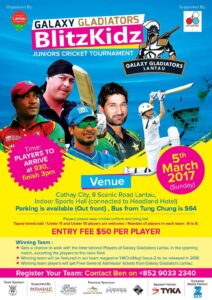 The Gladiators have hosted multiple events and campaigns for members of the community, especially for children. Last season, the team organised BlitzKidz, which was a 22-team cricket tournament for children in Tung Chung. With a participation rate of over 200 kids, the attendance rate was also equally high. The event was a huge success, as it was followed avidly by the sizable live crowd and their respective friends and family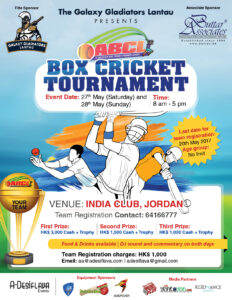 Gladiators hosted another similar cricket event for kids, called "Galaxy Gladiators Adesiflava Box Cricket League." This was a 2-day indoor cricket tournament for adults, which was just as successful as the KPL. The response from the community not only helped bring in footfalls and commercials gains, but the frenzy illustrated how valuable cricket was to the community. The tournament comprised of 22 teams of 11 each, while among the crowds were underprivileged, yet keen enthusiasts of the game. Dhariwal was quick to notice this, and was determined to help out as much as possible.
For the coming year, the plan is to also have players, coaches and other support staff visit schools across Hong Kong. Besides teaching techniques, technicalities and tactics of the game, the Gladiators also intend to guide the young guns with valuable life lessons. Principles of sportsmanship, teamwork, discipline and work ethics are universal guidelines that should be taught early, in order to be applied to all areas of a person's life. By using cricket as a metaphor, kids are to learn that matches cannot solely be won by muscle strength alone. Dhariwal recites his own example; he personally values being an opening batsman and bowler more than any other player, and it reflects his philosophy of taking initiative and facing challenges fearlessly. The impact of such sessions in local schools could be even more effective and hard hitting than any cricket match or practice session.
Galaxy Gladiators Kids Scholarship Program :
To top it off, the Gladiators are even planning to introduce a special scholarship scheme for interested young guns, called "Galaxy Gladiators Cricket Kids Scholarship Program". The Gladiators selection committee will shortlist then choose five children between the ages of 12-16 to be awarded the scholarship. This will entitle the winners to a cash bonus, along with cricketing gear, merchandise, and cricketing mentorship for the course of one year. In order to be eligible for the scholarship, every child must be endorsed and nominated by a cricket coach. Those who are interested but are having difficulty finding a coach endorsement can approach Tabarak Dar. Dar is the team Manager of Galaxy Gladiators Lantau and his contact number is +852-91479694. The intent of this initiative is to not only spread the awareness and exposure of the sport, but to also make an invaluable contribution towards community members.
Having been a successful entrepreneur in Hong Kong, with roots stemming from India, Dhariwal has taken on this venture to invest in the growth of cricket and individuals in Hong Kong. As a former cricketer for Haryana, he is able to personally understand and relate to the trials, tribulations, and triumphs of a professional cricketer. Buoyed by the recent acceptance of Ireland and Afghanistan into Test cricket, Dhariwal too anticipates Hong Kong to enhance its playing prospects every year.
With such philosophies and perspectives, Dhariwal and his team at Galaxy Gladiators Lantau are rightfully confident of seeing success in the upcoming HKT20 Blitz. Without unveiling any secrets or strategies, Dhariwal promises that the next season is granted to be a glorified one for his team. Of course, the icing would be tournament glory, but even the goodwill garnered will make the proverbial cake taste just as sweet as success, regardless of the scores or results.
Galaxy Gladiators Cricket Kids Scholarship Program : To register for the scholarship program please get in touch with Darmesh Mehraa on +852-90305282.
For Media Relations : Gary ; gaurav@adesiflava.com / +852 – 95433660
The following two tabs change content below.
Suraj (Sam) Samtani is an international Writer & Editor, with articles published across medias. He is also an Academic Coach, Native English Teacher & Tutor (NET), Management & Marketing Consultant, and Award-Winning Poet.
Latest posts by Suraj Samtani (see all)