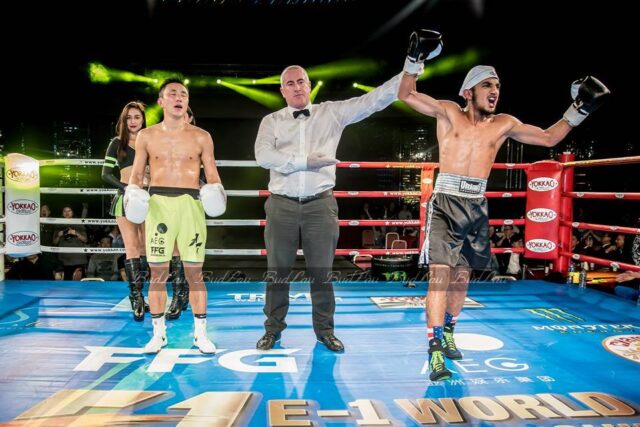 Ever since Taqdeer Singh Dhillon conquered the E-1 Boxing World Championship 2017, boxing has won a new ring of followers among Hong Kongers and Indians. On 17 January 2017, Dhillon inked himself into the record books of boxing by defeating Amigo Choi, an opponent more than double his age to become the youngest, as well as the first Hong Kong-based Indian, to win the competition. At a tender age of fifteen, Dhillon is already an icon of inspiration not just for his professional performances, but even for the person that he is. He proudly – yet modestly – declares his dream: to be the best boxer in the world.
The first step towards etching his legacy was fulfilled on the fateful evening of 17 January 2017, at KITEC, Hong Kong. The championship was a platform that helped him garner publicity and popularity. Each of the 12 fights were televised live on TVB, and with several fighters coming from overseas, the tournament was followed by medias and fans across the globe. Most of all, Dhillon's opponent was a 37-year-old renowned TV and movie star, which meant that the match instantly got a high profile status. The ring was set for Dhillon to take centrestage.
Even after being pitted against a local celebrity in one of his first televised tournaments, Dhillon showed no signs of nerves. In fact, he was fast on his feet, swift in his swings, and he even packed power in his punches. His performance paved the path for him to win over his opponent, judges, and of course, the crowd. The silverware earned by the end of the night was not only a prize for his unquestionable talent, it was also a reward for the dedication, discipline and determination of him and his family.
As Dhillon admits, balancing pleasures of passion with the pressures of building a profession is a gruelling battle. Besides fighting, he concurrently studies in form 3 at Confucius Hall Secondary School, and later plans on pursuing a university degree in sports science. He sweats most when he has had to juggle his attention between preparing for examinations and training for boxing matches. Throughout his trials and travels though, his unrelenting attitude has kept him committed to a rigorous routine that leaves him with barely any time or energy for a social life. Like a true sportsman, he finds a silver lining in training; he believes the greatest growth through working hard and conquering challenges.
As soon as his school ends at 4 in the afternoon, Dhillon heads to his gym to train for 2-3 hours almost every alternate day. From stretching and skipping, to pad-work and shadow boxing, Dhillon follows a strict regime of high intensity workouts. His head coach is Alain Ngalani, a world champion of martial arts, and so it comes as no surprise that Dhillon pays as much attention to bolstering his boxing skills as boosting his personal stamina. He ends every week with a 5 kilometers run, along with a series of exercises like chest presses, squats and push ups.
These preparations, though, are not enough to eternally eliminate anxiety, obstacles and injuries. As a professional boxer, Dhillon faces challenges inside and outside the ring. In fact, even his preparation for the E-1 Boxing World Championship 2017 was compromised due to a wrist injury. Despite these blows though, Dhillon maintains a fighter's spirit throughout. Many of his falls have left irreversible bodily scars and stitches, but each time Dhillon gets back up stronger. "People who fall and don't get back up either don't have a dream, or they lack the courage to follow their dream," he explains. To help prevent injuries, rather than try to curing them, he now even avoids visiting places or partaking in activities where he could be prone to falls or diseases.
In equal measure, impeccable consideration is also given to Dhillon's diet. As tasty as they may be, Dhillon's mother tries her utmost to ensure that her son avoids all types of fatty foods and other junk edibles. If ever there was a type of food that is most healthy, nutritious and organic, it is the simple, sweet and sentimental cuisine served from the kitchen of maternal and unconditional affection. Dhillon's mother puts in a lot of research and care to ensure that he gets the right nutrients to maintain fit, energised and strong. Cheating on his discipline would be like cheating on his dream, and everything he has ever fought for.
Dhillon's dream to be a competitive fighter sparkled in the plains of Punjab. After being born in Hong Kong, Dhillon spent most of his early years in India. While living with his extended family, he was instantly drawn to one of the local sports, kabaddi. After migrating back to Hong Kong, Dhillon maintained his passion for contact sports, and eventually found his penchant in boxing. Before taking up the sport himself, he had already become an avid follower of international boxing matches; till date he is a huge fan of Floyd Mayweather.
Mayweather's greatest strength, Dhillon maintains, is neither his boxing skills, nor his stamina. It is Mayweather's resilience and perseverance. Dhillon vividly recalls an incident in 1996, when Mayweather was ousted from the Olympics during the semi-finals due to a mistake from the judges. If it was not for the human error, Mayweather was tipped to make the finals and even emerge as champion. Despite the setback though, Mayweather stuck to his dream, and came back stronger in his subsequent battles.
Since his infamous defeat over twenty years ago, Mayweather has scored almost fifty victories without a single loss. "People who lose actually have higher chances to win their next battle because they can know exactly why they lost and how they could improve," said Dhillon, as he reiterates how Mayweather's greatest loss proved to be one of his greatest gains. Dhillon aims to emulate the warrior spirit of his idol and break through the boundaries of limitation.
Dhillon dreams of succeeding not just for himself, but to provide a better life for his parents. Knowing that his father worked tirelessly at odd labour jobs even as a teenager, Dhillon hopes that his parents can alas have a comfortable life. For that, Dhillon acknowledges the need to have a stable career. Besides being a boxer, he also plans to become a boxing coach; this career path could continue to sustain him beyond his span as a professional boxer. His determination and clarity of vision earmarks the characteristics of a true champion.
With the aggression and youthfulness of a teenager, as well as the maturity and focus of a seasoned professional, Taqdeer Singh Dhillon is already an athlete to admire. He is an inspirational and aspirational leader, who accepts that victories and losses will be part of the journey; instead, he keeps his focus on striving for excellence than success. The modest and proud champion leaves us with one final blow: "It's not where you want to get, it's how you get there."
Interview & Article by Suraj Samtani
The following two tabs change content below.
Suraj (Sam) Samtani is an international Writer & Editor, with articles published across medias. He is also an Academic Coach, Native English Teacher & Tutor (NET), Management & Marketing Consultant, and Award-Winning Poet.
Latest posts by Suraj Samtani (see all)