One of the good restaurants in Hong Kong serving great food along with being pocket-friendly. Let me begin with the ambience. The set-up has a Middle Eastern appeal. It's a compact place but without a doubt, efficiently planned. I loved the booth seating they have. It gives a very 'How I met your Mother' feel. The lighting is dim but goes with the overall theme.
For a small restaurant, Curry & Kabab Hut has quite an exhaustive menu. They also serve dinner combos with a variety of liquor. To get a real taste of the palette they had to offer, I decided to try both, the Middle Eastern and Indian cuisine. For starters, Mozzarella Sticks sounded delicious so I ordered them and I was not disappointed at all. The outer layer is so crispy and mouth-watering, you will already be satisfied. But, then comes the cheese! Also, the sauce they gave along with this dish was absolutely perfect.
Next was the iconic Falafel Kebab. It was yum! But more than the roll, I was happy with the sauces. Dips and sauces are an important element of any Middle Eastern meal for me. And, I think the sauces Curry & Kabab Hut serves are one of the best I've had in Hong Kong.
With an enormous list of curries to have, it is not an easy choice to make. However, I went for Egg Curry and Garlic Naan. The aroma of Egg Curry made go weak at the knees. I knew instantly that this meal is going to be mind-blowing. And it totally was! This is 100% recommended. Another thing I liked about their menu is all the curries come with a combo price; you can choose to have it with Rice, Roti or Naan. And for those of you who are fans of chicken and meat, be assured that it is 100% halal!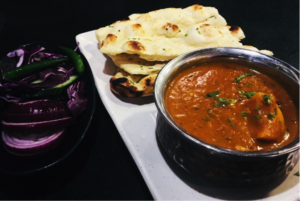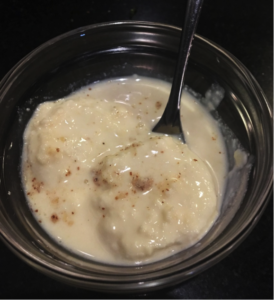 The staff is sweet, the service is good. Everything served on the table was completely worth the money. The crowd was a mix of Indians & Chinese. It's a great place to catch up with a few friends, have some drinks and relish good food. An ideal chill-out place, I would say.
---
A-Desiflava's most recommended dishes are:
Mozzarella Stick
Falafel Kebab
Tandoori Chicken Tikka
Lamb Seekh Kebab
Samosa Chaat
Egg Curry
Garlic Naan
Ras Malai
Chicken Tikka Biryani
---
Average Price for 2 persons: 150-300$
Food: 5/5
Ambience: 3/5
Price: 5/5
Service: 4/5
Location: 4/5
---
Want to visit Curry & Kabab Hut:
G/F, 19 Sung Kit Street, Hung Hom
---
Curry & Kabab Hut was visited by A-Desiflava's food reviewer on 15th January 2019 at
8:30 pm.
The following two tabs change content below.
Reshma Rohra
The first time I took refuge in writing was at the age of 11. Ever since then writing has been like a therapy. As I grew up, I turned it into my profession. And with time, writing brought me closer to art and made me realise my passion, which is to create. So now, I write and draw for a living. And, this makes me the happiest girl I know.
Latest posts by Reshma Rohra (see all)