With Divali round the corner, ADesiflava caught up with Anita Chhatpar, the connoisseur of cultural home decorations.
For over two decades, Anita Chhatpar has been passionately making decoration pieces and adorning homes for cultural festivals and special occasions. The decorations, she says, are an "expression of my celebration of life and love for God," as she shows us her repertoire of cultural decorations. Her decorations largely encompass Rangoli patterns and thalis, and are complemented by motifs, idols and accessories.
Rangolis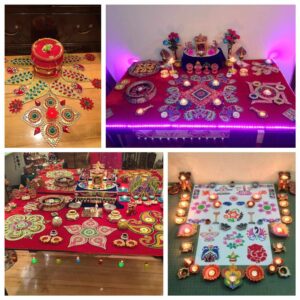 The Rangolis made in Hong Kong pales to the practices in India, admits Chhatpar. While readymade Rangoli patterns are now easily available, she invests her time to use authentic Rangoli powder. The process of combining creativity with precision is a meditative process itself, and the joy of seeing the final result is unprecedented. Using the aid of frames and other supplements, she designs Rangoli patterns to adorn table tops, house temples, corridors and even floors. Her patterns are often in a shape associated with a God, religious symbol, animal or flower. Many of her designs feature a combination of patterns, and some of them even leave space for diyas or other accessories.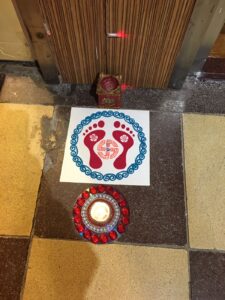 Chhatpar's signature Rangoli pattern is that of two feet, which she places on chart paper at the doorstep of her abode. The charan Rangoli pattern, as she calls it, is representative of God's footprints, to symbolise Divine blessings entering in to grace all the inhabitants. The gesture is to welcome God as a special guest, especially when the Godly presence is most felt on religious occasions and festivals.
Thalis
A thali is often seen as a stainless-steel round tray that is mostly used to hold and serve items like food. For religious purposes, a diya (candle) is often placed on a thali, along with other offerings, which are then used when performing prayers and rituals. To welcome, honour, and celebrate the presence of the Divine, Chhatpar believes in decorating the thalis.
Like a true artist, Chhatpar starts with a clean canvas; her empty thali sits afore an array of motifs, colours, and accessories. The initiation of a thali begins with applying glue on the surface of the steel, to ensure that the decoration pieces and accessories stay in their designated positions. Before adding any motifs or decoration pieces, Chhatpar first covers the base of a thali with coloured rice grains. While rice grains already have such a significant role to play in Hindu prayers, Chhatpar adds to the aesthetics by using them in different colours. The colour is added by applying food colour onto the grains.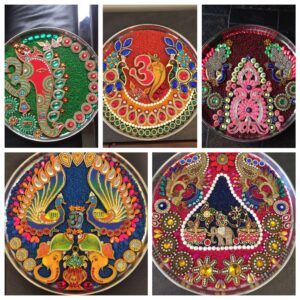 Depending on the occasion, Chhatpar then selects a Godly symbol to present on her thali. This could be a small idol of Lord Krishna for his birthday celebration, a symbolic image of Goddess Laxmi on Divali, or even a motif of Lord Ganesh on Ganpati. The symbol of Om, ॐ, is universal and can be used on almost all Hindu occasions. To add sparkle to the thali, Chhatpar often places a series of coloured stones, each individually selected and positioned to make a pattern on the thali. While adorning the thali, Chhatpar also ensures its functionality by ensuring there is enough place to keep a diya, so the thali can be used throughout prayers and rituals. Oftentimes, she completes the thali with a border of coloured beads or stones along the rim. The entire process of designing and decorating a thali takes about 2 hours, and when complete, each thali looks aesthetic and unique. Many of her thalis are regularly seen in the Hindu Mandir, especially on occasions such as Ganpati, Navratri, and Diwali.
Other Decorations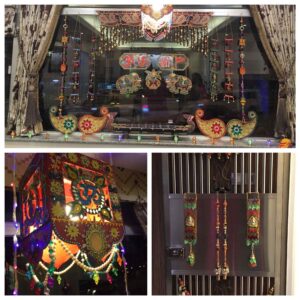 Besides Rangolis and thalis, Chhatpar also uses a range of other decoration pieces to fill the space with colour, warmth, and religion. She particularly likes using torans on windows, large walls, and doors, while she also recommends the use of lanterns as an attractive feature in a balcony. Other options also include electric multi-coloured lights, and battery operated diyas.
Sourcing Decorations
Decorations are becoming increasingly easier to find in Hong Kong. In addition to Godly idols, coloured stones, readymade Rangoli, and other small decorations are now becoming increasingly available in many of the Indian stores at Chung King Mansions and Mirador Mansion. Besides placing orders online – or asking for a favor from a traveler from India – one can also find attractive motifs and decoration pieces at the Indian bazaars and fairs, which happen few times each year.
Except for the rice grains, Chhatpar suggests to reuse and recycle most of the decoration pieces. Especially since some of them are exclusive and difficult to find in Hong Kong, the decoration pieces could be reused with other colours and accessories on different occasions.
The following two tabs change content below.
Suraj (Sam) Samtani is an international Writer & Editor, with articles published across medias. He is also an Academic Coach, Native English Teacher & Tutor (NET), Management & Marketing Consultant, and Award-Winning Poet.
Latest posts by Suraj Samtani (see all)