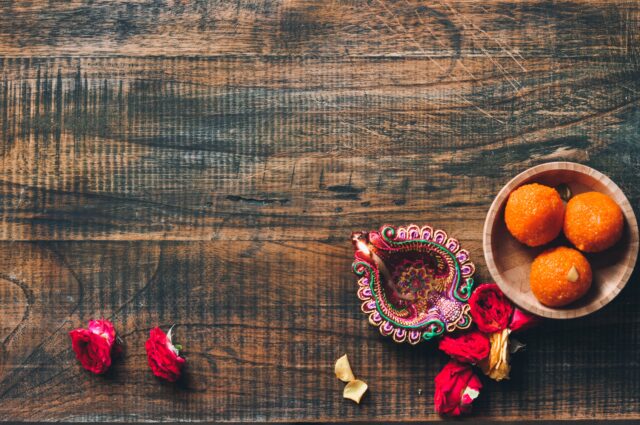 The festival of lights Diwali is nearly upon us. As we get ready to welcome goddess Lakshmi, mouth watering sweets are what truly define this festive season. Deepavali is incomplete without stuffing ourselves with numerous gulab jamuns and barfis, blissfully closing our eyes and going "mmmmhh… mazza aa gaya!"
That lip-smacking taste can only come from delicious ingredients – freshly ground and sieved besan, coconut and dry fruits roasted in fragrant desi ghee and finally the sweets themselves; each hand crafted and served lovingly. There are a number of fantastic home cooks who prefer to make their own mithai. For the rest of us, there is Fusion Concepts Limited for our festive needs.
With the focus these days on quantity instead of quality, numerous sweets can be bought off the shelf. Mr. Aman Chawla, director of Fusion Concepts Limited declares, "We are trying our best to keep the tradition of 'Made in Hong Kong' alive – in making fresh sweets and making them right." To that end, an in- house maharaj, a special sweet making chef, creates and perfects all sweets during the Diwali season. These sweets have to pass the stringent taste tests administered by the director himself. Any sub-par sweets are rejected until he, himself is satisfied by the final product. FCL is the market leader in selling home-style sweets all prepared on site at their restaurant at Legends of India.
When asked about their best seller, Mr. Chawla says, "Kaju Katli is our best seller and its my personal favourite too. Nothing beats it if it's made just right."
The ever popular kaju katli, kala jamun, motichoor laddoo and coconut barfi are brisk sellers. Put them all together and you have your Diwali box ready. The restaurant is offering $200 for a small box and $290 for the big box of sweets. Bulk discount is available upon request. By making the mithai on site, they are flexible on the sweets that can be put into your box. You can also get boxes customised to your liking with any combination of sweets. Craving a special sweet or simply celebrating with a hatke mithai – like a box of say – bakalava for yourselves and your loved ones, this is where you can get it custom-made. They can even adjust the sweetness content according to your taste. Just be sure to give sufficient notice to the chef.
The sweet boxes can be picked up from the FCL restaurants – Khana Khazana on the Hong Kong Island, or Legends of India on Kowloon side. Not only that, long-time customers just send their guest list and the restaurant ensures delivery at the home or office residence. This courier service is offered for corporate and large orders. These restaurants do brisk business during festival days, averaging 30-40 kilos of mithai per day going up to 50-60 kilos as per orders. This trend continues well past Diwali when sweets are gifted to friends, family and associates. If you order more than 10 boxes, they can get it delivered on your behalf.
A ground-breaking addition to their restaurants is the introduction of Gujrati and Rajasthani Thali offering both Regular and Jain options. Priced at an unbelievable $65, it is also a fail-safe option during any day of fasting or puja at home. Wanting to be the pioneers in the F&B industry while not charging unreasonably, FCL plans to add more thalis ultimately taking the number of thalis up to 10. Currently, they are offering 4 thalis – North Indian, South Indian, Rajasthani and Gujrati. "Hong Kong does not have a thali concept." Mr. Chawla says. "We hope to change that by giving complete value for money." He reiterates, "Our food will be made fresh everyday."
Although weekends traffic has become slow, the restaurant remains optimistic that Diwali sales will not be affected. So, don't wait till the last day, go ahead and place your orders for freshly made, melting in the mouth sweets made entirely in Hong Kong.
Contact for placing orders:
Mahesh – 25205308/ 63830014 | manager@khanakhazana,com.hk
Nitish – 23670555/ 63830020 | manager@legendsofindia.com.hk
The following two tabs change content below.

Meenakshi Gupta
I came to Hong Kong 12 years ago - a trailing spouse with a two year old daughter and an infant son in tow. As they've grown and become independent and self sufficient over the years, so have I. My writings, sketching and paintings all reflect this growth and maturity. I'm now exploring new horizons with my writing, poetry and learning Cantonese. I hope the future is just as exciting as the present.

Latest posts by Meenakshi Gupta (see all)