When I chanced upon the book 'The Alchemist" by Paulo Coelho, it changed my life; I started feeling so positive about everything I came across. More importantly, I enjoyed reading as a form of de-stress. Stories in different forms; fiction; nonfiction; fantasy; horror; comedy and many more that could not be classified in the norms of genre send you into a trance and have the power of a tranquilizer to calm you down and see things from a better perspective.
Books are not limited to a particular age group. Each book, irrespective of its subject, can have an abundance of knowledge, and no knowledge can be harmful. These books entertain you and enhance your imaginations. While you read the writer's imagination; you create your own and enjoy it. In fact, every time you revisit a book, it tells you something new. You decipher the book in a different way at different stages of your life.
I have selected my top 5 books that I think everyone needs to read at least once. Each of them left me mesmerized me while reading them. Many books may be far more inspiring, but I am sure this selection will certainly entertain and enlighten you.
5) The 3 Mistakes of My Life by Chetan Bhagat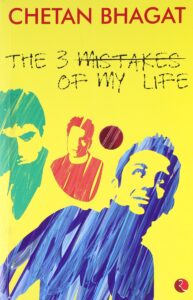 Synopsis:
In late 2000, a young boy in Ahmedabad called Govind dreams of having a business. To accommodate his friends Ishant and Omi's passion, they open a cricket shop. Govind's wants to make money and thinks big. Ish is all about nurturing Ali, the batsman with a rare gift. Omi knows his limited capabilities and just wants to be with his friends. However, nothing comes easy in a turbulent city. To realize their goals, they will have to face it all – religious politics, earthquakes, riots, unacceptable love and above all, their own mistakes. Will they make it? Can an individual's dreams overcome the nightmares offered by real life? Can we succeed despite a few mistakes?
My Review:
This book is the most underrated gem of Chetan Bhagat. He has written more successful books like "Five Point Someone" and "One night at the call center". He has also written critically panned books like "One Indian Girl" and "Half Girlfriend". This book has Chetan Bhagat at his best.
The story has been narrated beautifully and it has some awesome characters. The moments shared by the three best friends will make you nostalgic about your own neighborhood and best friends.
The Gujarat riots form an essential part of the story and the backbone of the story is Cricket. I am sure all Indians would love reading this.
4) The Five People You Meet in Heaven by Mitch Albom
Synopsis:
A novel that explores the unexpected connections of our lives, and the idea that heaven is more than a place; it is an answer.
Eddie is a wounded war veteran, an old man who has lived, in his mind, an uninspired life. His job is fixing rides at a seaside amusement park. On his 83rd birthday, a tragic accident kills him as he tries to save a little girl from a falling cart. He awakes in the afterlife, where he learns that heaven is not a destination. It's a place where your life is explained to you by five people, some of whom you knew, others who may have been strangers. One by one, from childhood to soldier to old age, Eddie's five people revisit their connections to him on earth, illuminating the mysteries of his "meaningless" life, and revealing the haunting secret behind the eternal question: "Why was I here?
My Review:
This book makes you realize that you impact lives of many. Many people you do not even know get influenced or are impacted by your actions. It makes for a very pleasant read and brings a smile on your face. The Author spins the tale beautifully from childhood to adolescence; adolescence to middle age and finally to old age. At every stage, the protagonist had affected or influenced someone's life in a way he did not imagine.
3) The Picture of Dorian Gray by Oscar Wilde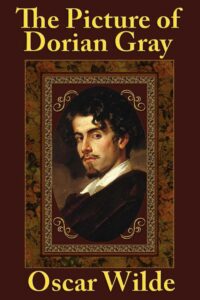 Synopsis:
Written in his distinctively dazzling manner, Oscar Wilde's story of a fashionable young man who sells his soul for eternal youth and beauty is the author's most popular work. The tale of Dorian Gray's moral disintegration caused a scandal when it first appeared in 1890, but though Wilde was attacked for the novel's corrupting influence, he responded that there is, in fact, "a terrible moral in Dorian Gray."
My Review:
This novel explores the theme of immortality and being ageless. It also explores morality. If you had the power to stay young and beautiful forever, what would you indulge in?
The writer quotes "People die of common sense, Dorian One lost moment at a time Life is the moment There is no hereafter So make it burn always With the hardest flame The only way to get rid of temptation is to yield in it"
This book raises many questions and makes you think about your choices. It makes you feel grateful to your youth and the normal course of nature where we age gracefully.
2) Frankenstein by Mary Shelley
Synopsis:
Mary Shelley's Frankenstein is the world's most famous Gothic novel about eccentric scientist Victor Frankenstein, who creates a grotesque creature in an unorthodox scientific experiment. Shelley's work is considered to be the world's first science fiction, with Frankenstein's monster being a symbol of science gone awry.
My Review:
This novel explores many themes. The horror lies in your imagination of Frankenstein's monster. The book is extremely philosophical. We all have a monster within us. We all have diabolical masquerades. We hide our monster and pretend to be very clean and ethical. The monster resurfaces from time to time. We make futile attempts to kill that monster within us. In India, it is called Ravana and it is celebrated every year during Dushera. We burn the Ravana and it is a metaphor for burning the evil within us. Nevertheless, Evil resurfaces and resurrects itself from time to time. The monster within us. Thank you, Mary Shelley, for this cult character and creating a Frankenstein so helpless that we identify with it.
1) The Alchemist by Paulo Coelho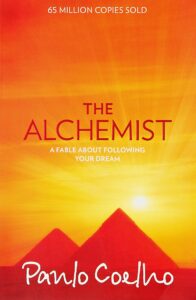 Synopsis:
Paulo Coelho's enchanting novel has inspired a devoted following around the world. This story, dazzling in its powerful simplicity and inspiring wisdom, is about an Andalusian shepherd boy named Santiago who travels from his homeland in Spain to the Egyptian desert in search of a treasure buried in the Pyramids. Along the way he meets a Gypsy woman, a man who calls himself king, and an alchemist, all of whom point Santiago in the direction of his quest. No one knows what the treasure is, or if Santiago will be able to surmount the obstacles along the way. However, what starts out as a journey to find worldly goods turns into a discovery of the treasure found within. Lush, evocative, and deeply humane, the story of Santiago is an eternal testament to the transforming power of our dreams and the importance of listening to our hearts.
My review:
He is my favorite author. I love to read all his books. He writes in very simple language and his soulful writing paves its way into your heart. He connects with you. He tells you about your dreams and waves a magical fable around your quest to achieve your dreams.
The famous line from this book is "When you want something, all the universe conspires in helping you to achieve it." It is so impactful that it makes you live your dream and believe that the entire universe will help you in realizing your dreams. The most important message in this book is to keep accord with your heart no matter where it takes you. Because the treasure is, where there is heart. Our treasures are within us. God is within us.
The following two tabs change content below.
Jitendra Kotai
Jitendra Kotai was born and brought up in Mumbai. Ever since he can remember, he was a story-narrator; he created exciting situations, plots, story ideas and concepts in his head and then narrated them to friends and family. He is also always a huge movie buff and stories of any form mesmerized him. Jitendra is currently residing in Hong Kong, as an accountant by profession, with a passion for writing. He spends time reading; watching movies and playing with his 5 year old daughter. He has recently published his first E-book on Amazon Kindle and Iooks forward to his journey as a writer.
Latest posts by Jitendra Kotai (see all)