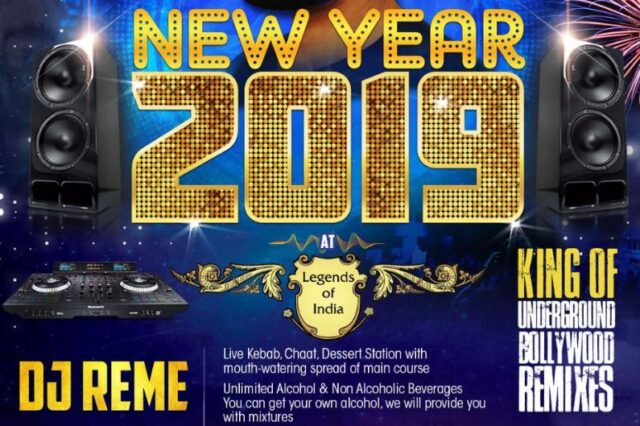 The NYE party is possibly the most complicated party to host and plan but it is also the party that guarantees that you end the previous year and start the New Year on the best note. We all want to start our New Year on a positive and joyful note and without a doubt, there is no better way to do that than to be with your friends and family. However, by now, we all know that planning a NYE party can be a very tiresome process and the pressure to make this night memorable has cracked even the best party planners and seasoned partygoers. To avoid a crisis like that, the next logical step would be to let someone else do the planning while you have all the fun.
The New Year is right around the corner and if you are one of those people who haven't had the time to plan your NYE night just yet, don't worry because we are here to help you with that. Legends of India is hosting a New Year Eve party and making sure that you enter 2019 with the best music, food, and drinks!
With Mumbai based, DJ Reme, the King of Bollywood Underground remixes, spinning the discs, you are bound to be dancing away the night with the best Bollywood tunes.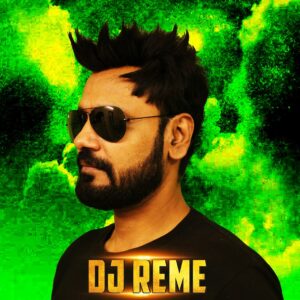 As I caught up with him while he was waiting to board his flight to Durban, where he is set to perform, the DJ, also known as the Soul Shaker of Mumbai spoke passionately about his career, which he started almost 20 years ago. He has traveled the world while making people dance to his tunes. He opened for Taio Cruz in Munich and also dabbled in private parties for the likes of Shah Rukh Khan and Flo-Rida. While he was describing his profession, he put a special emphasis on the fact that he is not just a DJ who plays tracks and leaves, he believes in creating experiences and connecting with the people. A one of his kind DJ from India, DJ Reme is an audio-visual guy who also believes in doing it all on his own. A solo performer, he believes that adding visuals to a set undoubtedly adds an extra entertainment dimension to the party. And as far as creating an experience is concerned, the DJ is set to vlog his whole journey to and in Hong Kong from the moment he enters the airport. So it is not just about the music and partying, it is about going on a literal journey and experiencing things from his perspective. Coming to Hong Kong after about 4 years, he is excited to connect and meet with the people and looks forward to creating a next level club entertainment experience that the partygoers have never been a part of before.
However, this is not where it stops. Beyond the good music, food, and drinks, there is also an open terrace at the venue where you can enjoy the New Year countdown with your loved ones.
Why should you choose to go to Legends of India instead of your usual NYE party place? Because with a ticket price of HKD 699, besides a delicious buffet spread, you get to enjoy unlimited alcoholic and non-alcoholic drinks till late night hours, which also means that you don't need to be in a rush and can actually enjoy and get your money's worth.
Since it's a NYE party, the majority of the crowd is going to be young but everyone is welcomed to stop by and have a memorable NYE party. So, be the guardian angel of your friends and tell them that they no longer have to go through the headache of finding a party that tops all parties. Head to Legends of India's NYE Party and welcome 2019 with some desi flavor. After all, when has Bollywood music not made things better?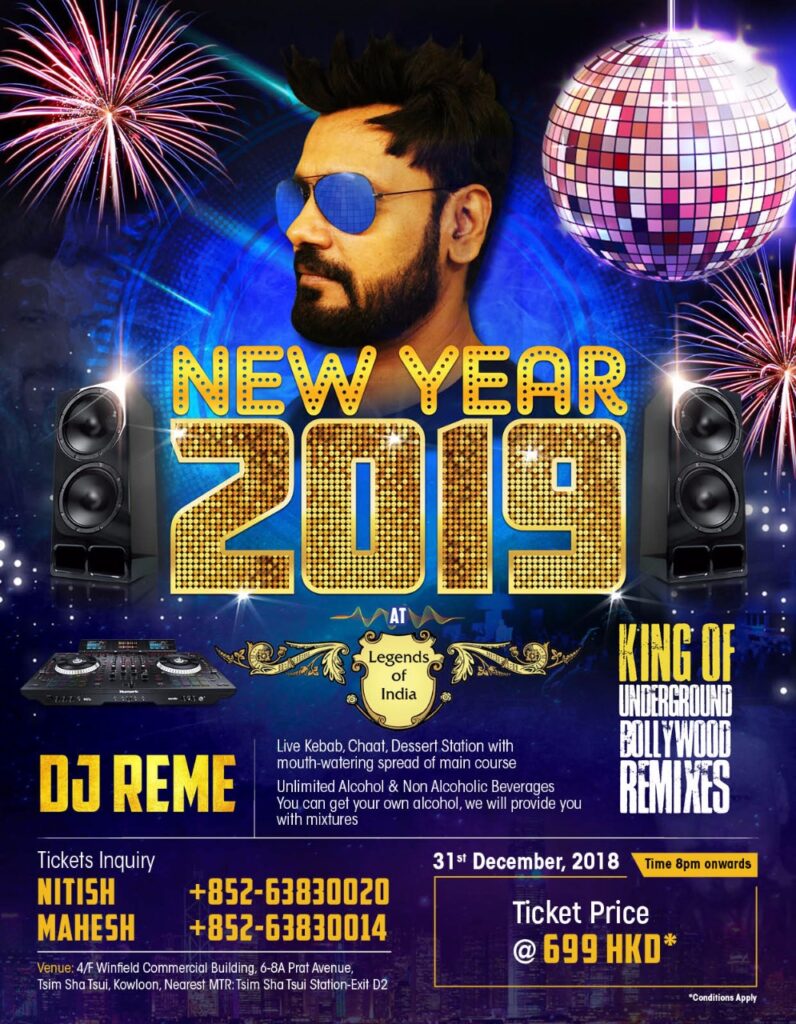 For tickets inquiry to the most happening NY2019 party in Hong Kong please contact :
Nitish : +852-63830020
Mahesh: +852-63830014
The following two tabs change content below.

Archita Bisht
Archita Bisht is the Managing Editor at A-Desiflava Magazine and can be reached at ab@aplomhk.com. Born in New Delhi and brought up in Greece, Iran, Germany, Ivory Coast, Spain and Hong Kong, I knew since very early that I wanted to write. I consider myself a storyteller and believe that storytelling is an important and constantly developing form of art. Words have the power to influence minds and perceptions and so I choose to focus my writings on topics related to culture, society, global affairs, and politics. When I am not focusing on jotting down my thoughts, I like to enjoy the sights that Hong Kong offers, travel, practice yoga, and binge on crime documentaries. I detest the humidity, stupidity and people who don't know how to stand in a queue.

Latest posts by Archita Bisht (see all)