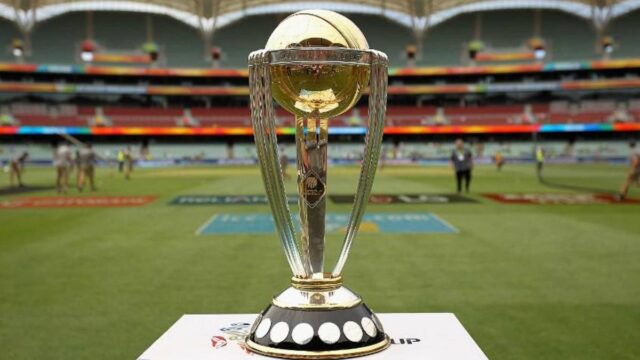 Our cricket enthusiast and expert Aravind Mahadevan guides us through the past performances of the World Cup teams to understand their play. With this on-going series of analysis, we're starting a conversation to predict this time's winner!
Let's gear up for world-cup viewing by taking stock of the overall performances of the eight major test playing countries – Australia, England, India, Pakistan, West Indies, New Zealand and Sri Lanka over the previous eleven one day international world cup competitions.
How do we determine a composite performance metric?
The world cup tournaments held so far have had differences in format from time to time. Apart from the finals and semi-finals which have of course been a common feature, we had in some cases quarter finals (1996, 2011, 2015), the Super Six stage (1999, 2003) and the Super Eights stage (2007). The first five editions of the world cup until 1992 had fewer teams and therefore progressed directly to the semi-final stage from the initial group phase
In order to come up with an objective measure of performance, for each world cup, points are allocated to each team based on how far it progressed in the tournament. The winner of the tournament is awarded 10 points, the losing finalist 8 points, the losing semi-finalists 6 points, teams eliminated in the quarter final/Super Six/Super Eights stage 4 points and no points are awarded for the teams eliminated in the initial group phase of the competition.
Team Rankings
Based on the methodology described above, the results are tabulated below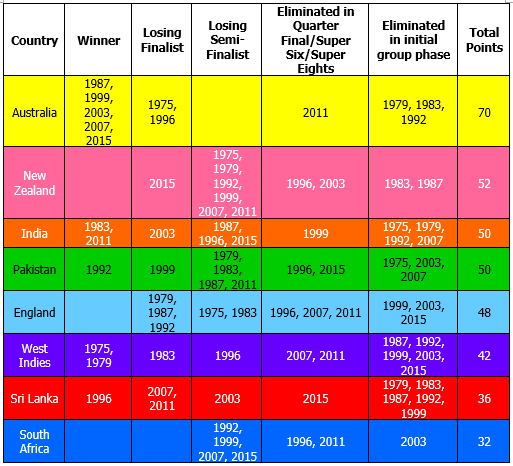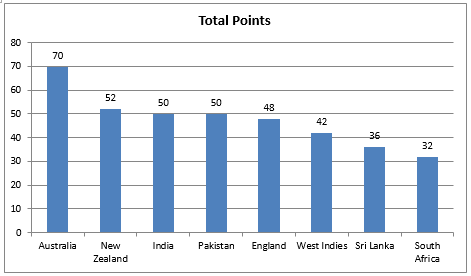 Conclusions and Observations
It comes as no surprise at all that that Australia comfortably tops the points tally with a whopping 70 points, by virtue of its five world cup victories, which includes three in a trot from 1999-2007. Since 1992, they have reached the final in every world cup except 2011 when they were beaten by India in the quarter finals. However, given their recent poor run in one-day game which has seen them slip to the sixth position in the ODI rankings, they will need to step up their game if they are to maintain this proud record in the world cup.
What is unexpected is that New Zealand is the second-ranked team with 52 points. New Zealand have consistently pulled above their weight in world cup competitions, reaching the semi-final stage and beyond 7 times, though 2015 was the first time they reached the final.
Australia and New Zealand are followed by two-time winner India and 1992 champion Pakistan with 50 points each. Both these teams have had their share of brilliant tournaments. India put it across the then mighty West Indies in 1983 and became the first host nation to win the world cup in 2011. Pakistan came from near-elimination in the initial round-robin stage to lift the 1992 world cup.
England and two-time champion West Indies with 48 and 42 points respectively were the sides to beat in the first few world cup tournaments but have done nothing of note in the recent world cups. Amazingly, England have not reached the semi-final of the competition since 1992. But with their strong performance one day games in the last couple of years taking them to the top spot in ODI rankings, the host nation of the 2019 world cup will be looking to change that soon. West Indies last reached the semi-final in 1996 and it looks like their struggles are not yet over.
Sri Lanka and South Africa bring up the rear with 36 and 32 points respectively. In the case of Sri Lanka, they only emerged as a force to reckon with from the 1996 world cup onwards and had not reached even the semi-final in previous tournaments. Whereas in the case of South Africa, the points tally is a clear understatement as they did not participate in the first four world cup tournaments. It is fair to expect that had South Africa played in the world cups from 1975-1987 which had only 8 teams, they would have managed at the minimum a couple of semi final appearances. So in reality, their comparable points tally would be atleast 44 points, putting them above West Indies. But South Africa remains the only side among these eight test playing countries not to have reached a single world cup final, which is clearly an anomaly given the talent that the past teams have possessed and the pre-tournament favorites tag that they have carried in almost every world cup. They went down in a very close semi-final game against Australia in 1999 and in recent years, New Zealand has been their nemesis team, eliminating them in the 2011 quarter final and in the 2015 semi-finals.
So what can we expect in the 2019 world cup?
England will definitely start as one of the favorites by virtue of their recent one-day record and home advantage. But India is not far behind. Australia have had a tough time of late but in the last couple of months they seem to have turned the corner with a series victory in India so they definitely cannot be discounted. These three countries along with South Africa and New Zealand are the ones that I expect to do well. Pakistan and West Indies are dark horses who can cause an upset on their day. Sri Lanka and Bangladesh will struggle in my view. For Afghanistan, the world cup will be a great opportunity to gain exposure and showcase their talent on the biggest stage. All in all, be ready for some fascinating encounters in the upcoming world cup!
The following two tabs change content below.
Aravind Mahadevan
I have been living in Hong Kong for the last 15 years. By profession, I am an investment banker and I am currently working for Morgan Stanley in their fixed income division. My favourite hobbies are chess, cricket and mathematics. In addition to following chess and cricket events, I am an active chess player and I play in tournaments in Hong Kong. I am also an avid reader of books- both fiction and non- fiction. Both myself and my wife Priya share a love of crime fiction, especially the Agatha Christie series. We also love travelling and exploring new vegetarian cuisines.
Latest posts by Aravind Mahadevan (see all)