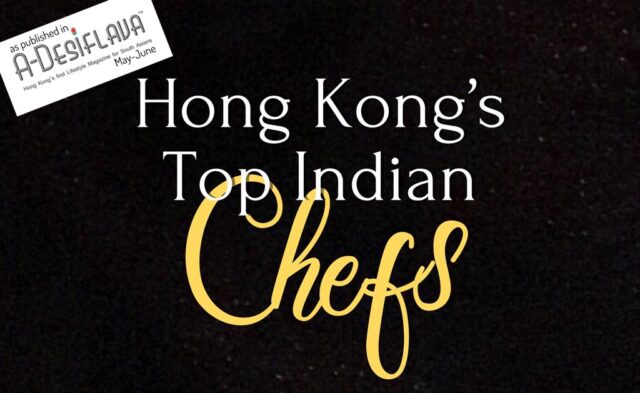 Komal Lakhani-Shankar goes into the kitchens of Hong Kong's leading Indian restaurants to get to know the people behind our favourite foods
You can take Indians out of India, but you can't take the India out of us! Especially when it comes to desi food. Though we make it at home regularly, there are some things we love indulging in when dining out – like perfectly charred tandoori chicken with the softest roomali roti, creamy paneer tikka, rich handi biryani, steamed idlis, crisp dosas or guilt-laden samosas!
The restaurant servers, being our point of contact, know how much we love the food, particularly when we're leaving a generous tip at the table. But how often do we personally compliment the chefs for that delicious meal? Meeting them personally was my chance to tell these wonderfully talented men how much I've always enjoyed their preparations; and my chance to know about their journeys from the peninsula.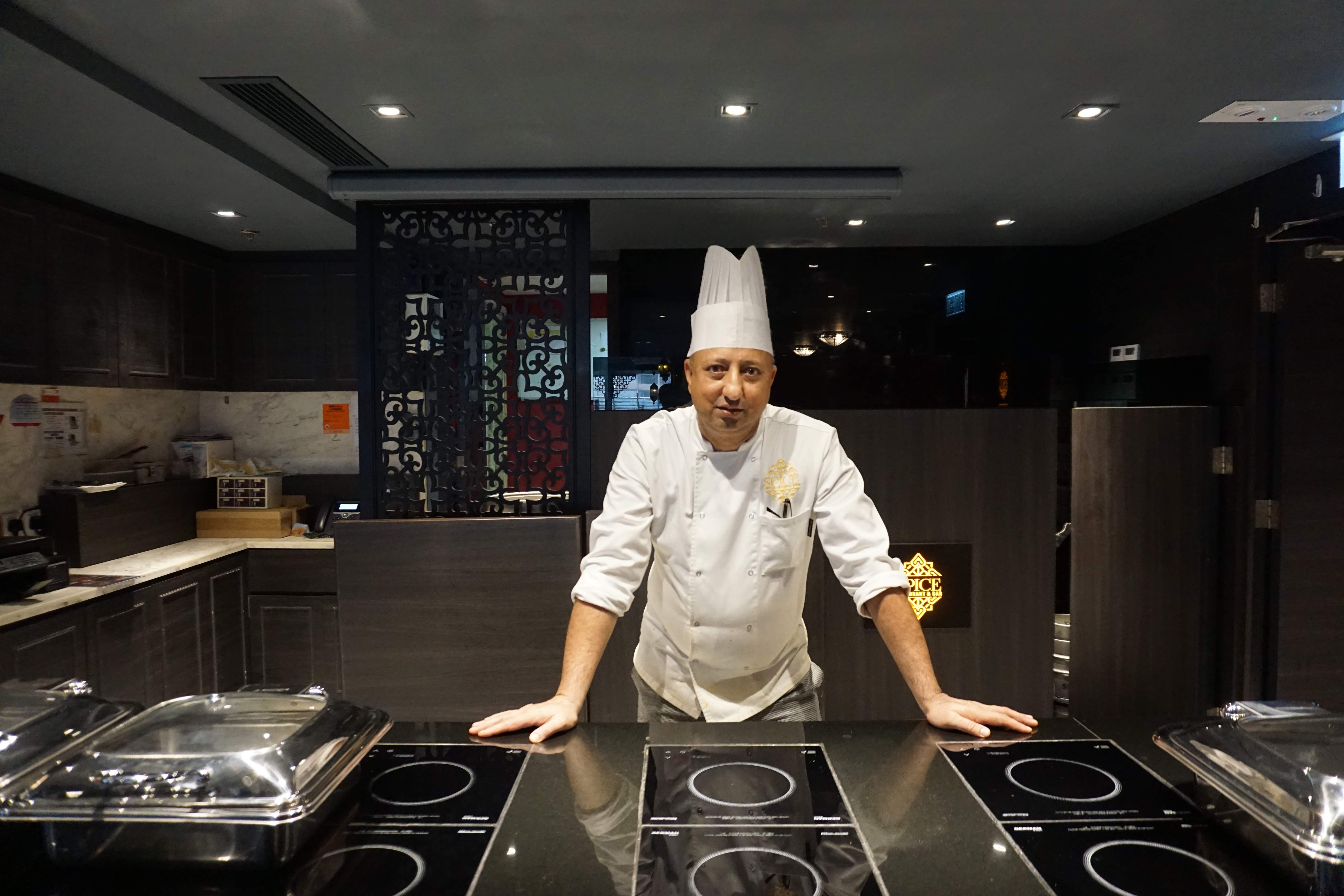 Gurnek Singh, Spice Restaurant & Bar (Knutsford Terrace)
An absolute introvert, Gurnek Singh of Spice hails from Bajuha Kalan, a small village near Jalandhar in Punjab. He's been in Hong Kong for 21 years now. He recalls cooking at home as a young man. He used to help his mom by making the rotis while she prepared the rest of the meal.
He entered the profession to support his family when the times got tough. "I got an opportunity to go to London, so without a second thought, I grabbed it," he says. With no prior experience in the F&B industry, Gurnek had a modest beginning to his career. He started by washing dishes in a busy Indian restaurant there. Soon he was included in the chef's team for chopping and other daily preparations for the cooking process. Noticing his innate skills, the chefs there started giving him more responsibility and showing him the ropes around the professional kitchen. After spending a few years in London and a visit to India, Gurnek secured a job in a Hong Kong restaurant, Jojo. He took a liking to the city and soon joined Spice Restaurant & Bar as their head chef.
Where all has your food journey taken you?
I have spent most of my adult life in London and Hong Kong.
Walk us through your food preparation routine here at Spice
We marinate our meats the previous night, everything else is prepared fresh every morning.
What is your signature dish?
Butter Chicken and Chicken Chettinad, with a north Indian touch.
Do you cook for your family?
I always cook for my family on my day off. My children love Palak Paneer, so I wake up early and prepare the food so that it's ready in time for me to enjoy it with them.
Your favourite dish
Lamb Biryani
What cooking tip would you like to give our readers?
We use less oil in our cooking here at Spice and you should do the same at home, especially while cooking meat. Meat has its own fat that comes out in the cooking process which helps in cooking and enhancing the flavour of the dish.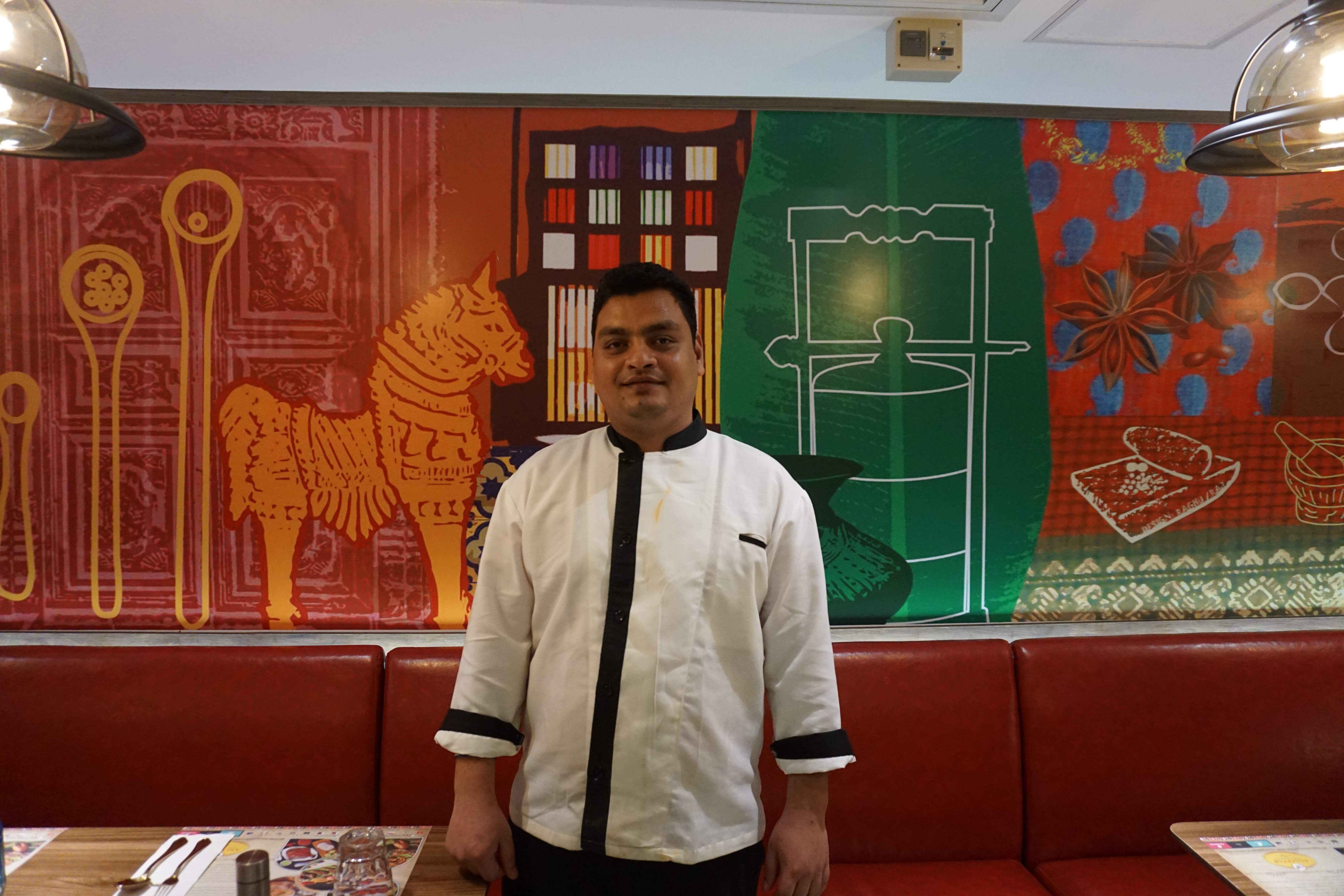 Malick Kalim Ali, Anjappar Chettinad Indian Restaurant (TST)
Though he is a part of the Anjappr family for 10 years, Malick Kalim Ali started working in the Hong Kong branch only six months ago. The restaurant's manager Mr. Sheik insisted that Malick join the team and bring his experience here to establish the Anjappar brand in Hong Kong. "I didn't choose Hong Kong, rather Hong Kong chose me," he laughs.
He's often homesick and gets teary-eyed when talking about his family. Malick was born in a small town called Jagatsinghpur in Odisha and started working at the age of 14 to support his family. His mama (maternal uncle) introduced him to the food industry since he was in the catering business himself. His first job was of a busboy, doing dishes. At age 20 he started cooking and got his first cooking job in Bangalore. At first, it was just a means to an end, "But with time, the work got more interesting," he says. His 'ustaad' Sheikh Jangir from Oddissa showed him the ropes. Later Hasan Qurishi from the ITC group taught him everything about North Indian and Chinese cuisine.
Where all has your food journey taken you?
I've worked across various branches of Anjappar – Malaysia, Chennai, Cochin and now Hong Kong.
Walk us through your food preparation routine here at Anjappar
I make all the masalas and marinades myself. I have been entrusted with the company's secret recipes. My manager and I go to the wholesale market at 2 AM every other day to select vegetables and fresh cuts of meat and seafood. We check everything thoroughly before buying.
What is your signature dish?
Dal Makhani, Butter Chicken masala and Rani Sikandar.
Do you cook for your family?
My family loves sweets like gajar halwa and dilkhush; appetisers like chilly chicken and chicken tikki. I cook for them when I'm in India. My kids especially request for my food citing that they don't want to eat their mother's food anymore (he chuckles).
Your favourite dish
Small prawns cooked different ways.
What cooking tip would you like to give our readers?
Don't use Ajinomoto in your cooking to enhance the flavour. Instead use handmade masalas. When it comes to fresh meat make sure not to over wash it because that drains the flavour away, generally one good wash is enough. Lastly, don't worry if your home-cooked tandoori items don't have the same flavour as the restaurants, because it's difficult to achieve that smoky flavour without an actual tandoor.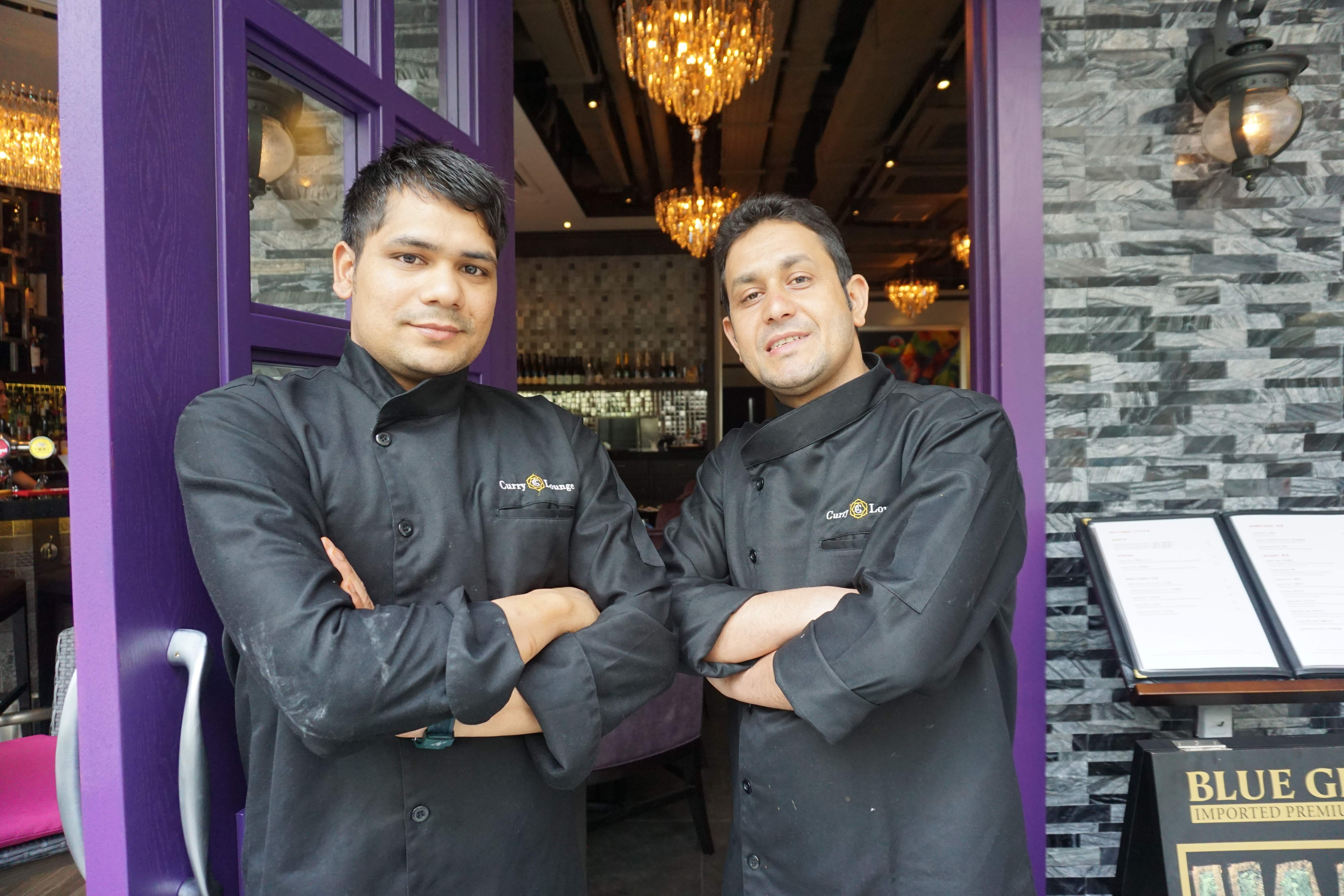 Vikash Chand & Nagendra Singh, Curry Lounge Restaurant & Bar (Tung Chung)
Vikash Chand, Head Chef and Nagendra Singh Specialty Curry Chef at Curry Lounge are natives of Uttarakhand – the place with the highest volume of male chefs than most parts of India, they say. The duo met four years ago while working in Mumbai. Vikash is from Dehradun and Nagendra, from Mussoorie. They both have been in this line of work for over 10 years now and have worked in various restaurants around the world before coming to Hong Kong nine months ago. While both these chefs had a passion for food since they were kids, Vikash was inspired by his dad who used to help his mom in the kitchen, and Nagendra was inspired by his mom. Vikash's elder brother is a chef currently working in Canada and Nagendra's father is a farmer who thought him the best ways to use fresh produce. These family influences combined with their love for cooking nudged them into becoming chefs. Like the other chefs, they have had no formal training and learned everything on the job.
Where all has your food journey taken you?
Vikash: Mumbai, South Africa, Jamaica and Hong Kong.
Nagendra: Mumbai, Thailand, St Petersburg in Russia and Hong Kong.
Walk us through your food preparation routine here at Curry Lounge
We make the list every day and have the groceries delivered to us. We started daily preparations at 10.30 AM
What is your signature dish?
Vikash: Tangdi Mumtaz
Nagendra: Various curries
Do you cook for your family?
Vikash: The first thing they ask me to make is 'samosas'. My wife, who is a yoga teacher, is vegetarian so she often asks me to make momos for her.
Nagendra: Everyone in the family has a sweet tooth so I love making to gajar or lauki halwa, especially for my mom. And mix vegetable and chicken curry for my wife.
Your favourite dish
Vikash: Masala Chicken,
Nagendra: Fish curry, lamb curry, and Palak Paneer made by my mom which I really miss.
What cooking tip would you like to give our readers?
Vikash: Mutton is best cooked at home when it's marinated for a long time or overnight, and slow cooked and well mixed.
Nagendra: Fresh vegetables are very important, the fresher they are the better they taste. One should eat more vegetables, they are an excellent source of vitamins, proteins and all other healthy nutrients the body needs.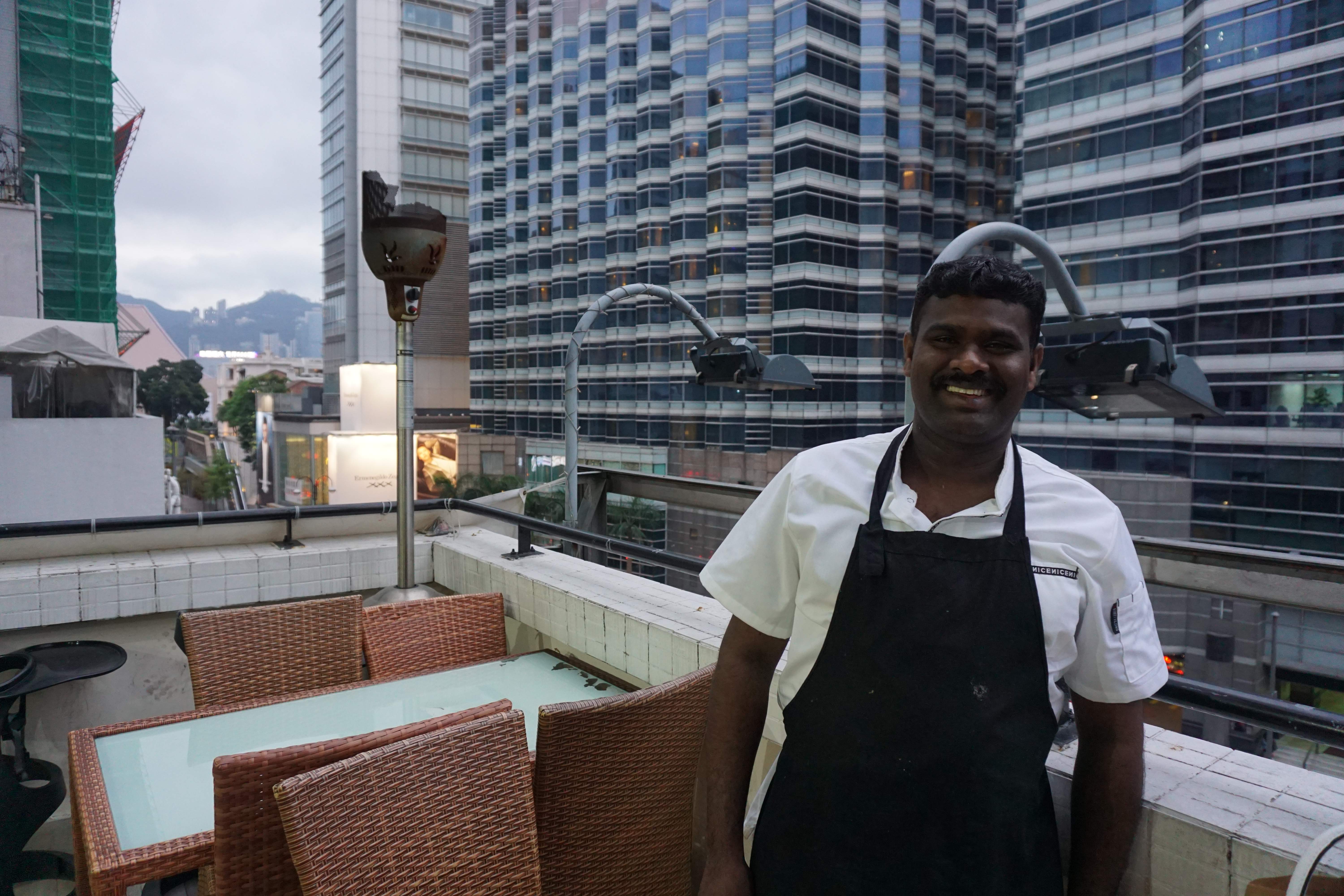 Muniyani Rajagopalan, Saravana Bhavan (TST)
From Ramanathapuram in Tamil Nadu, Rajagopalan is the ideal employee any organisation can hope for. He has been with Saravana Bhavan for 20 years. He learned everything from scratch in their kitchen from cutting and chopping to making the dosas, then rising up to become the 'tandoor master' and now head chef. He started his career at their Chennai branch and came to Hong Kong five years ago when his boss recommended him for the position. Like many others, he started cooking at a young age, learning from his mom.
Where all has your food journey taken you?
Malaysia, Muscat and Hong Kong.
Walk us through your food preparation routine here at Saravana Bhavan
I go to the vegetable market every two days to select fresh vegetables. Here at Saravana Bhavan our prep time starts at 6 AM and we make everything fresh in the morning. In fact, the chutney is freshly prepared every two hours.
What is your signature dish?
Mushroom Rogan Sauce
Do you cook for your family?
My family mostly prefers vegetarian food, especially Vegetable Biryani and Paneer butter masala. When I am back in India, I cook only on special occasions – for big family dinners or when my children really insist. Generally, my wife cooks but when I'm back home, I crave for my mother's cooking, so she prepares some meals for me.
Your favourite dish
Veg Kolhapuri
What cooking tip would you like to give our readers?
Freshness is the key to cooking so try and make your masalas at home and use them while they are still fresh.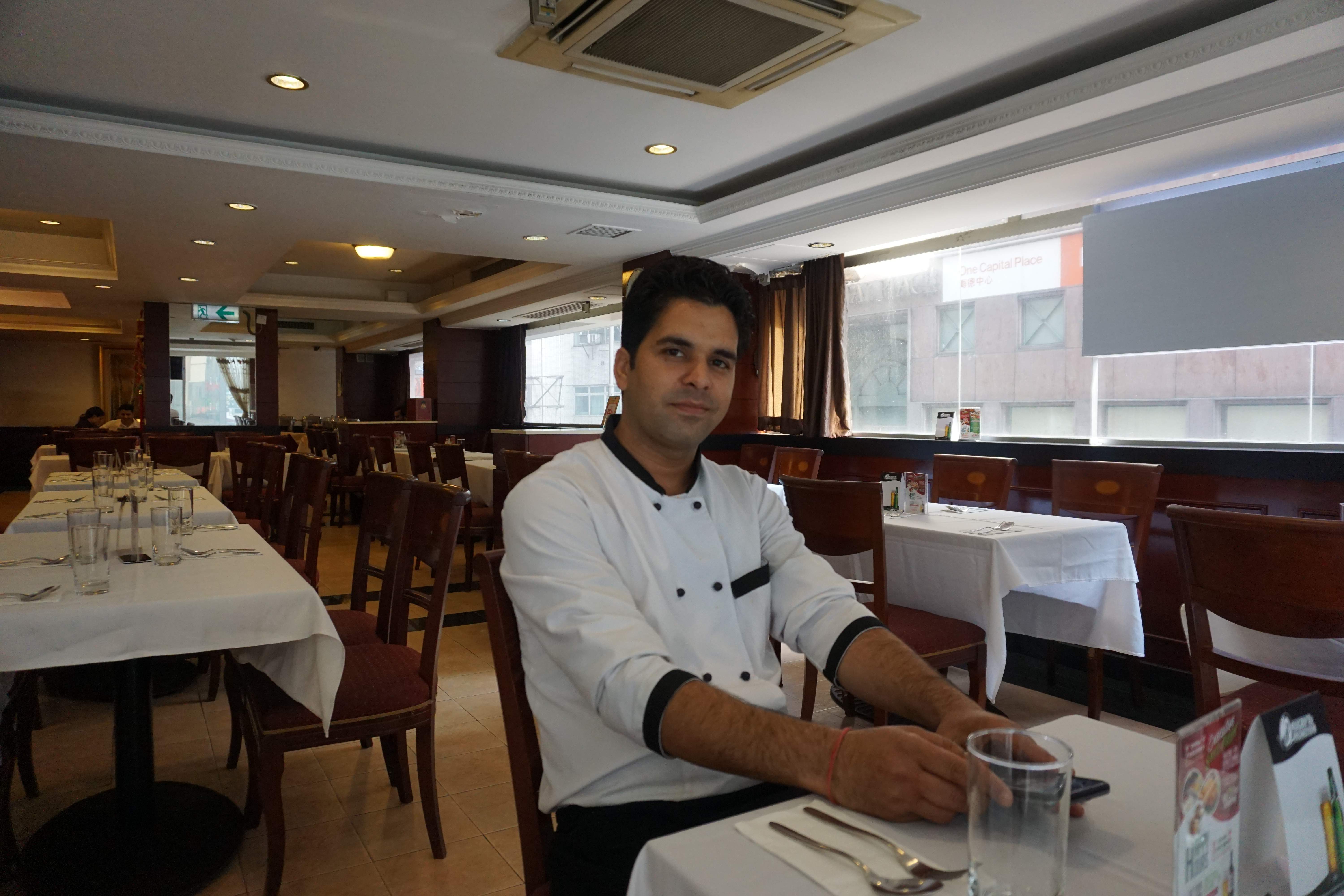 Pankaj Badoni, Khana Khazana (Wan Chai)
In Hong Kong since just a year, Pankaj Badoni comes from Rishikesh. His dad was in the army and being second in a line of three sons, he felt it was his responsibility to step up and help his mother in the kitchen. He says, "I was lucky to spend that time with mom making rotis for the family. That is where my passion for cooking comes from." He has been in the profession for 10 years and the only chef in this series of interviews who has had formal training. He went to the Maurya Institute of Hotel Management, where he gained theoretical and practical knowledge of the hotel and food industry. His skills were further developed during his long tenure with the Taj Group, with his first break being with Taj Deccan in Hyderabad. Pankaj came to Hong Kong on the recommendation of a friend who insisted it's 'worth a try'. He loves his food being reviewed and says, "I really appreciate feedback on my food even when it's not up to mark. It helps me understand the taste profile that the customers expect and thus improve my food."
Where all has your food journey taken you?
Hyderabad, Mussoorie, Kanyakumari, Tamil Nadu and Hong Kong.
Walk us through your food preparation routine here at Khana Khazana
I place the order for everything myself each night and we start preparations at 10 AM every day.
What is your signature dish?
Veg Hyderabadi Biryani
Do you cook for your family?
Before heading home to Rishikesh, I always stop by my mama's place in Delhi. He is the one to nudge me into becoming a professional chef, since he is in the food industry as well. So, I insist on making my signature biryani for him. Once I'm home, I indulge in my mother's cooking. I do end up cooking at some point, the family always demands that I make my non-vegetarian dishes, which usually includes a mutton curry among other things.
Your favourite dish
Pani Puri
What cooking tip would you like to give our readers?
Cook with love and passion, that is what makes home food better than any restaurant food. When you pour your heart into your food, it will strike a chord with the person eating it.
(as published in A-DesiFlava magazine May-June 2019 issue)
The following two tabs change content below.

Komal R. Lakhani
Komal R. Lakhani is a writer, blogger and Youtuber. Born and bought up in Mumbai Komal has a Masters in English Literature with a major in History and Psychology, along with being a certified Yoga instructor. She has lived in Canada and the UAE before moving to Hong Kong. "My love for writing developed in school and I haven't stopped writing since then. My writing is focused on being relatable and striking a chord with the reader, I prefer the use of simple words over complex vocabulary. Besides contributing for various publications, I also maintain a personal blog called Komalskorner.com which is inspired by my life and the people around me. I love to travel, Google everything in world, bake and experiment in the kitchen, in my spare time I also vlog on my YouTube Channel. You can connect with me there or my social media handles @komalrlakhani.

Latest posts by Komal R. Lakhani (see all)