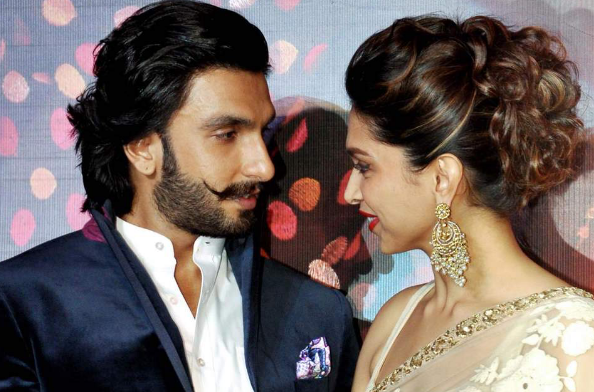 A look into the luxury Italian wedding of Bollywood superstars Deepika Padukone and Ranveer Singh. It is no secret that Indians are obsessed with lavish weddings and even more obsessed with celebrities getting married and unless you live under a rock, you already know that two Bollywood superstars got married this week. Wedding season is upon us and Bollywood's Ram-Leela has sent media and fans alike in a wedding frenzy. Lauded as one of Bollywood's power couple, Deepika Padukone and Ranveer Singh (dubbed as DeepVeer by their fans and the media) entered holy matrimony in a straight out of a fairytale wedding in the upscale Italian town of Lake Como. Even though very little details of the wedding are out, we have gathered the scoop from whatever we could get our hands on.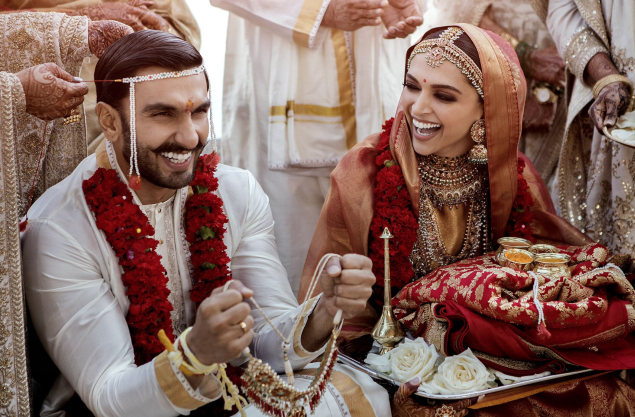 The Courtship
The pair has been linked together ever since they first starred in, Sanjay Leela Bhansali's, "Goliyon ki Rasleela Ram-Leela" in 2013. Even though this was the first time the two were seen onscreen together, the obvious chemistry between them on and off the camera led the fans and the media alike to pitch them together in real life. Although the two were often seen on dates together, Deepika, an established Bollywood superstar, who had been in high-profile relationships and breakups before, remained coy and silent about the relationship. On the other hand, Ranveer, who is the outspoken and loud Bollywood hero continued to show his love and speak praises about Deepika during press junkets and interviews, leading fans and media to confirm their doubts into facts.
The Wedding
Neither of the two ever publicly confirmed the relationship but dropped a surprise bomb when they shared their wedding card through their social media handles in October 2018, informing the world about their November 2018 wedding.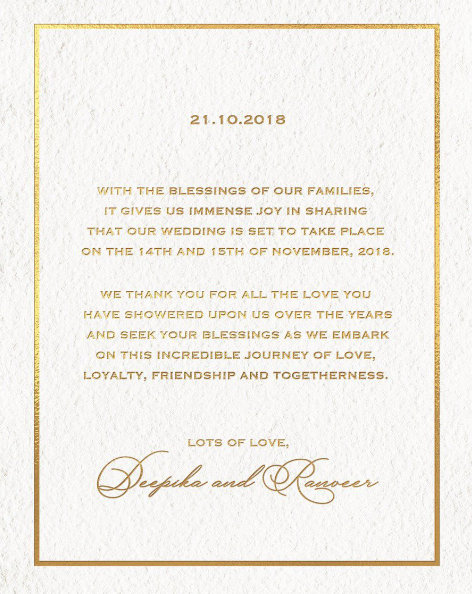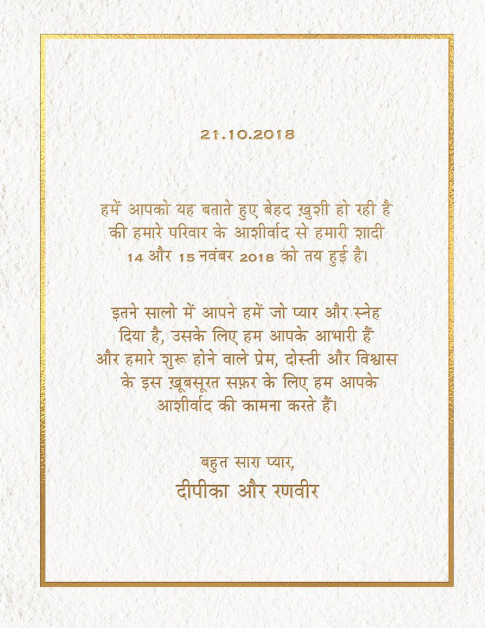 The wedding festivities kicked off with a grand sangeet ceremony at Casta Diva, a luxury resort on the east side of Lake Como, in the pretty village of Blevio where Harshdeep Kaur and her team were invited to perform their hits and get the party going.
The playlist included wedding favorites like Kala Sha Kala, Mehendi Hai Rachney Wali, Mehendi Ni Mehendi, and Gur Naal Ishq Mitha. The groom is also said to have had his own solo performance where he sang and danced to his own song, "Tune Maari Entriyaan", from his film Gunday.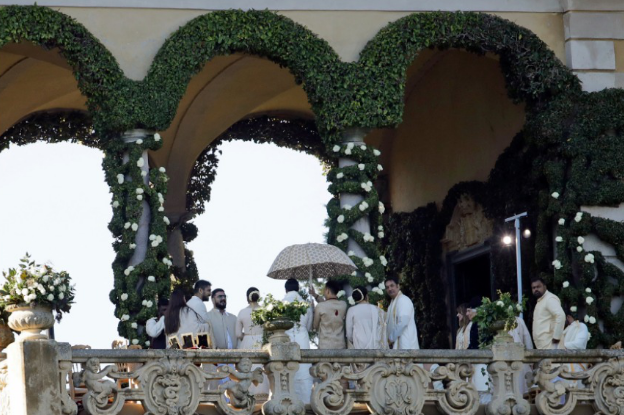 The wedding was an intimate affair with two ceremonies, one with Sindhi and the other with Konkani rituals, both of which took place at the Villa de Balbianello in Lake Como. It has been speculated that, in his usual over-the-top manner, Ranveer made his grand entry on a seaplane instead of the traditional horse.
As far as the décor was concerned, Monday morning, twelve florists were specially flown in from Florence to decorate Villa del Balbianello with lilies, Deepika's favorite flowers. Chefs from Switzerland were also flown in to join the catering team for desserts and the wedding cake.
The Dress Code
Due to his previous sartorial choices, multiple memes making rounds on the internet were trolling Ranveer Singh for probably wanting to upstage Deepika and picking a lehenga grander than hers, for the wedding but ultimately, Singh donned a classic ivory and gold sherwani for the Konkani ceremony and a red sherwani for the Anand Karaj. The few visuals from the wedding indicate that Deepika went with the traditional Indian bridal colors and chose red, orange and golden outfits for both the ceremonies. The guests were dressed up in ivory, white and gold.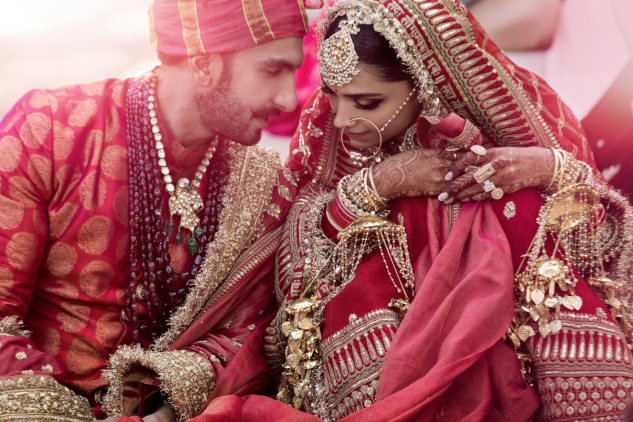 Both actors were dressed by Sabyasachi Mukherjee, who had also reportedly asked the attendees to not share any picture of the couple on social media he wanted to reserve the wedding looks exclusively for the label's official account.
The Guests
Privacy was the couple's highest priority and therefore the wedding was a small, private affair with only about 45 guests from both families and very few names from Bollywood, like of Farah Khan, Mana Shetty and Sanjay Leela Bhansali. The guests were asked to follow a strict no phone and no-photo policy by the actors, who wanted to be the first ones to share their wedding pictures through their social media accounts.
The guests were escorted to the venue in a classic Italian style, on luxury yachts booked by the actor.
Keeping their Bollywood friends and other not so close family members in mind, the couple is set to throw two receptions upon returning to India, one in Deepika's hometown Bengaluru on November 21 and a grand Bollywood party in Mumbai on November 28. The security at the two venues is also expected to be at the highest level wherein the guests will have to scan QR codes on the invites in order to gain entry. The actors have also discouraged the guests to bring them gifts and instead requested them to donate to Deepika's, The Live Laugh Love Foundation, which actively works towards creating awareness and removing the stigma around depression.
The Venue
The Villa that used to be a monastery over 700 years ago is quite a popular spot for weddings and the elites and has been featured in Hollywood blockbusters like Casino Royale and Star Wars.
According to lakecomotravel.com, the main building of Villa Balbianello hosts some English and French furnishings, which date back to the 17th and 18th centuries. The interiors are embellished by many glass paintings and a rich collection of ethnic sculptures and artifacts.
However, the couple and their families are not staying at the villa, but Casta Diva, where the couple hosted the sangeet and mehendi ceremonies.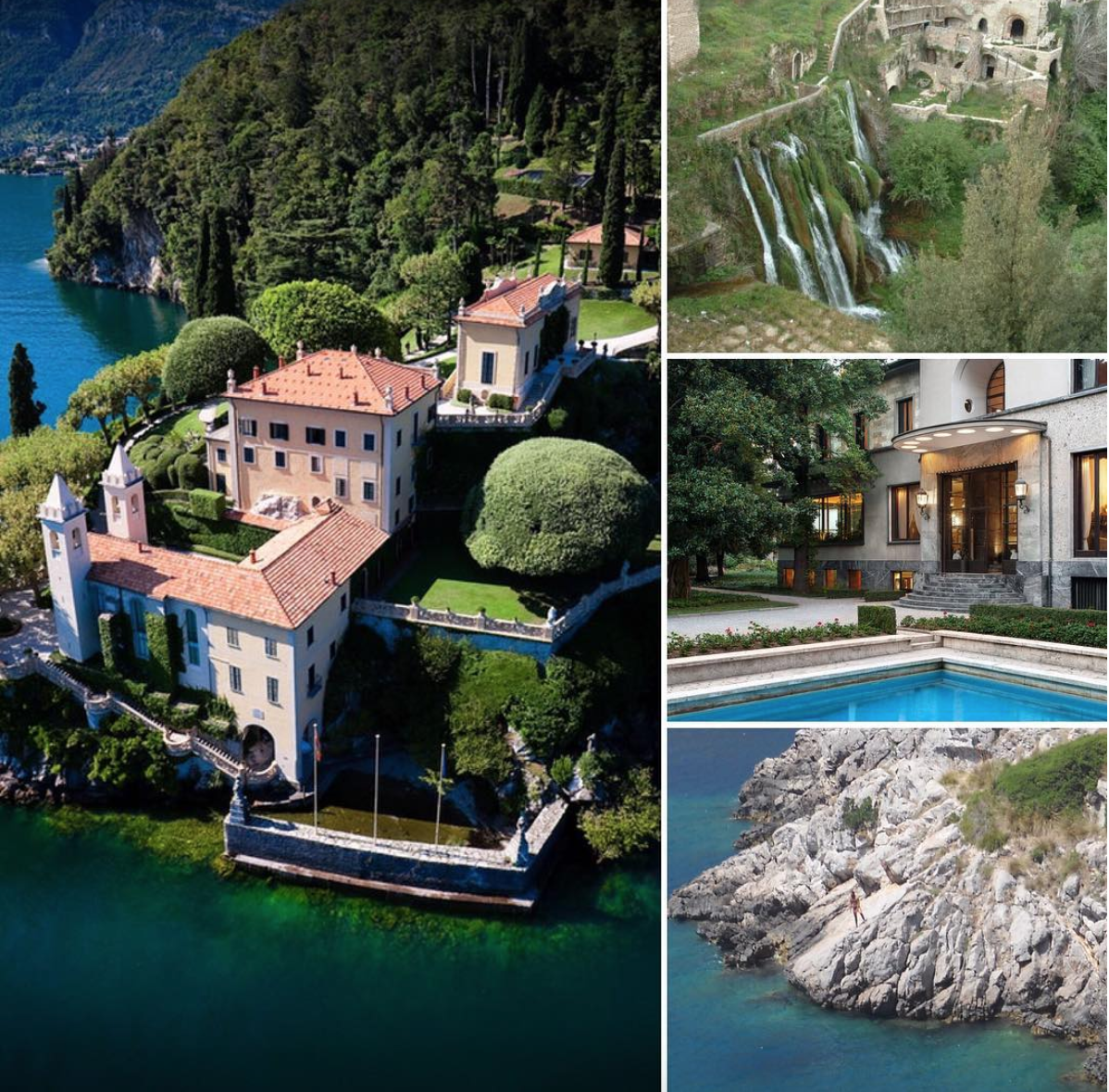 The resort, tight with heavy security that is often provided to international leaders, has 75 rooms and also has four restaurants and bars, including an alfresco terrace overlooking the lake, four conference rooms, a spa, indoor swimming pool, outdoor floating pool on the lake and is surrounded by a luxuriant botanic park over an area of approximately 26,000 square metres.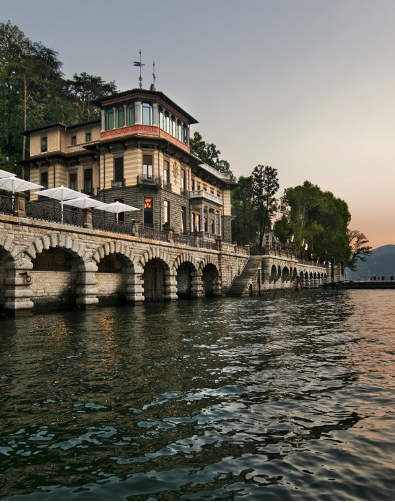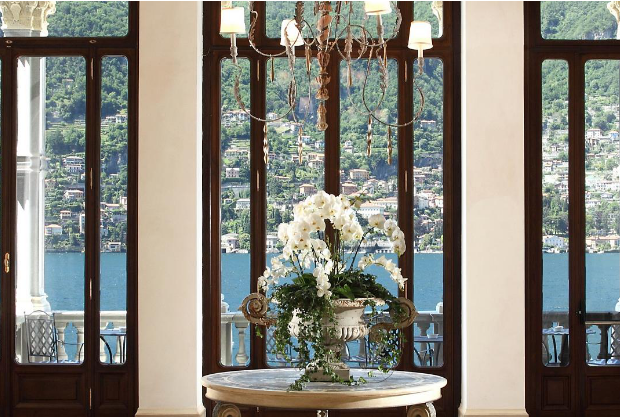 The average cost of a room at the luxury property is 400 euros (around Rs 33,000). Considering that it has 75 rooms, Ranveer and Deepika are shelling out whopping Rs 24,75,000 per day.
A-Desiflava Magazine and its entire team wish Deepika Padukone and Ranveer Singh best wishes and good luck a happily married life. You both deserve to be together, as we know its difficult to be in limelight holding hands all the time and forever for the rest of your lives.
The following two tabs change content below.

Archita Bisht
Archita Bisht is the Managing Editor at A-Desiflava Magazine and can be reached at ab@aplomhk.com. Born in New Delhi and brought up in Greece, Iran, Germany, Ivory Coast, Spain and Hong Kong, I knew since very early that I wanted to write. I consider myself a storyteller and believe that storytelling is an important and constantly developing form of art. Words have the power to influence minds and perceptions and so I choose to focus my writings on topics related to culture, society, global affairs, and politics. When I am not focusing on jotting down my thoughts, I like to enjoy the sights that Hong Kong offers, travel, practice yoga, and binge on crime documentaries. I detest the humidity, stupidity and people who don't know how to stand in a queue.

Latest posts by Archita Bisht (see all)