The first ever Indian vegetarian restaurant in Hong Kong, Khana Khazana is a paradise for Vegetarian desis. I had my first ever hearty Indian meal in Hong Kong here and I instantly knew that this romance has only begun. Whether it's a date, dinner with family or a small gathering of 24 people, at this spacious restaurant there is room for everyone. With a very homely atmosphere, Khana Khazana serves the most deliciously prepared authentic Indian delicacies.
Khana Khazana is renowned for its South Indian preparations, therefore, I started with a South Indian Platter. An endless tray consisting of Idli, Medu Wada, Veg Uttapam ,Masala Dosa, Sambhar and two varieties of chutneys. It's the best of South India served hot on one platter. While every savoury tastes amazing, the crispy Wada is my favourite.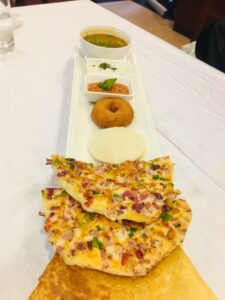 What came next? Something every Indian craves for… Pakodas. An assortment of vegetable fritters cooked to perfection. They were piping hot and so aromatic, it was hard not to dig in immediately. Mix Vegetable Pakoda consists of potato, eggplant, cauliflower and chilli fritters.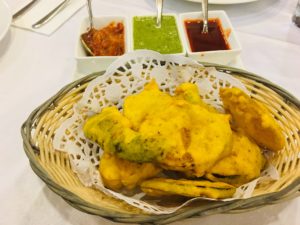 At Khana Khazana, the list of curries and dals is endless. Each of them boasts a unique flavour and guarantees satisfaction to your taste buds. Along with them, there's a mouth-watering assortment of Parathas, Naans and Kulchas for you to choose from. Also, don't forget to have a Masala Papad with your meal. Since I couldn't select which curry to have as each one seemed tastier than the other, I ordered a Vegetable Biryani. Served with the refreshing Boondi Raita, Biryani was a scrumptious delight. Each spoonful packed with a hundred flavours.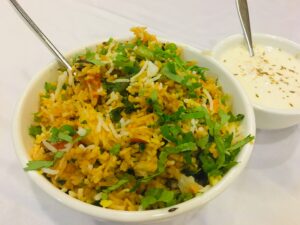 The Chef at Khana Khazana knows how to make a meal perfect. Therefore, you will find supremely yummy desserts on their menu. What better way than to end this flavourful evening with a delicious bowl of Gajar Halwa? Heavenly is the word for this sweet preparation. Do not miss it!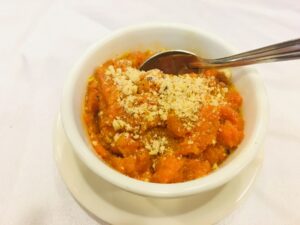 Khana Khazana is located in the heart of Wan Chai and is easily accessible. It is popular not only amongst Indians but also with people of other nationalities. The staff here is friendly and service is good. Apart from the à la carte menu, there is a buffet option available. I would definitely recommend the buffet as it lets you savour several dishes at a reasonable cost. Khana Khazana is like a mix of fine dining and chill-out zone. It truly is one of my all-time favourites in Hong Kong. After all, it has good desi food and a good vibe, what else do you need?
---
A-Desiflava's most recommended dishes are:
South Indian Platter
Mix Vegetable Pakoda
Pav Bhaji
Sev Puri
Vegetable Seekh Kebab
Masala Papad
All Curries
Dal Panchrangi
Vegetable Biryani
Gajar Halwa
---
Average Price for 2 persons: 300-500$
Food: 4/5
Ambience: 4/5
Price: 4/5
Service: 4/5
Location: 5/5
---
Want to visit Khana Khazana:
1st Floor, Dannies House, 20 Luard Road, Wan Chai
---
Khana Khazana was visited by A-Desiflava's food reviewer on 12th February 2019 at 8 pm.
The following two tabs change content below.
Reshma Rohra
The first time I took refuge in writing was at the age of 11. Ever since then writing has been like a therapy. As I grew up, I turned it into my profession. And with time, writing brought me closer to art and made me realise my passion, which is to create. So now, I write and draw for a living. And, this makes me the happiest girl I know.
Latest posts by Reshma Rohra (see all)