We are grateful for stand-up artist Atul Khatri's 'midlife crisis', as he calls it, for doling out big doses of laughter. And laughter, we know is the best medicine.
The accidental comedian will be coming to Hong Kong next month, with new sets and the usual cheeky humour. The businessman-turned-stand-up artist, with half a century of experiences, Atul enjoys his golden years under spotlight, making people laugh on the mundane mayhem of life. His funny take on ageing, family holidays, grown up daughters, mother in-law, politics and of course being Sindhi – all from an urban Indian's POV, have an instant connect with his audience. Excerpts from his off-stage chat…
Corporate to comedy – how did that happen?
It was 2011 – I was about to turn 44, running a very successful business but still wanted to do something different in my life. You could also call it midlife crisis. I used to share 3-4 Facebook posts every day since 2009 (I still do them). Friends found them very funny and original and some of them suggested I try my hand at stand-up comedy. That was also the time that the stand-up comedy scene in India was just starting. As a New Year resolution, I registered for the first open mic of 2012. It was on February 2nd of 2012 – wrote a set, didn't tell anyone except my wife, took her along so that I don't commit suicide on the way back (if I bombed) and went on stage and did stand-up for the 1st time ever in my life. Never thought I would live a 2nd life as a comedian!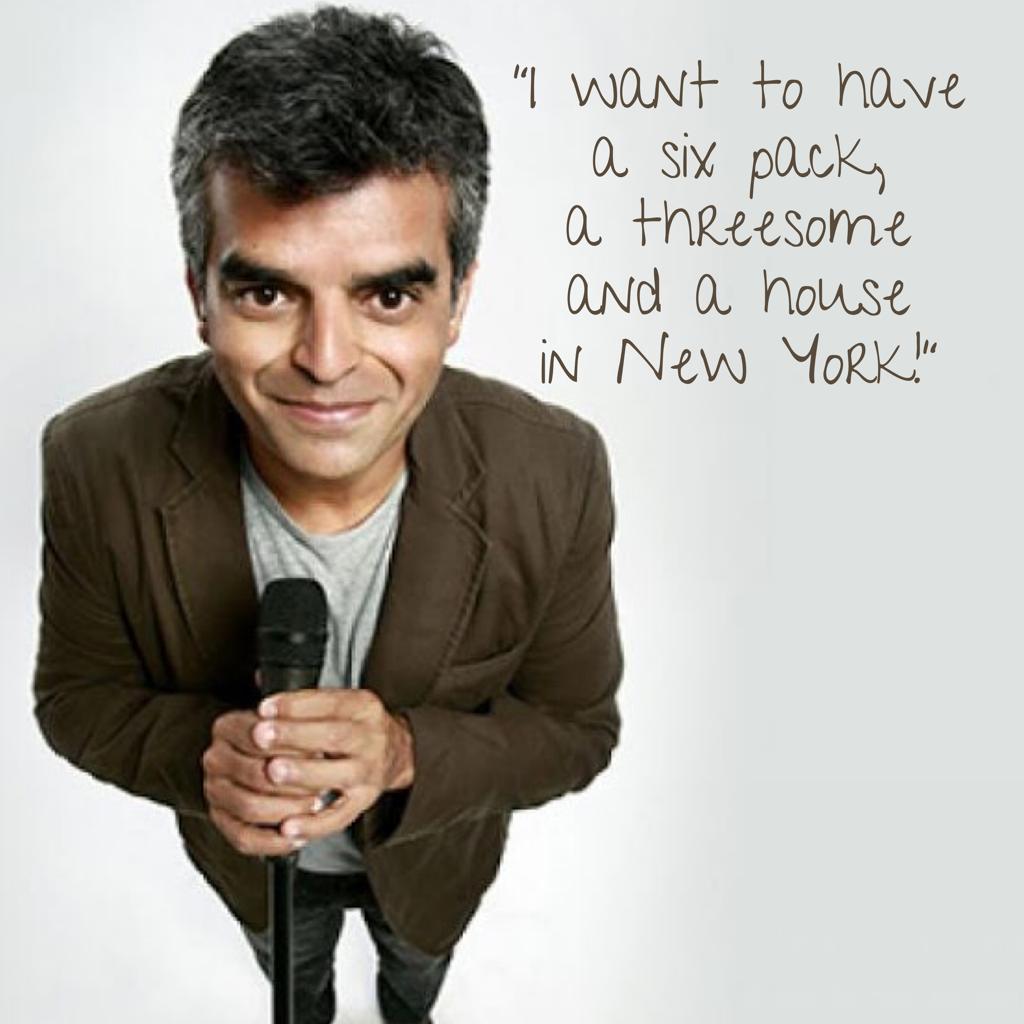 Stand-up was on your bucket list. What else is yet to be ticked from that list?
I want to have a six pack, a threesome and a house in New York (not necessarily in the order)!
How come you've mostly steered clear of political jokes?
I post a lot of political stuff on my social media but don't do it on stage because I write for the long term and in my opinion most politicians are not long term! And most of political material is topical. I write what I feel has long term potential.
Do your compromise or edit out material to avoid controversy?
Nope, I wouldn't edit anything, but I ensure that I study the audience before the show and deliver material according to their sensitivities. I may drop a few words from my set if I feel the audience is not ready for it.
Should comedy be used as a platform to address social / global issues?
Hundred per cent. We have a stage, a mic, an audience and it is absolutely okay to use comedy to address these issues if you are yourself very passionate about it.
Should stand-up (and other arts) be allowed absolute freedom of expression?
Once again, hundred per cent! Freedom of expression should be absolute. You can and you should be allowed to make jokes on anyone, anything. No questions asked!
Web content is garnering popularity by the second – is it why stand-up is a good career choice now as opposed to what it would've been 10 years ago?
It's not that stand-up comedy didn't exist before the web. Stand-up comedy has been flourishing in the UK and USA for over 60 years and many artists did very well. The web has obviously made it much easier to reach many more people without many entry level barriers. It has also made it very fragile.
Should our HK audience expect NRI jokes?
In fact, I have a new set about NRIs which I am sure they will love. I workshopped this set recently in Dubai, Singapore and Hong Kong – and the NRIs loved it!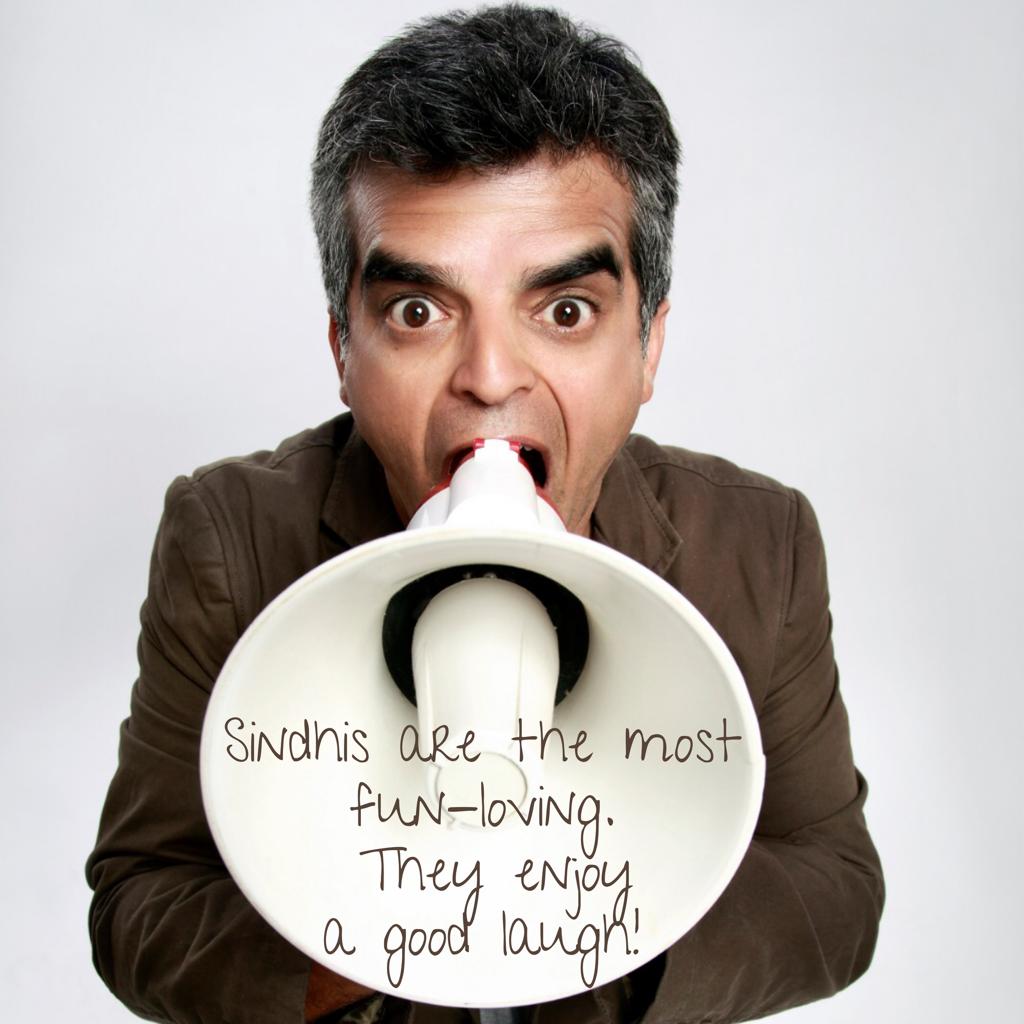 What about Sindhi jokes? There will be many in the HK audience.
Obviously, me being a Sindhi – how can I not do few Sindhi jokes? Also, Sindhis are a global community now and in my opinion the most fun-loving – they enjoy a good laugh!
What is your 'most Sindhi trait'?
Whenever I go abroad for shows I have to buy two bottles of whiskey. It's our 'Sindhi sherbet'. Also, I buy only those brands which offer a free strolley bag!
Apart from the show what is the one thing you're looking forward to in HK?
Partying after the show and eating some amazing food!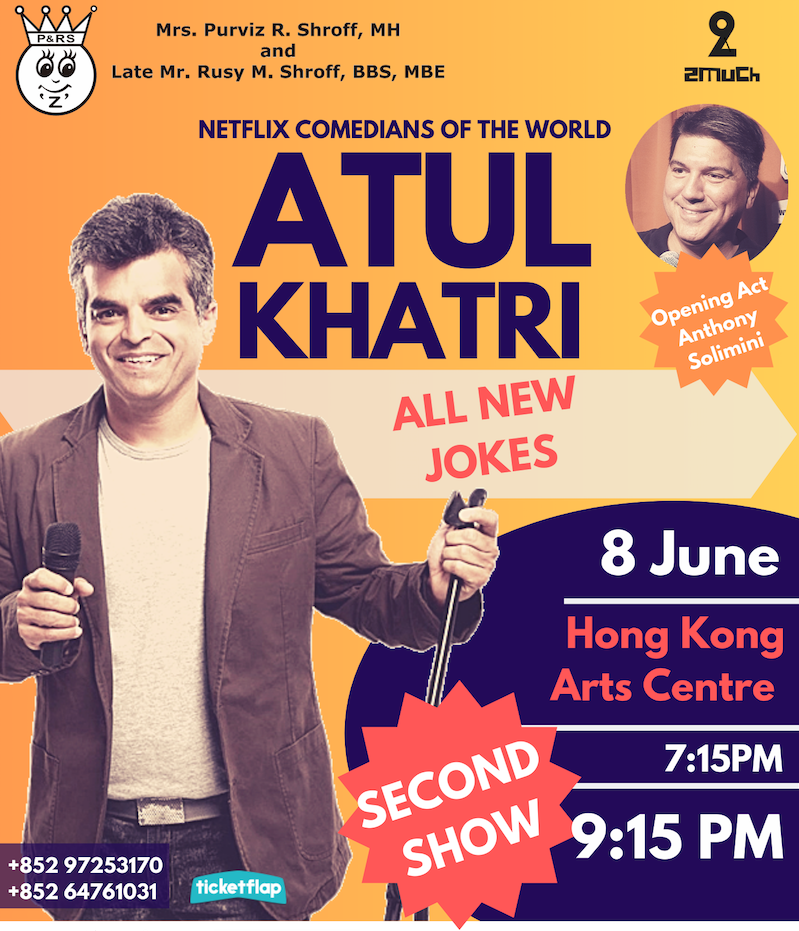 https://www.ticketflap.com/atulkhatriisback
The following two tabs change content below.

Brinda Khandwala
My move to Hong Kong, though sudden, was a smooth one. Essentially a SoBo girl, my desi ties are wrapped quite tightly. But the warm vibe of Hong Kong, it's buzzing nights, the multi-cultural influences and of course, so many Indian friends made it easy to call this home. I've been writing all my life – on fashion, lifestyle, entertainment, art and just about everything that infuses colour into my life. Joining the A-Desiflava team is yet another excuse to put together all these passions for sharing with my fellow Hong Kongers!

Latest posts by Brinda Khandwala (see all)