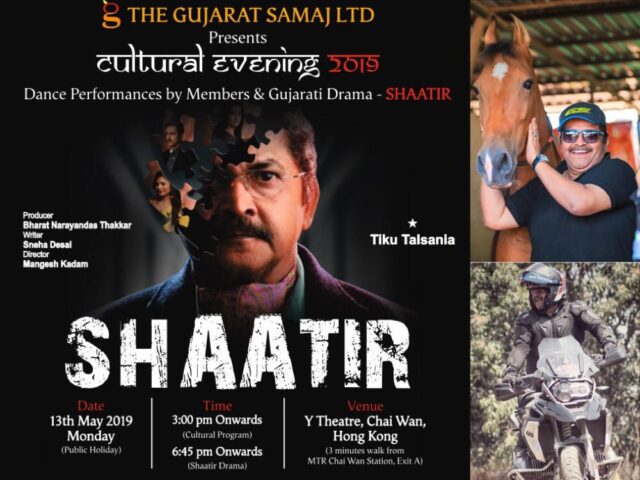 Brinda Khandwala meets with the 'shaatir' actor Tiku Talsania – one of the most familiar faces across theatre, television and films, to discover his adventurous side after pack-up.
In Hong Kong for his play Shaatir, hosted by Gujarat Samaj, lead actor Tiku Talsania speaks very little about the sellout Gujarati drama to avoid giving spoilers! He instead shares old anecdotes from his four-decade-long acting career and new adventures of personal life!
For us 80s kids, the veteran actor is known since Yeh Jo Hai Zindagi – that era's longest running sitcom. Of course, patrons of Gujarati theatre have been seeing him on stage more and more since the 80s.
Starting on stage
A student of Jai Hind College of Mumbai, Talsania's love for acting got him to participate in intercollege drama competition and win Best Actor title thrice at the time. "Indian National Theatre, which was the premier institute for theatre, had Gujarati, Marathi, Parsi wings… The Gujarati wing held its rehearsals in Jain Hind. That's where I got interested in theatre. INT took the best student actors and made a commercial Gujarati play with them – that's how I got into professional theatre."
He started his career in 1976 with the Indian National Theatre under the guidance of theatre stalwart Shri Pravin Joshi. He recalls, "It was him who asked me how much I'll charge for the play. And my reactions was – 'oh, you get money for this?' That's when I knew it was professional theatre. So, I went home and told my mom I got a job."
In 1984, Talsania was offered Yeh Jo Hai Zindagi and soon after he bagged his first feature film. "Then there was no looking back."
While his success grew with each performance in television and films, theatre remains his first love. "The reactions are right out there. Sometimes when you do too many shows, a line or a word is missed and it all goes haywire, your mind is rushing at 10,000 miles an hour trying to get that word back all the while being on stage. But that's the fun," he laughs.
Having said that, Talsania wants to act on every platform there is – be it stage or screen. We may soon see him in a web series. "I'm waiting for a plum role to fall into my lap! Now the genre has changed – producers are making the script the hero." From the web shows, his favourites are GoT and Narcos. "And Delhi Crimes. It was unnerving," he adds.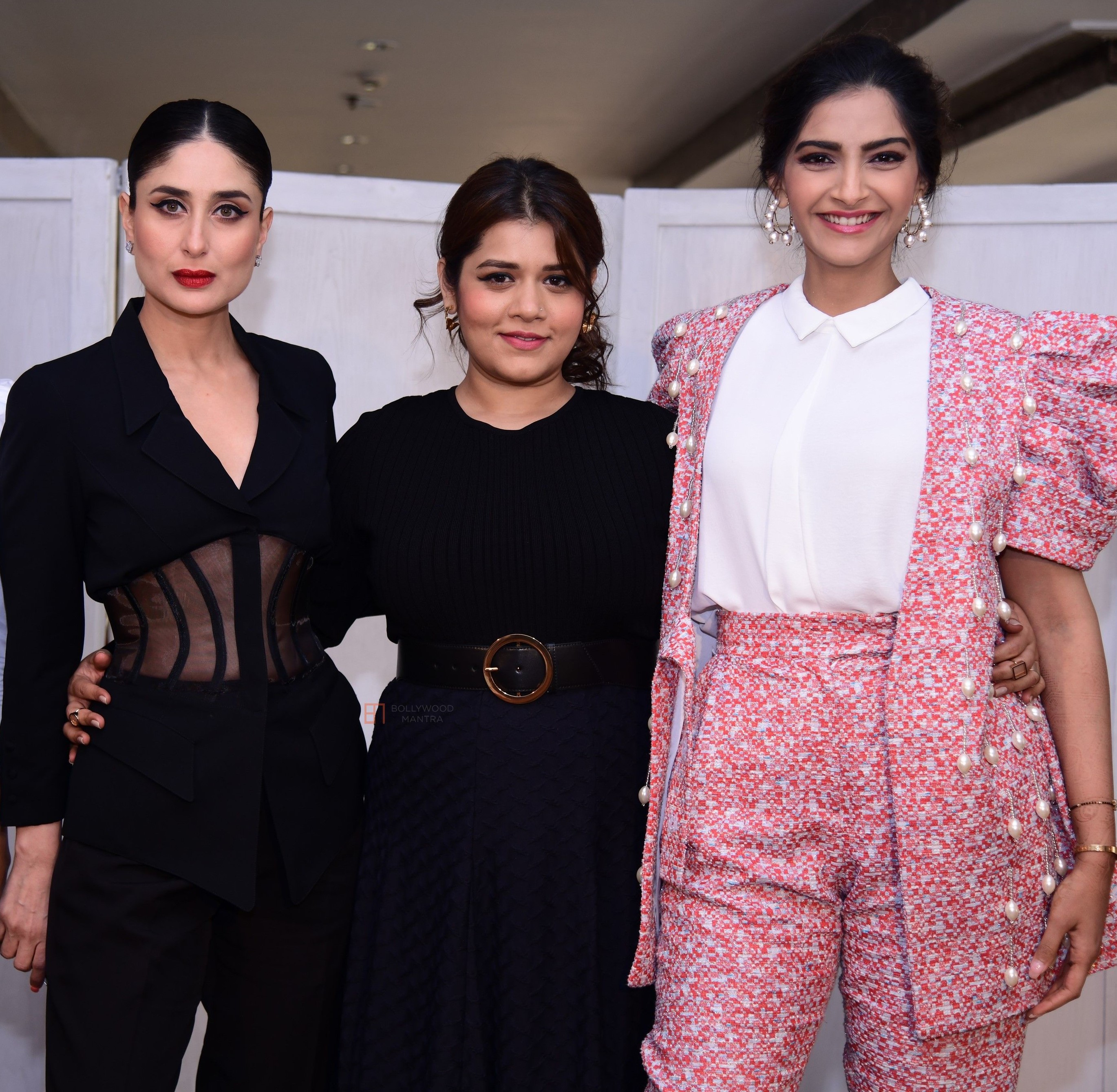 Like father, like daughter
Talsania's genetically talented daughter, Shikha made her mark with her debut film Wake Up Sid and recently in Veere Di Wedding with her impeccable performance. As a father, his advice to her was, "Go for it! It's the best profession. And make sure when you're in front of the camera, you're enjoying yourself. And that's exactly what she is doing," shares Talsania. "As parents, we have allowed that freedom to our children to do what they feel is right and enjoy life."
Shaatir
But coming back to the reason we met Tiku Talsania – Shaatir, the highly-acclaimed Gujarati drama, Talsania just reveals, "It is a wonderful mystery. Right in the beginning, we show you who does 'it', why, when, how, where and under what circumstances follows… but I don't want to say more."
Though he is most known for his comic roles, Talsania says he likes to try different genres of acting. "I wanted to play villain, so I did, and it works," he laughs. "I do surprise people, I enjoy that. Be it a comedy or thriller or anything else, I've always put my heart and soul into all my roles. And every time I feel, the best is yet to come. I think that keeps me going."
Beyond acting
We stumbled upon some interesting posts on Tiku Talsania's Instagram that had nothing to do with acting. Him on bikes with buddies! With a big laugh, he admits his love for bikes started when he was a school kid. "My father had a Lambretta which had a kick-starter. So I used to kick and start it and raise it… One day, it was in gear, and it climbed up the first floor of my building! With me sitting on it. So I had to ask people around to help me down. I remember being scared that my father is going to punish me. But that's when the biking germ got under my skin."
Now, Talsania goes on scenic bike rides every weekend. "Bikes now are gigantic and awesome to ride. Every ride is a new ride. And I love meeting new people. It's a beautiful thing." Even in the scorching Indian summers, he rides regularly. "We start as early as 5:30 am and ride from Mumbai, all the way up to Ahura, a place on the Gujarat highway. We have our breakfast there at 7 am and ride back to be home by 9:30 am before it gets hot."
He has also done a ride from Chandigarh to Keylong, en route to Ladakh; and plans the next one to Spiti Valley (in the Himalayas) and back to Manali. "I call this 'me time'," he says. Talsania is still familiarizing himself with Instagram and promises to share more pictures of his adventures on social media.
Not just an actor and biker, he is also a paraglider! "Yes, I fly too! I have a power-paraglider. There is a place called Motafofadia near Vadodra where we have a small club and we paraglide. It's amazing to just take off like a bird and go the height and distance you want."
Though his Hong Kong trip is going to be a quick one, he plans to see a bit of the city on his spare day. And if the weather permits, he hopes to go jet skiing here.
Taking Gujarat forward
Talsania compliments the efforts of Mrs. Bijal Viren Jhaveri, President of Gujarat Samaj HK for bringing Shaatir to the audiences here. "It takes a lot of hardwork to bring the whole team here. She's done a wonderful job."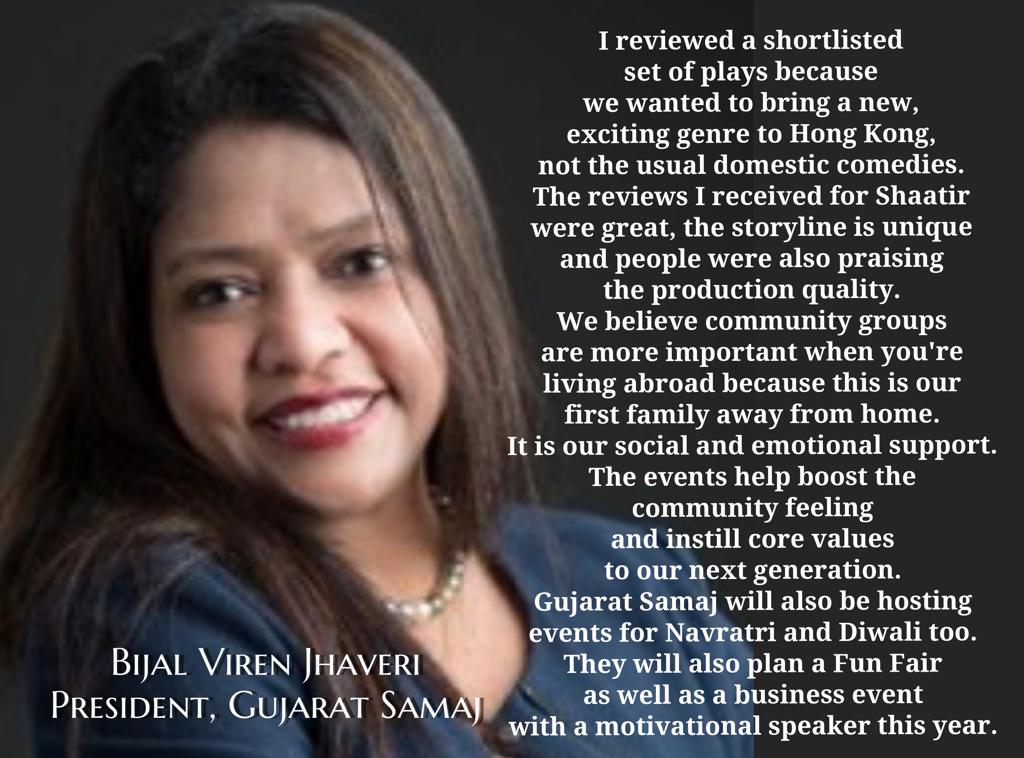 Talsania leaves us with an important message, "It's important to celebrate Gujarati festivals and have such programs. Speak to your children in your language, make them proud to be Gujaratis. That's how the language will survive. Hong Kong seems quite starved of the Gujarati culture. In America – there is a turnaround, people want to watch Gujarati plays and films. I think every Gujarati household there should be an hour of a lesson by either reading the Gujarati paper or poem or story."
For Shaatir tickets call Parul 64440310
The following two tabs change content below.

Brinda Khandwala
My move to Hong Kong, though sudden, was a smooth one. Essentially a SoBo girl, my desi ties are wrapped quite tightly. But the warm vibe of Hong Kong, it's buzzing nights, the multi-cultural influences and of course, so many Indian friends made it easy to call this home. I've been writing all my life – on fashion, lifestyle, entertainment, art and just about everything that infuses colour into my life. Joining the A-Desiflava team is yet another excuse to put together all these passions for sharing with my fellow Hong Kongers!

Latest posts by Brinda Khandwala (see all)