The world is in disarray. Whether its natural disasters, human rights violations, genocides or corrupt politicians, chaos cannot seem to have a firm grip over our planet. In times like these, it is almost as if we deserve a reason to celebrate and show gratitude. As the festive season approaches, India is quite literally gearing up to shine for Diwali. It is definitely safe to say that it is not only Indians living in India but also Indians abroad that look forward to this day so they can dress up in all the ethnic clothing that otherwise rest in the back of our wardrobes.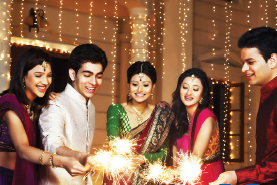 The world-famous festival of lights is a long-awaited event in India and is observed across the world, in Indian and foreign communities alike. Due to globalization, India's rapid growth as an emerging power in the political landscape and simply the awe and appreciation for India's culture, Diwali is now a global phenomenon wherein not only Indians but even foreigners like to celebrate Diwali across the world. Often, leaders of foreign nations such as the UK, Singapore, USA and most recently Canada, as a political statement of solidarity and appreciation also attend, sponsor or even organize Diwali related events in their countries.
India has always been in the limelight for having a huge multicultural and multiethnic population but more than that, it's the festivals celebrated in India that are often spoken about internationally. Whether it is Diwali or Holi, many foreign cultures have already tweaked and adopted our festival and often look towards us for inspiration and innovation in terms of celebration. Diwali has always been India's darling when it comes to festivals. In a way, it marks the farewell of the sweltering Indian summer and welcomes the cool autumn breeze.
Just like many other festivals in Indian culture, Diwali has its roots in ancient Indian history, wherein; it also has multiple stories of origins. One of the commonly believed tales, links the festival to the day where Rama, Sita, Lakshman and Hanuman reached Ayodhya after a period of exile and Rama's army of good defeated Ravan's army of evil. Therefore, the triumph of good over evil is a recurring theme in the mythical narration of the origin of Diwali. No matter what version one listens to, one can find commonalities like the lighting of lamps, wearing new clothes, eating traditional foods and most prominently honouring Goddess Lakshmi, the Hindu goddess of wealth, fortune and prosperity, Goddess Durga and Goddess Saraswati.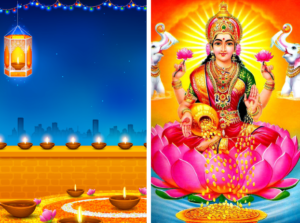 The annual 5-day celebration starts 18 days after Dussehra, marking Dhanteras as the first day and Bhai Dooj or Vishwakarma Pooja as the last day, depending upon the region in India. People start cleaning and renovating their homes and workspaces in order to honour and welcome the Goddesses and the gifts of good fortune that they come bearing. Wearing new clothes that sparkle as much as the lights and lamps that adorn the interior and exterior of their homes and exchanging sweets and gifts with near and dear ones has been a Diwali tradition that Indians follow no matter where they live. The Indian community in Hong Kong is no different than their counterparts in India. They also offer their prayers at the Hindi and Sikh temples located in the city, decorate their homes and exchange gifts and sweets with friends and families. Even though Diwali is about families coming and celebrating together with large feasts, the younger generations often get together with their friends and host card parties.
Dubbed as the "Christmas of India", Diwali brings a reason to shop as customers are offered lucrative deals and sales on everything from electronics to clothing to gold. Shopkeepers are stocked up on a wide range of firecrackers, candles and diyas/oil lamps as well as an extensive collection of lights that add that extra colour and shimmer to the world-famous festival of lights.
As the world remains politically, economically and socially divided, in order to find that silver lining in this chaos, we should look towards cultural similarities to bring us closer together rather than further tearing apart societies. If a festival can bring together families in one country, why shouldn't similarities in our cultures bring us closer together as humankind? Hong Kong is no different than India when it comes to celebrating festivals. A lot of the culture and traditions focus on getting together and sharing gifts and delicacies with families and friends. One such Hong Kong festival, which is very similar to Diwali, is the Mid-Autumn Festival, which is also called the Moon Festival or the Harvest Moon Festival.
Traditionally a 3-day event, the festival, which is all about light and colours, bears many similarities to our own festival of light. Families get together, exchange gifts and also feast on traditional delicacies as a part of the festival. Instead of using oil lamps/diyas, the Mid-Autumn festival is all about lanterns of all the possible colours, shapes and sizes, light shows and also fiery dragon dances! Hong Kong also boasts public displays of glorious lanterns and LED displays in all shapes and sizes in different parts of the city, which can be gazed at in wonder and appreciation or be used as funky backgrounds for your selfies.

Celebrated on a full moon's night, the festival is a time when families get together to celebrate the abundance of good harvest and gaze at the full moon. Just like traditional sweets are a classic and irreplaceable part of Diwali, people forget about their strict diets and gorge on traditional mooncakes during the festivities. The mooncakes, which have a history of their own, also happen to be a classic gift that is shared among friends and families. (Fun fact: they were used as a vessel to carry secrets between revolutionaries during the Yuan dynasty.)
Besides the history of the mooncakes, just like Diwali, the Mid-Autumn festival also has historical and mythical roots. The most widely accepted is the one about the Moon Goddess, Chang's, who had to make the sacrifice of leaving her husband and drinking the elixir of immortality just to keep it from falling into the hands of Feng Meng, who had tried to steal the elixir. During the festival, people make offerings of food and drinks to Chang's in order to pay their respects and give thanks for their relationships and good fortunes. A popular legend has it that the Goddess blesses her worshippers with beauty. Therefore, in order to make sure that Chang's blessings don't go to waste, the lanterns are also used to ensure that she can see her worshippers clearly from the heavens.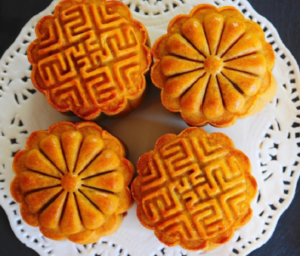 The festival also consists of a fair share of Fire Dragon dances, which take places in multiple locations across the city with some dragons measuring over 67 meters long and easily weighing over 50 kilograms. The dance itself dates back to the 19th century and was initially started by the villagers of Tai Hang, to bring them good luck and fortune and to keep catastrophes at bay. After the Fire Dragon restored the well being of the villagers, it became an annual tradition with constant upgrades to the dragon itself. The dragons are as colourful as they come and stocked with burning incense sticks that help to keep away the evil spirits. Besides the glow of the burning incense sticks, some dragons are also filled with firecrackers, which add to the glow and the overall energy during the dance. The dragons, which are also accompanied by the roar of drums and gongs, are carried by as many as 300 performers, between the ages of 16 to 30.
Similar to festivals in India, the Mid-Autumn festival is one of the many festivals in the Chinese culture that bring together families and friends and gives people a special occasion to count their blessings and honour the different Gods and Goddesses. Both societies are heavily cultural and still continue to focus on age-old traditions that involve being thankful for one's health, wealth and relationships. Both societies have an inclination towards spiritual and family oriented and therefore the festivals are often tied to strengthening family relations and also giving back to each other and those who are less fortunate.
As far as the Diwali and the Mid-Autumn festival are concerned, in essence, both are almost identical to each other. Both festivals bring together families and friends. Both involve feasting on and exchanging special, traditional delicacies as a symbol of gratitude and respect. Both communities also offer prayers and honour the Goddesses who were central parts of the mythological stories behind the origin of the two festivals. Both festivals are filled with cheer, light and colour, which can be enjoyed by both children and adults alike. Additionally, even though Diwali is more heavily focused on fireworks, the Fire Dragons are also often stuffed with fireworks.
Even though festivals are a cause for celebration and they should be celebrated with all the zest and energy, we also need to start caring about our environments. Both festivals are notorious for adding to the existing noise, land, water, light and air pollution. However, Hong Kong seems to be better at handling the repercussions as volunteers and the government itself takes measures to clean up the festival waste. Hong Kong has even replaced the traditional lanterns with reusable and recyclable lanterns to minimize waste. India, on the other hand, is not so lucky. Around Diwali season, air pollution in big cities often reaches unprecedented levels that result in shutting down of schools as even stepping out of the house becomes a health hazard. The country already battles heavy air pollution levels, which are elevated due to the fireworks as well as the increased road traffic around the festivities. The noise pollution is also elevated which causes harm not just to human beings but also scare the animals. It is time we started using more environmentally friendly ways to celebrate and minimize the waste and pollution produced as a part of our festivals.

The proximity and similar histories of the two nations can be considered as one of the factors that make their societies similar to each other, in terms of values and traditions. Both societies focus on building relations through festivities and celebrations and also showing gratitude to their respective deities. Festivals should be a reminder to us that while we are all citizens of different nations, we still belong to the human race, which makes us all the same. There is no such thing as an inferior and or superior human being. If our festivals can bring us closer to our near and dear ones then why can't we use them as a tool to mend relations with our international neighbours? The similarities between our cultures should inspire us to open our mind and eyes to see how borders are simply politically constructed lines. It is no surprise that both nations, who are in the race to become regional superpowers have a strained relationship, which is all the more reason why instead of letting these strains divide us socially and politically, we should use our similarities to promoting peace and unity in the region.
Lastly, to build relations and promote inclusivity, the Indian community in Hong Kong should actively promote Diwali and invite their local peers to join in on the celebrations. If you don't already do so, this Diwali, open your home and heart to share the joy and traditions of the festival with them! After all, it is always said, "happiness is only real when shared."
This article was first published in the print version of A-Desiflava Magazine Nov-Dec 2018 issue.
The following two tabs change content below.

Archita Bisht
Archita Bisht is the Managing Editor at A-Desiflava Magazine and can be reached at ab@aplomhk.com. Born in New Delhi and brought up in Greece, Iran, Germany, Ivory Coast, Spain and Hong Kong, I knew since very early that I wanted to write. I consider myself a storyteller and believe that storytelling is an important and constantly developing form of art. Words have the power to influence minds and perceptions and so I choose to focus my writings on topics related to culture, society, global affairs, and politics. When I am not focusing on jotting down my thoughts, I like to enjoy the sights that Hong Kong offers, travel, practice yoga, and binge on crime documentaries. I detest the humidity, stupidity and people who don't know how to stand in a queue.

Latest posts by Archita Bisht (see all)