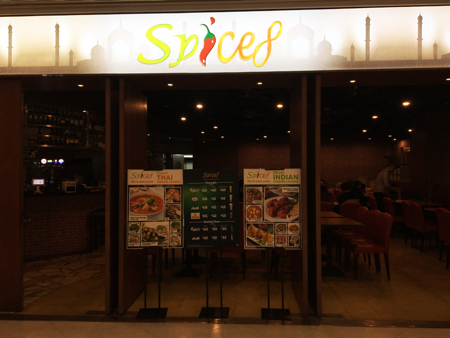 A paradise for Thai and Indian food lovers, Spice 8 is a rare combination serving authentic Thai and Indian cuisine with numerous vegetarian and non-vegetarian options. Right from soups and appetisers to desserts, Spice 8 offers a delicious variety in both cuisines. What really impressed me was the vegetarian Thai menu. So many options other than just Thai Curry. In fact, almost anything can be made vegetarian on request. You can also customise your dish with your preferred level of spice.
Vegetarian Thai soups and appetisers are not easily found in Hong Kong, let alone having an entire range of these dishes. Therefore, I had to try them at Spice 8 and it turned out to be the best decision. The delectable Thai spices and flavours were supremely satisfying.
The Indian food also gave a tough competition. I simply couldn't decide which one of the two cuisines was better. All the Indian Curries seemed equally good. The highlight was having the curry with Paneer Kulcha. You just cannot miss it.
Spice 8 is pretty spacious. The vibe is relaxed and friendly. They have tables that can accommodate as less as 2 people and as many as 14. They have buffet option too, so it's an ideal place to host little gatherings. But do make a reservation if it's a big group as the restaurant can get quite busy in the evenings. The staff members are always smiling; they are attentive and thoughtful.
Spice 8 is located inside Fortune Metropolis Mall opposite Hung Hom MTR, hence quite convenient. I visited on a Tuesday evening and was surprised to see a full house on a weekday. Despite that the service was quick. It seemed to be popular among the Chinese and Western crowd too. The price range is affordable and the food is absolutely worth it. All in all, I had a lovely dining experience at Spice 8.
---
Adesiflava's most recommended dishes are:
Tom Kha Je (Thai Style Coconut Milk Soup with Vegetables)
Papaya Salad Roll
Soft Shell Crab Roll
Chicken Satay
Tandoori Chicken
Paneer Kulcha
Indian Curries
Pad Thai
Mango Lassi
---
Average Price for 2 persons: 400-600$
Our Verdict:
Food: 4/5
Ambience: 4/5
Price: 5/5
Service: 5/5
Location: 4/5
---
Want to visit Spice 8:
Shop 749-750, 7/F, The Metropolis Mall, 6 Metropolis Drive, Hung Hom
Spice 8 was visited by A-Desiflava's food reviewer on 8th January 2019 at 8 pm.
The following two tabs change content below.
Reshma Rohra
The first time I took refuge in writing was at the age of 11. Ever since then writing has been like a therapy. As I grew up, I turned it into my profession. And with time, writing brought me closer to art and made me realise my passion, which is to create. So now, I write and draw for a living. And, this makes me the happiest girl I know.
Latest posts by Reshma Rohra (see all)