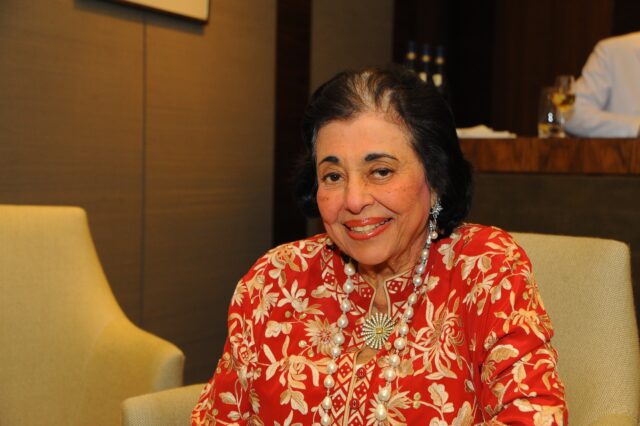 Recently, we had the honourable opportunity to sit and chat with Mrs Purviz Shroff about her inspirational life story. Having lived in Hong Kong for over 45 years, in this interview, we chat with her about everything from her background in India and her life in Hong Kong.
Please tell us about yourself, your family and educational background.
I was born in Calcutta, India. I was only 3 to 4 years old when we came to Pune. It was lovely growing up in Pune. I went to school at Queen Mary's, then to Dastur School, where I became the head girl.
After Pune, I went to Bombay for a few years, and I taught at the Queen Mary School. Psychology was always part of my passion.
Please tell us about your reason for coming to Hong Kong and staying here.
I came to Hong Kong in the 1970s after getting married to Rusy M. Shroff, BBS, MBE.
Please tell us how long you have been living here?
Over 45 years.
How was it when you came and how is it now?
Rusy always said that there is no place he'd rather be than in Hong Kong because Hong Kong is one of those safe, well-organized and highly efficient places in the world.
What do you admire the most in this world? Why?
Nothing better than spending time with my pumpkins (babies), family and friends.
I love looking after my pumpkins at Mother's Choice, singing to them a lullaby which I used to sing to my son when he was young.
I enjoy spending time at the Parsee Club with family and friends.
At the weekend, I like racing at Shatin Racecourse where I used to spend time with my dear Rusy.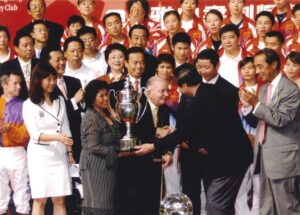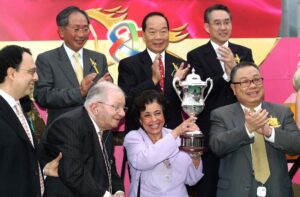 Who or what has been a constant inspiration in your life?
My numerous life values were learnt from my late mother and father. My mother (Mrs. Hilla Moogat) was the first ever lady Principal in Bulsar, Gujarat, and she continues to be an inspiration to me up till today.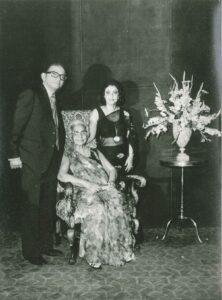 What is your favourite hobby? Why do you enjoy doing it?
I always craved being surrounded by babies and young children and teaching them.
Any unforgettable moments to share with our readers?
It was Father's Day, June 15. The phone rang and I assumed it was my son Zarir ringing for his father. But it was my daughter-in-law telling of his death. I was totally shattered.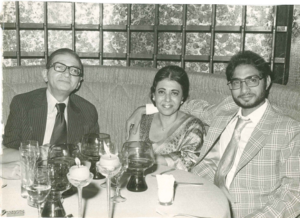 Babies.
My love has always been babies.
My son said to me, "You always loved babies, so go and care for babies."
My son Zarir lost his life at the age of 36 in a very tragic car accident in Switzerland. After his death, I had a vision of him. He held my hands and said be brave and carry on because life must go on. Soon after the vision, my two very dear friends Molly O'Dell and Mohini Gidumal introduced Mother's Choice to me.
How did you support your husband in his business and other social work?
To support my husband, I have tried my very best to be involved in his business and social life.
For our business, I have been Permanent Managing Director of Ruttonjee Estates Continuation Limited. To attend various meetings involving the daily operation of our Ruttonjee Centre.
For community work, I am Vice-Chairperson of The Hong Kong Tuberculosis, Chest and Heart Diseases Association, co-founded by late Mr. Jehangir H. Ruttonjee CBE, JP in 1948. My dear Rusy was Chairman of the Association for 17 years during 1983 to 2000. Before his passing, he was Vice-President of the Association.
I continue to serve the Association on various committees.
I have been Member of the Hospital Governing Committees of Ruttonjee & Tang Shiu Kin Hospitals and Grantham Hospital for many years.
Who was more into the community work, you or your husband? How did it influence each of you in doing more and more?
I joined the Board of The Hong Kong Tuberculosis, Chest and Heart Diseases Association in 2002. Since 2006, I have been serving as Vice Chairperson. Currently I am a member on Sister Mary Aquinas and Purviz & Rusy Shroff Scholarship Committee (previously known as "Sister Aquinas' Memorial Fund Committee") (2012 – Present); Freni Care and Attention Home Management Committee (2005 – Present); Hospital Governing Committee, Grantham Hospital (2004 – Present); Hospital Governing Committee, Ruttonjee & Tang Shiu Kin Hospitals (2002 – Present).
The Hong Kong Indian Women's Club (HKIWC)
I served as the President from 1999-2002. Now I am a Patron of the Club.
Please tell us about your accolades. What do you feel when you are recognised for your efforts?
I am blessed, humbled and honoured to have received multiple recognitions. Some of them that come to mind are: in 2018, I was awarded the Medal of Honor (M.H.) by the HKSAR Government for my outstanding and dedicated community and charitable service, particularly my contribution to Hong Kong Tuberculosis, Chest and Heart Diseases Association and Mother's Choice. I received the Philanthropy Award from Hong Kong Tatler on 20 September 2014. I received the Excellence Award from The India Association Hong Kong on 15 August 2014 in recognition of my devotion and contribution towards the community of Hong Kong.
I am extremely thankful to all those who have inspired me throughout my life, such as my late mother, my dear Rusy, Mr. & Mrs. JH Ruttonjee, and many others from whom I have learned the strength of perseverance, dedication, and forgiveness.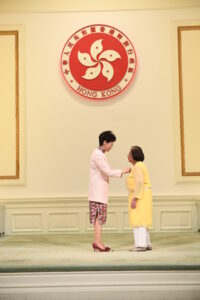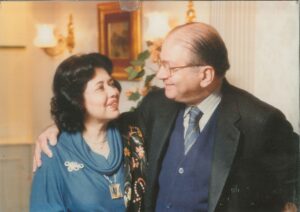 Please tell us about your philanthropic work so far.
Together with my dear Rusy, we have been supporting quite a lot of charitable organizations and educational institutions.
Mother's Choice
Appointed as Patron (2014 – Present). Over 25 years of volunteer service
Other contributions to the community of Hong Kong
Local charitable organizations such as, Mother's Choice, Women Helping Women Hong Kong, Hong Kong Cancer Fund, Riding for the Disabled Association, Hong Kong Society for the Protection of Children, Lifeline Express Hong Kong Foundation, Youth Diabetes Action, Save the Children Hong Kong, ORBIS Hong Kong, etc.
Local universities: Having set up scholarships and bursaries to support local students studying at The Hong Kong Polytechnic University, The Chinese University of Hong Kong, City University of Hong Kong and The Hong Kong Academy for Performing Arts.
Additionally, I have been involved in making donations to the charitable organizations in India since a long time.
Please tell us about your work with the Mother's Choice.
I was one of the longest-serving volunteers. I committed 25-years as a volunteer – four days a week from 8 am to 1 pm. I helped care for more than 2,000- babies and saw more than 900 children find loving new homes.
What would be your advice to those are just starting out in the world of philanthropy?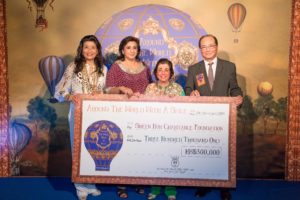 Philanthropy is much more than simply giving money.It all starts from your family. First, be nice, helpful and generous to your family members.
Then, you can join a cause, which is closest to your heart.
Birds of a feather flock together. After joining a good cause, you will meet more and more people who have similar characters and interests. Your good deeds will influence your family and friends, just like the ripple effect expanding across the water.
It is really hard to take up the loss of a spouse. How do you overcome that feeling and get indulged in social work?
I told myself that life must go on. Most importantly I believe that my dear Rusy, Zarir and other family members who are in the Land of Angels are looking after, protecting and guiding me. Hope I make them proud.
What advice would you like to give to this generation?
Rusy always said, "To live is to give and forgive."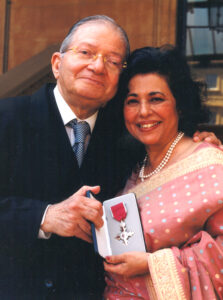 What are your 10 commandments for a wholesome and successful life?
To live one's life to the fullest, I believe:
To live is to give. Service to Humanity is Service to God.
Quit complaining. It is easy to fall into a vicious cycle.
Let go of unhappy past. When one door closes, another opens.
Look for opportunities to volunteer.
Be empathetic. See things from others' shoes.
Babies need our touch and hugs. Even we as adults need touch and hugs.
Help the ageing, the needy and the underprivileged children.
Express gratitude. Be thankful.
Keep your body healthy.
From time to time, take a break. It helps you walk the longer road ahead.
The following two tabs change content below.

Archita Bisht
Archita Bisht is the Managing Editor at A-Desiflava Magazine and can be reached at ab@aplomhk.com. Born in New Delhi and brought up in Greece, Iran, Germany, Ivory Coast, Spain and Hong Kong, I knew since very early that I wanted to write. I consider myself a storyteller and believe that storytelling is an important and constantly developing form of art. Words have the power to influence minds and perceptions and so I choose to focus my writings on topics related to culture, society, global affairs, and politics. When I am not focusing on jotting down my thoughts, I like to enjoy the sights that Hong Kong offers, travel, practice yoga, and binge on crime documentaries. I detest the humidity, stupidity and people who don't know how to stand in a queue.

Latest posts by Archita Bisht (see all)