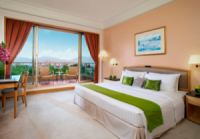 Special spots to spend summer time without stepping out of the city.
Have you ever wished to have a holiday without traveling? The experience synonymous to taking a vacation while still staying in the same town or city is often termed as a staycation. This allows staycationers to see an entirely different perspective of their own town, and the local excursion is ideal for those seeking to save on transport times, flight fares, and passport pages. To suit different demographics, some staycations have unique nuances that make them ideal getaways for solo excursions, local wedding parties, as well as family holidays. In Hong Kong, staycation spots are spread out across the city, and some hidden gems are even found on offshore islands. Read on to discover hot vacation destinations to spend your summer in Hong Kong.
Familiarly Foreign
1.Beas River Country Club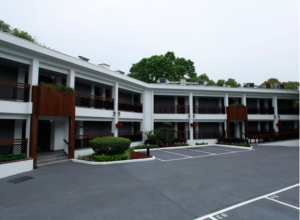 The Beas River Country Club is run by the Hong Kong Jockey Club, and so is a popular place among equestrian enthusiasts. The club has 26 chalets, each equipped with amenities that can keep guests occupied, if not entertained, throughout their stay. Situated in the centre of Sheung Shui, the long transport ride makes for a scenic glide through Hong Kong's landmarks and flyovers. While the club offers are services such as indoor sports, sauna, cycling, golf grounds, children's playgrounds and a gymnasium, some of the activities and facilities are exclusive to members.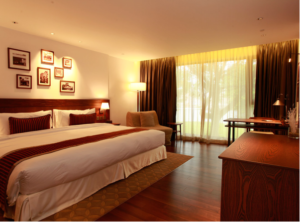 Address: Beas River Country Club, Kam Chin Road, Sheung Shui, New Territories, Hong Kong
Tel: 2966 1823
Website: http://member.hkjc.com/member/english/beas-river-country-club/index.aspx


2.Auberge Discovery Bay

As those living on the island could testify, living in Discovery Bay is like discovering, exploring, and experiencing a whole new side of Hong Kong. Without the pollution of private cars, and the crowds of workers driven by clockwork than inspiration, Discovery Bay's Auberge Hotel offers Hong Kongers a natural place of relaxation. Being less than a 10 mins bus ride away from the beach, plaza, and pier, the hotel is armoured with a few convenience stores, shops cafes, and restaurants to keep you satiated, sans the hustle, bustle, and struggle of city life. A perfect getaway for those seeking a seaview stay, alongside modern and serene surroundings.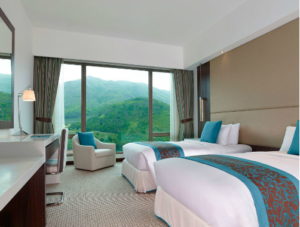 Address: Auberge Discovery Bay Hong Kong, 88 Siena Avenue, Discovery Bay, Lantau Island, Hong Kong
Tel: 2295 8288
Website: http://www.aubergediscoverybay.com/

Themed Terrains
3.Gold Coast Hotel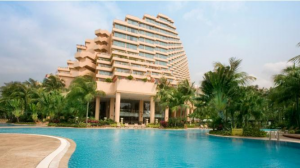 Lying on the coast of Hong Kong, the value of Gold Coast Hotel is – unsurprisingly – as good as gold. Specifically, it is the only resort hotel in Hong Kong, and it also offers direct access to Golden Beach. Families with young children would thoroughly enjoy the designer rooms based on themes that include outer space, dinosaurs, safari, pirate, and the Hong Kong tram. Similarly, formal fraternities would enjoy hosting functions at the getaway, as well as dining at the Michelin recommended restaurant, Yue – besides the other culinary centres.
Address: 1 Castle Peak Road (Castle Peak Bay), Tuen Mun
Tel: 2452 8888
Website: https://www.sino-hotels.com/hk/gold-coast/en/
4.Hong Kong Disneyland Hotel
Hong Kong Disneyland Hotel is a heaven for kids – as well as, of course, the inner child within every adult. Often described as a Victorian Palace, the hotel is peppered with perks such as stunning seaviews, nightly fireworks displays, and colorful rooms designed to bring to the fore the lightness of being. To add to the attractions for families, the hotel is at the doorstep of Hong Kong Disneyland Park, which is a popular place for locals and tourists alike. Definitely one for the bucket list!
Address: Magic Rd, Lantau Island
Tel: 3510 6000
Website: https://www.hongkongdisneyland.com/hotels/hong-kong-disneyland-hotel/
Historical Hubs
5.Tai O Heritage Hotel
This hotel embodies and houses as much information about Hong Kong's history and ancient culture as a museum would. The Tai O Heritage Hotel is designed as a colonial-style parlour, laden with vintage charms of the late 19th century. While offering state of the art facilities, the staycation is classically furnished, reminiscent of Hong Kong's historical heritage, and more specifically, the Old Tai O Police Station. Although the journey to the hotel could require a train, bus and boat ride, guests would find their venture well worth it when they take in picturesque seaview and traditional architectures.
Address: Shek Tsai Po St, Tai O
Phone: 2985 8383
Website: https://www.taioheritagehotel.com
6.Heritage Lodge
In complete contrast to Hong Kong's iconic skyscrapers, the five blocks of Heritage Lodge are two-storey short. Yet, the Heritage Lodge stands tall for holding a token of Hong Kong's history through its exhibitions and cultural activities at Jao Tsung-I Academy. Visitors will be taken down memory lane of the compound, which has once been a quarantine station, prison, infectious disease hospital and even a psychiatric rehabilitation centre. Its 89 guestrooms vary in sizes, from standard to suites, loaded with facilities, and surrounded by a Lingnan Garden, which encapsulates peace and tranquility.
Address: 800 Castle Peak Road, Kowloon, HK
Tel: 2100 2888
Website: http://www.heritagelodgehk.com
Concrete Campsites
7.Mingle Farm
For many, it would be difficult to envisage staying in a campsite in Asia's World City. This camping site has been divided into five zones: Fantasy, Wild Camping, Ecosphere, Box, Life, and Caravan. To target guests of all ages, each of the campsites have been designed to represent an important stage of life; in respective order, they are childhood, teenage, lovers, career, and family. Each of the campsites offer innovative activities, like archery and rock climbing, as well as attractive accommodations. From living in an inflatable castle or transparent igloo, to camping with a clique where toilets and shower facilities are shared, the campsites serve as havens for lovers of adventure and nature.
Address: No. 30, Fung Ka Wai, Tin Chi Road, Yuen Long, N.T.
Tel: 2891 8263
Website: http://www.minglefarm.com/index.html
8.Caravans Hong Kong
In late 2013, eight white caravans were imported from United Kingdom (UK) and nested on the grassland of Lantau Island. Nestled amidst an aura of pristine nature, and boosted by the beauty and breeze of a neighboring beach, the caravans are an ideal hub for enthusiasts of hiking, kite surfing, kayaking, fishing, farming, cycling, and photography. At the same time, each caravan also keeps visitors entertained and occupied with luxuries like a television with HD channels, kitchenette with a BBQ stove, and a living room with comfy sofas. With a maximum capacity of six persons, a caravan is ideal for close friends and families to spend a quality time together.
Address: Tong Fuk Caravans, Tong Fuk Village, NT, HK
Tel: 6296 8220
Website: https://www.caravanshk.com/
Luxurious Locales
9.The Peninsula Hong Kong
Oozing of opulence and individuality, The Peninsula Hotel amalgamates luxury and modernity with its unique classic charm. Besides housing rooms that reek of grandiosity and aesthetic excellence, the hotel is also loved for its sumptuous shopping, dining, and extra services. The maverick of hospitality offers special "flight-seeing" packages, some of which combine a private helicopter city tour with an extravagant dining experience or special spa treatment. A stay at the 89-year-old five star hotel may come at a steep price, but to be picked up by a private Rolls Royce limousine, stay in a room overlooking Hong Kong's harbour and have access to the greatest of facilities could be a perfect way to highlight a special occasion or celebration.
Address: The Peninsula Hong Kong, Salisbury Road, Kowloon, Hong Kong, SAR
Tel: 2920 2888
Website: http://hongkong.peninsula.com
10.The Upper House
Interior architect Andre Fu designed The Upper House as a high rise premium haven of peace. The 117 rooms are characterised as spacious, serene and state-of-the-art, Many of the exquisite rooms also boast of a picturesque seaview overlooking the Kowloon harbour. Besides deluxe delicacies in its extravagant eateries, visitors can also enjoy other perks like yoga classes, bike rentals, and access to a modern gymnasium. Although it is centered among the commercial skyscrapers in Hong Kong's concrete jungle, the hotel is conveniently connected to one of Hong Kong's signature of shopping mall, Pacific Place. Most of all, the hotel is easily accessible by several forms of public transportation, including trams, star ferry as well as Mass Transit Railway (MTR).
Address: Pacific Place, 88 Queensway, Hong Kong
Tel: 2918 1838
Website: http://www.upperhouse.com
Article by:
Suraj (Sam) Samtani is an international Writer & Editor, with articles published across medias. He is also an Academic Coach, Native English Teacher & Tutor (NET), Management & Marketing Consultant, and Award-Winning Poet.
The following two tabs change content below.
Suraj (Sam) Samtani is an international Writer & Editor, with articles published across medias. He is also an Academic Coach, Native English Teacher & Tutor (NET), Management & Marketing Consultant, and Award-Winning Poet.
Latest posts by Suraj Samtani (see all)